News from Around Banderas Bay
So You Want to Drive to Puerto Vallarta, Mexico?

Johannes and Maureen van Pinxteren - PVRPV Blog
go to original
April 15, 2010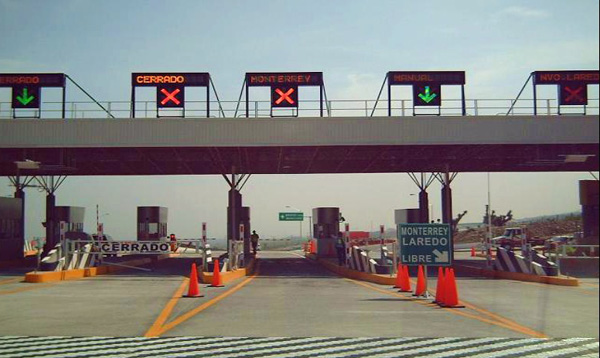 Driving through Canada and the U.S. is uneventful, no surprises, good roads, lots of motels and gas stations. It is at the Mexican border that the fun starts.
A while back we met a most interesting person by the name of Tim Longpré, president of PVRPV, a major vacation rentals company in Puerto Vallarta. He was sharing with us, with great pride, about the 5th anniversary of his company. We shared with him that it was also our fifth year (an anniversary of sorts) of coming to wonderful, charming Puerto Vallarta.


Each year we have stayed for about two months to get away from the Canadian winter. When Tim found out that we had been driving to Mexico from Toronto, Canada for three years he was most intrigued - for not many Canadians do. Listening to our stories he thought that it was quite an adventure. Would we be interested in sharing our story for his blog?


Well, driving to Mexico can be an adventure and there are many issues to consider before you do this. Our family and friends were very concerned that we would even think of such an undertaking. Some even thought that we were losing it! "Seniors" and all that. Didn't we realize the dangers of driving because of crime in Mexico? Yes, it is still a common question; the safety issues.


We thought about it, discussed it at length and concluded that the danger and safety concerns really stem from a long standing war between drug gangs and law enforcement in the Mexican/U.S. border areas. Would these "bad guys" really be interested in an elderly couple driving on toll roads in Mexico? We think not.


Any country has crime and the U.S. and Canada are not exempt from this. Should one innocent be affected by crime it would most likely be because of being in the wrong place at the wrong time. Where ever you are. Folks, unfortunately, most bad things happen in your own neighborhood where you are familiar with everything.


So are we going to stop living and hide? Not.


Once we had dealt with this important concern we agreed to drive and add to the excitement. And why not! We are retired and we have the time. From here on it became a matter of planning. Get out the maps, when to start the trip, where to drive, where to cross borders, what paper work was needed, extra car insurance, health insurance, where to stay etc., etc.


The better the planning and preparation, the smoother the trip. It is the unknown that will make things interesting. Generally, we found the Mexicans warm and friendly who will do anything for you. With good cheer, a smile and a propina (tip) at the appropriate moment, most of your problems will be solved.


Coming from Toronto, Canada, there are two ways to drive. One is via the west through the Phoenix, Arizona – Nogales crossing. This route takes 6 days. The other is via the east through Dallas and the San Antonio – Laredo crossing, taking 5 days. The west route is indeed one day longer but much more scenic especially in the states of New Mexico and Arizona.


Driving through Canada and the U.S. is uneventful, no surprises, good roads, lots of motels and gas stations. It is at the Mexican border that the fun starts.


Yes, there is a customs check-point to cross into Mexico but, if indeed there is customs staff, they just wave you through; it seems as if they are not interested at all to check anything. Unlike the U.S. customs, waltz right in. What a relief. No nasty customs officials expecting a hand out etc. The mind games we play.


But what about all these papers? Where do we go for them? Well, for instance, if you cross at Nogales, you get through the check-point and you are driving on a nice highway for about twenty minutes and then you come upon a low white building. Aha, customs again! This is where it all starts. The paper work that is.


The process is somewhat bureaucratic, time consuming and can tie you up for almost two hours. There are line-ups. Go to wicket 1 – go to wicket 2 – go to wicket 3, then go back to wicket 2 for photo copies of all the important papers i.e. passports, car ownership, plates, tourist cards etc., etc. What is this? Raised eyebrows on our part. We would never be that inefficient in Canada. Our customs are so clever.


But eh, this is Mexico. Remember the first order of the day! Good cheer. We are troopers. Follow the process, the system. In essence, the Mexican government requires only two documents: one paid up tourist card and a paid up temporary car import license. For this they issue a decal with a unique number, which must be prominently displayed in the upper centre of the inside of your car window. More on this later in my story.


A cautionary note! Drivers in Mexico must carry Mexican car insurance issued and carried by a Mexican insurance company. Valid Canadian or American car insurance is not valid in Mexico. This insurance can be purchased from the Internet (cheaper) or at the Mexican border. Here is the funny part. The Mexican customs do not ask or verify if you have such insurance. You are on your own. Don't take chances.


Well, all is now in order and we are legally in Mexico. In most instances there are two types of roads in Mexico: the Libre (free) or Cuota (toll). Where available, we always take the toll roads. Even though it costs more, it is worth it. These toll roads are far superior than the libres and are certainly as good as any in North America with lots of stops for washrooms, a major plus for seniors.


The smart traveler does not travel at night in Mexico. So around five o'clock you plan to be in a town with a choice of motels, hotels etc. Take some time to plan your overnight stays and even find out where the motels are located. The Internet is a wonderful tool for this. If you have not planned for a motel you can have some funny surprises.


This is what happened to us. Around five o'clock we were near a medium sized town, off the toll road, looking for a motel. Drove into town. Where were the hotels? Drove up and down. Asked. Nothing. By now it is getting dark and the city lights are on. We were tired and really wanted to get off the road.


Finally we found a hotel. A big sigh of relief. The much needed rum and coke started to look good. All we need is the cost of the room, the key and we are settled. Life starts to look good again. The man says "that will be $750 pesos for the night señor." This appeared to be sort of high for rural Mexico. My wife says that is probably for your best room, we would like the room that you advertise for $390 pesos. "Ah," the man smiles, "but that is only for two hours, however drinks are included!"


With drinks! Only for two hours. We're puzzled. It slowly dawns on us, we were in one of Mexico's infamous "love" hotels. I don't really know why we bee-lined out of there, but we did. In retrospect, we should have stayed and taken the room. I mean, come on, and free drinks! It even had a mirror in the ceiling.


Life is bad again. Where are we going to stay? We returned to the highway, the libre this time, and finally we found a motel (say dive.) This is a place where the Mexican truck drivers stay overnight. Quick check-in though. Amazing. No papers, no signatures. No anything. Just pay $200 pesos and you get a key. That's it. Find your room. There was a toilet and a shower. Praise the Lord. Unable to lock the door with the key. Shoved the dresser in front of the door and there we were, safe, and as snug as a bug in a rug. The rum and coke never tasted better. For dinner we had corn chips. Our first taste of Mexican cuisine.


We have forgiven them for the fact that the old, old, T.V. high up in the corner near the ceiling, mysteriously came on very loud at five in the morning. Well, time to get up eh! The dresser was still in place. Bags and wallets were still there. We felt secure. But then we needed the dresser to stand on to turn off the god awful noise of the T.V. Tranquility had returned.


We checked out as soon as we could and carried on with our journey to Vallarta. The more we thought and talked about the previous day and night's experience, the more we started to giggle and actually laughed out loud. Life can be a bummer and fun at the same time.


We arrived in Puerto Vallarta late in the afternoon where we were welcomed by the friendly PVRPV concierge who looked after all our needs. He probably is still wondering why we had those smirks on our faces. I mentioned before about the window decal for the car. On our second day in Mexico, a small stone hit our front window and caused a tiny little star. Nothing to worry about. Cost of doing business. Right! Well, this tiny little star soon turned into a major crack all along the front window and we really needed to replace the window. We found a car-window place in Vallarta and the fun started... explaining about the import license sticker.


You could not take it off without destroying this decal. What to do! You cannot leave the country without it. They did not speak English and our Spanish is not adequate for a situation like this. We sure were glad that we had hands and feet. The best language in the world. With raised eyebrows on the part of the service guy it was decided to cut the old window in half. Then two more cuts and we ended up with a piece of glass the size 4 x 7 inches with the temporary import license nicely preserved. This will make fine paper weight some day.


It was strongly suggested that we tape this piece on the window when we got to the Mexican customs. Really? From our experience, the Mexican aduana (customs) is very bureaucratic and how would they know for sure that we were not trying to sneak a car over the border! We insisted that the glass place prepare a factura (official receipt) indicating when and why the window was replaced. Once they understood the reasons they became very cooperative and created a very important looking document which would explain everything. We'll keep our fingers crossed until we are back in Canada again.


So, still wanna drive to Mexico? Well folks, this will be added to our travel stories and experiences. Priceless. Look at it this way, life is a roller coaster; just make sure you are in the front seat. Scream!!!


We have enjoyed P.V. very much this year. Our condo was great and fulfilled all our needs. In fact we have already renewed for next year. Will we drive again! Probably. We now really know how to do this and what to expect.


We hope that some of the information and stories were helpful. Go for it folks. You only live once. Enjoy.


Best regards and happy motoring – ¡Feliz Viaje!
Johannes and Maureen van Pinxteren - Toronto, Canada


If you are planning a dream vacation in beautiful Puerto Vallarta, Mexico, look no further than PVRPV. Representing the highest quality vacation accommodations in the Banderas Bay area, PVRPV is your experienced and reliable choice for Puerto Vallarta home, villa and condo rentals and rental property management. In addition to providing visitors with affordable vacation rentals, PVRPV has a longstanding commitment to giving back to this wonderful community we call home. To learn more, check out the PVRPV Blog. For more information about PVRPV's vacation rental services click HERE, or visit PVRPV.com.
Tell a Friend
•
Site Map
•
Print this Page
•
Email Us
•
Top