Entertainment | Restaurants & Dining
Barcelona Tapas Restaurant Week Review

Gary R. Beck - PVNN
May 27, 2010
Barcelona Tapas is located at Matamoros & 31 de Octubre in downtown Puerto Vallarta, México. For more information or reservations call (322) 223-0831 or visit BarcelonaTapas.net.
Barcelona Tapas is the ideal place for eating out with friends, and that is just one of the reasons why it was the perfect place to spend a night out on the town during this year's Vallarta Restaurant Week.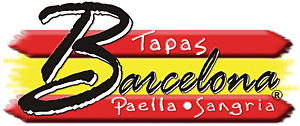 Since 2000, chef/owner Bill Carballo, from Chicago and trained in Spain, also owner of Agave Grill on Morelos downtown, operates Barcelona Tapas, a Spanish tapas restaurant on a lovely 4th floor terrace up a staircase with Bahía and city views way below or inside the 3rd floor dining room.


Even though the intense heat has not hit our town, the cooling breezes were still appreciated, a natural air conditioning. In the rear is displayed the open kitchen. One does not have to doubt cleanliness here. It is also a good form of entertainment, stopping by to watch and possibly talk with one of the chefs or cooks.


As drinks were pondered, a plate of creamy Garlic Potato Salad was presented on the house. This version is one of the best around, no matter the continent. Soup of the Day was Cream of Mushroom and it proved a sheer delight. When made well, this soup is very hard to top. Here the mushrooms are puréed, mixed with heavy cream and stock, sprinkled with minced parsley. Simple, yet elegant and so pleasing. A basket of housemade breads arrived at the table and proved to be delicious.


Tortilla Española (omelet torta with potato, onion and garlic) was a beautiful layered torta, with potato slices alternated with egg-sour cream mixture. The crust was golden brown and the potatoes tender but not soft. Alongside was a good-sized portion of marinated brown and green Mediterranean olives and a dollop of aioli, garlic mayonnaise. The combination was an exciting taste bud experience.


Roasted Beets cut into thick slices were layered with large portions of goat cheese, orange sections, red cherry tomatoes, whole pecans and dressed in a raspberry vinaigrette and balsamic reduction. This is a signature dish.


Curry Chicken Salad was made with grapes, pear, nuts and celery tossed in a very light curry flavored mayonnaise. The many chunks of meat were moist and again all flavors blended well with not one standing out too predominantly.


Angus Brochette was actually several skewers generously speared with top quality beef chunks, cooked as ordered and not dry since they were not slices; rather the thickness of the cubes enabled retention of the natural juices. Accompanying were caramelized wine red onions, potatoes and zucchini. Aoili added pizzazz to the dish.


Saffron Rice with Seafood arrived similar to Paella Mariscos: a bed of moist arborio saffron rice topped with shrimp, mahi mahi fillet pieces and mussels. The rice had been prepared with diced red bell pepper and green peas resulting in the colors jumping out before your eyes. The seafood was moist also and plentiful, completed with thick slices of sautéed green and red bell pepper, all mixing nicely with the tender rice.


Then followed the desserts, all not to be missed. Their Flan is consistently one of the best versions around most likely because of the deep care shown in its preparation. Baking at the proper temperature assures a smooth texture with no air holes. Also, the top is the exact goldness as expected. The caramel syrup is liquidy with the proper sweetness and not burnt from cooking too long or hot.


Homemade Ice Cream offerings this night were vanilla, basil, coffee and amaretto. All were quite tempting but basil was chosen and it was very light in herb, pale green in color, and rich and creamy. The house ice cream is always a sure way to end a savory culinary trip through Spain here with its subtle yet complex flavors.


Late-arriving La Perla Negra shot its brief fireworks show off the Malecón. Our perch was way over their peak. It leads some guests to envision being in a bird's nest high overhead in the trees, looking from the side of a large hill to everything way down below. First-timers are often heard exclaiming at the beauty displayed in front and below them. The vista is a 'must see.'


This favorite spot is well-known for its Valenciana, or Mariscos Paella. Here is the place to share a dozen cold and hot tapas making for a complete meal and housemade red or white sangría. A lovely lunch menu is also available. Tuesday and Thursday is half price starting at noon. Other days have a enticing discount. More will be reviewed soon concerning this opportunity to enjoy Barcelona Tapas' beauty and the fine food during the daytime.


Open for lunch and dinner, Barcelona Tapas is located at Matamoros & 31 de Octubre in downtown Puerto Vallarta, México. For more information or reservations call (322) 223-0831 or visit BarcelonaTapas.net.

The author was supplied one choice in each of the 3 courses on the special Restaurant Week menu and this review is in no way connected to his independent restaurant guide, "Puerto Vallarta Restaurant Guide Beck's Best", where write-ups receive no compensation.



Restaurant Week continues through May 31st at some of the most recognized restaurants in Puerto Vallarta. For a list of participating restaurants and Restaurant Week 2010 reviews click HERE.
Tell a Friend
•
Site Map
•
Print this Page
•
Email Us
•
Top