Health & Beauty
Controversial Cosmetics Inspired by Violent Mexican City

Nicholas Casey - WSJ.com
go to original
August 01, 2010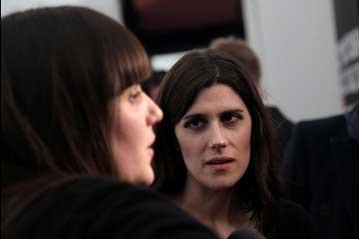 Designers Laura Mulleavy and Kate Mulleavy of the fashion house Rodarte. (Getty)
It's a rare thing for a cosmetic company to apologize for its own bad makeup, but then again, it's a rare thing for a makeup line to be named after the murder capital of Mexico.


Manufacturer M.A.C. Cosmetics and fashion house Rodarte, released an apology following a spate of controversy about their new cosmetic line that they said had been inspired by Ciudad Juárez, the violent border city in Mexico and ground zero of its drug wars.


The line featured shades with names like "Ghost Town" and "Quinceñera." The products will be getting new names.


"We never intended to make light of this serious issue and we are truly sorry," the companies said in a joint statement. "Helping to improve the conditions for women in Juarez is a priority for us and we are thankful for all the comments calling attention to the urgency of addressing this situation."


According to Style.com, the controversial project came about after Rodarte's founding sisters Kate and Laura Mulleavy took "a long drive from El Paso to Marfa, Texas" which "got them thinking they might like to explore their Mexican roots."


Activists in the blogosphere spilled some ink assailing the cosmetic line for what they say was insensitivity – and simply poor taste – in taking the bloody border town as a theme.


"Why's it tasteless?" wrote blog The Frisky. "Juarez is an impoverished Mexican factory town notorious for the number of women between the ages of 12 and 22 who have been raped and murdered with little or no response from police."


Two powerful drug cartels have staged a turf war in Ciudad Juárez, in a fight that's claimed more than 1,660 lives this year alone. The city was also known for another wave of murders, known as "the femicides," in which hundreds of women were killed in the city, many of them raped and tortured before their deaths.


In a recent Facebook message M.A.C. repeated its apology and said that they had met with Mexican government officials and would "donate all of its global profits from its collection to a newly created initiative to raise awareness and provide on-the-ground support to the women of Juarez."
Tell a Friend
•
Site Map
•
Print this Page
•
Email Us
•
Top