Most Important Offering in Past 30 Years Discovered in Great Temple

Presidencia de la República
go to original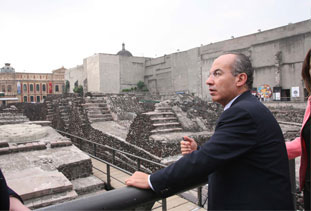 President Felipe Calderón visits archaeological zone to see latest findings. The site contains a four-ton monolith in honor of Tlaltecuhtli, Mexica God of Fertility.

Mexico City - President Felipe Calderón toured the House of the Bows and Bells of the Great Temple Archaeological Zone, where the largest, most important offerings recorded in 30 years of excavations in this zone were recently discovered.


Offering No. 126 was found just under the 4-ton monolith of Tlaltecuhtli, also recently unearthed, at part of the seventh season of the Great Temple.


Archaeologist Leonardo López Luján explained that the box with the offering, measuring 195 cm and over a meter deep, also contained several objects placed in honor of the gods of the earth, water and maize, such as wood and ceramics figures as well as sacrificial knives and objects from the oceans, such as corals, shells, seashells and sea urchins.


The offering, estimated to have been buried 500 years ago, is unique in having been preserved intact, since the original seals have been preserved.


Dr. López Luján said that excavation work will continue in order to find a possible funereal offering located west of Offering No, 126, which would confirm the hypothesis based on historical sources and archaeological data that the tomb of a Mexican king lies at the foot of the Great Temple.


Archaeological studies in the Great Temple have discovered 147 offerings, of which this is the largest and most recent. It is estimated to correspond to the era when Ahuizótl, the last king of the Mexica, governed, in the late 15th and early 16th century.


President Felipe Calderón, accompanied by his wife, Margarita Zavala; Secretary of Education, Josefina Vázquez Mota; CONACULTA director, Sergio Vela, and INAH director, Alfonso de Maria y Campos, listened to the explanation on the excavation process and the findings with great interest.