Vallarta Living
Community Services
Many of us have discovered a strong sense of community here on Banderas Bay, some for the very first time. If you're from a metropolis where technology reigns supreme and the words "next-door neighbor" and "stranger" are synonymous, you'll find this a refreshing environment where people matter.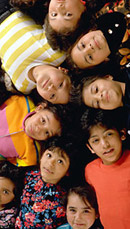 Working side by side with our new neighbors to achieve common goals is an ideal way to learn about the culture and make friends while giving back to the community which embraces us.


On these pages you'll learn about the various local charities and how you can get involved. With a multitude of opportunities here to flex philanthropic muscles, you can find out for yourself that it truly does feel as good to give as it does to receive!

• B E L O W T H E F O L D •
Entreamigos Starts a New Season of Fun in San Pancho
Banderas News Team

Entreamigos, an active community center that provides children and families in San Pancho, Nayarit with the skills needed to contribute positively to a changing world, has reopened for the 2019-2020 season. The center is open Monday-Friday 10am-6pm and Saturdays 10am-2pm.

---
'Evening Under the Stars' Gala Benefit for SPCA de PV
Andrea Peters

Tickets are now on sale for an extraordinary "Evening Under the Stars," the annual fund raiser for the SPCA de Puerto Vallarta. You won't want to miss this spectacular event, scheduled to be held at the beautiful Oscar's Restaurant on Saturday, November 30, 2019.

---
How to Help the 300 Yelapa Families Affected by Narda
Ricardo Acerco

It only took Tropical Storm Narda 8 minutes to turn the coastal paradise of Yelapa into a living hell as torrential rains caused the river to overflow, leaving extensive damage in its wake. Puerto Vallarta businesses are collecting donations for our neighbors in need. Please help!

---
Breast Cancer Awareness Month in Puerto Vallarta
Pamela Thompson

October is Breast Cancer Awareness Month and, here in the Banderas Bay area, Healthcare Resources Puerto Vallarta is working to promote awareness, honor breast cancer survivors and remember those who lost the fight, through a series of informative, fun - and pink! - activities.

---
PuRR Project Vallarta October News & Upcoming Events
Shannon Campbell

PuRR Project, Puerto Vallarta's non-profit, no-kill feline shelter, has announced some of the Purr-fectly wonderful fundraising events they have planned for the upcoming season, which begins in November and includes the Fall Garage Sale, Shelter Tours, and Kitty BINGO!

---
Join Julie Guerrero Real Estate Group's River Clean-Up
Banderas News Team

In their continuing efforts to keep our beautiful city clean, the Julie Guerrero Real Estate Group will host a River Clean-Up along the banks of the Rio Cuale on Sunday, Oct. 6 at 9:30 am. If you love Puerto Vallarta, make plans now to come out and 'Pitch In.'

---
Site Map
•
Print this Page
•
Email Us
•
Top