Vallarta Living
Community Services
Many of us have discovered a strong sense of community here on Banderas Bay, some for the very first time. If you're from a metropolis where technology reigns supreme and the words "next-door neighbor" and "stranger" are synonymous, you'll find this a refreshing environment where people matter.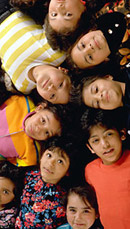 Working side by side with our new neighbors to achieve common goals is an ideal way to learn about the culture and make friends while giving back to the community which embraces us.


On these pages you'll learn about the various local charities and how you can get involved. With a multitude of opportunities here to flex philanthropic muscles, you can find out for yourself that it truly does feel as good to give as it does to receive!

• B E L O W T H E F O L D •
Sponsors Needed for Vallarta 9-1-1 Heroes Calendar

Tim Longpré

Sponsors are needed for this year's Heroes calendar, which will raise funds for equipment to complement Puerto Vallarta's new 911 emergency services program. Our last calendar featuring PV's first-responders left the world hot under the collar, and the new one is as steamy as ever.

---
SPCA de PV: Animals Have Rich & Deep Emotional Lives

Clare Leach

Gregory Burns, a professor of Neuroeconomics at Emory University in Atlanta Georgia, says that dogs have emotions just like people. Why is this important to our community? Because Vallarta has a large population of homeless animals and our ability to help is what makes us human.

---
Summer Courses Return to Entreamigos in San Pancho

BanderasNews.com

Entreamigos Community Center in San Pancho recently announced its 2017 Summer Workshops for children ages 3-16. The camp will run from July 24-August 11, and offer kids art, ecology and other workshops limited only by the imagination of the volunteer teachers - which are needed!

---
24 Hour Rowathon to Raise Money for Kids with Cancer

BanderasNews.com

On July 28, Greg & Hillary Kennon, along with the members of Crossfit Zapata, will row (on rowing machines) for 24 hours to raise money for CANICA, a center in Puerto Vallarta that helps children with cancer. They'll be doing it during a free community fiesta that starts at 6 pm.

---
This Week's Events & Activities at Los Mangos Library

Adriana García

Puerto Vallarta's Public Library, Biblioteca Los Mangos, is not 'just a library,' it is a true cultural and community center that also serves as a venue for entertaining and educational workshops, art exhibits, concerts, and cultural events. Here's what's happening this week at Los Mangos.

---
Cheryl's Shoebox 2nd Annual Summer Bash, August 6

Vicki Steuteville

To raise funds for school shoes and supplies for local primary and secondary students and after-school programs in Colonias Progresso, Lomas de Enmedio and El Satrillo, Cheryl's Shoebox is hosting their 2nd Annual Summer Bash on August 6th at Babel Bar on La Isla Rio Cuale.

---
Women's Shelters Denied Federal Government Assistance

David Zude

In Mexico there are 60 shelters and just over 30 External Resource Centers for women and their children who are victims of domestic violence, all of which depend on federal assistance to help cover costs. This year over 50% of them have been denied assistance due to technical reasons.

---
ACT LGBT Invites You to Talk with Puerto Vallarta's Mayor

BanderasNews.com

ACT LGBT A.C., an influential legal coalition representing the interests of Puerto Vallarta LGBT & LGBT-friendly businesses and independent professionals, invites everyone to the Lion's Club on Thursday, June 29 from 11:30 am to 2:00 pm for a meeting with Mayor Arturo Dávalos Peña.

---
American Legion Hosts Free July 4th Event for Veterans

Dennis Rike

On July 4th from 12-2 pm, the Puerto Vallarta American Legion Post 14 will host a free Independence Day event, offering hot dogs, chili, and more, to every military veteran, their spouses and friends, who wish to come to Steve's Sports Bar, 286 Basilio Badillo on the south side of Vallarta.

---
Vallarta's First Free Pet Sterilization Campaign

María Francesca

There are many non-profit animal organizations in the greater Banderas Bay area that offer free spay and neuter clinics on a regular basis, but on July 8 & 9, the Puerto Vallarta municipal government is organizing the city's first free pet sterilization campaign.

---
Ángeles en Libertad Collecting Bottlecaps for Life

BanderasNews.com

Ángeles en Libertad invites everyone to participate in this year's 'Destapate y Dona Vida' (bottle caps for life) campaign. They will be collecting plastic bottle caps and aluminum can pull-tabs at an entertaining awareness- and fund- raising event at Los Arcos del Malecón on June 24.

---
Oficina de Proyectos Culturales' Taller OPC to be Inaugurated

Pilar Perez

The Taller OPC, which was unveiled during the May 27 opening of the Oficina de Proyectos Culturales' latest exhibition, 'You Are Here: Dichotomies of Landscape,' will be officially inaugurated tonight (June 22, 2017) from 7:00 to 9:00 pm at Juarez #598 in downtown Puerto Vallarta.

---
1st Annual Mango Festival to Benefit Jay Sadler Project

Dennis Rike

Join the Jay Sadler Project as they raise money for the Vista Hermosa playground with the juiciest event: the 1st Puerto Vallarta Mango Festival! Set to be held July 1 at Lazaro Cardenas Park, the festival will feature various dishes made with the 'King of Tropical Fruit' and live entertainment.

---
Expansion of the Vallarta Botanical Garden's Preserve

Neil Gerlowski

As forested land near the Vallarta Botanical Garden continues to become cleared for building homes, grazing cattle and other uses, it's more important than ever for VBG to secure additional preserve property by purchasing remaining tracts of intact forests before they are destroyed.

---
Help Keep Vallarta Clean! Join ANA's Recycling Program

Amapas Neighborhood Association

The only way the Amapas Neighborhood Association can continue the Recycling Program we started two years ago without charging for collection is to increase the volume of recyclables collected by getting more people in member buildings to use our program, or adding more buildings.

---
Grupo Ecologista de Nayarit Sea Turtle Drawing Contest

Jorge Jiménez

Grupos Ecologistas de Nayarit have announced the 5th 'Save the Sea Turtles Drawing Contest,' which seeks to raise children's awareness about this endangered species and the need for its preservation. The contest is open to 1st-6th graders and the deadline for entries is June 16th.

---
To Go to Summer Camp, Vallarta Kids Need Sponsors

Paco Ojeda

From July 17-Aug. 11, the Puerto Vallarta Public Library will be offering children four fun-filled weeks of educational and entertaining activities during this year's Los Mangos Summer Camp. Since many families can't afford to send their kids to camp, scholarship sponsors are needed.

---
Democrats Abroad June Social Hour at Nacho Daddy

David Kamp

The Costa Banderas Chapter of Democrats Abroad Mexico invites you to join them for a June 'Social Hour' in the air conditioned comfort of the upstairs lounge at Nacho Daddy, located at Basilio Badillo #287 on the south side of Puerto Vallarta, on Tuesday, June 20, 2017 from 5-7 pm.

---
2018 Heroes Calendar: PV Bomberos Turn Up the Heat

Tim Longpré

June 21st marks the first day of Summer, which means a heat wave is heading our way. But as the leaves start to change color and the cooler temperatures of Fall start to reappear, the 2018 Puerto Vallarta Heroes 911 calendar will heat things back up - for a good cause!

---
DIF Recognizes the Praiseworthy Work of Becas Vallarta

María Francesca

As part of the city's anniversary celebrations, every year on May 31st, 'Premio Vallarta' awards are given to citizens who have acted for the benefit of the community. This year, an award will be presented to a NGO for the first time, and the winner is... Becas Vallarta!

---
Vallarta Institute of Musical Arts Summer Concerts

Andrea Jupina

IAM PV recently announced the first two performances of its summer concert series. First, the Salty Paw Jazz Orchestra will be returning to The Jazz Foundation on Sunday, June 4; followed by an evening with the Puerto Vallarta Chamber Orchestra at Los Mangos Library on Friday, June 9.

---
A New Service at Los Mangos (and a humble tribute...)

Paco Ojeda

Inspired by a recent trip to Entre Amigos, the Puerto Vallarta Public Library, Biblioteca Los Mangos, now has a bulletin board at the entrance that provides visitors with information about all the weekly courses and workshops available for children, teens & adults, as well as special events.

---
Memorial Day Event for Veterans at Steve's Sports Bar

Stan Francis

For most North Americans, Memorial Day is an annual holiday to honor all who died while defending their nation and its values. Here in Puerto Vallarta, the American Legion Post 14 will host a free Memorial Day event for U.S. and Canadian veterans on May 29 at Steve's Sports Bar.

---
Entreamigos Announces 4th Edition of Literary Week

Marie Callan

Entreamigos, a non-profit organization that has been working to provide San Pancho children and their families with better educational opportunities for 11 years, recently announced that the fourth edition of Literary Week will be held from May 29-June 2 in San Francisco, Nayarit.

---
This Week's Events & Activities at Los Mangos Library

Adriana García

Puerto Vallarta's Public Library, Biblioteca Los Mangos, is not 'just a library,' it is a true cultural and community center that also serves as a venue for entertaining and educational workshops, art exhibits, concerts, and cultural events. Here's what's happening this week at Los Mangos.

---
Site Map
•
Print this Page
•
Email Us
•
Top