Vallarta Living
Community Services
Many of us have discovered a strong sense of community here on Banderas Bay, some for the very first time. If you're from a metropolis where technology reigns supreme and the words "next-door neighbor" and "stranger" are synonymous, you'll find this a refreshing environment where people matter.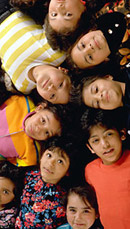 Working side by side with our new neighbors to achieve common goals is an ideal way to learn about the culture and make friends while giving back to the community which embraces us.


On these pages you'll learn about the various local charities and how you can get involved. With a multitude of opportunities here to flex philanthropic muscles, you can find out for yourself that it truly does feel as good to give as it does to receive!

• B E L O W T H E F O L D •
Linda's Nail Lounge's Offers Special to Benefit SETAC

Paco Ojeda

There is never a bad moment to pamper oneself with a relaxing mani-pedi delivered by a skilled beautician using state-of-the-art equipment. That said, César Ríos of Linda's Nail Lounge is offering a special promotion benefiting Vallarta's SETAC Community Center that you can't miss.

---
Vallarta Heroes 911 Calendar Launch Party, November 9

Banderas News Team

Puerto Vallarta first responders will set off some sparks Nov. 9 at the 9-1-1 Calendar Launch Party hosted by Paco's Ranch. Festivities begin at 7 pm and include 2x1 drinks, live entertainment by Amy Armstrong, raffle, mini-auction and, of course, appearances by our calendar models.

---
El Arrayán Hosts Oaxaca Earthquake Relief FUNdraiser

BanderasNews.com

On Sunday, October 29, the owners of El Arrayán Mexican Restaurant in Puerto Vallarta will host a Pozole + LIVE Music Fiesta to support earthquake relief efforts in southern Oaxaca. 100 percent of all funds raised will provide direct relief to the town of San Francisco Ixhuatán, Oaxaca.

---
Flute Ensemble Concert to Raise Funds for I AM PV

BanderasNews.com

The Flute Ensemble of Puerto Vallarta, newly formed this summer, is pleased to announce their first performance at Incanto on October 22 at 4 pm. Proceeds from this fundraiser concert will be used to purchase equipment for I AM PV, the Instituto Artes Musicales de Puerto Vallarta.

---
Garbo to Host Democrats Abroad's October Social

Democrats Abroad Mexico

The Costa Banderas Chapter of Democrats Abroad Mexico invites you to join them on Tuesday, October 17 from 6-8 pm for a 'Social Hour' in the air conditioned comfort of Garbo Piano Bar, Pulpito #142, between Olas Altas and Amapas on the south side of Puerto Vallarta.

---
Mellow Mondays at Casa Karma Support Los Mangos

Biblioteca Los Mangos

Casa Karma now features Mellow Mondays, intimate soirees in which live music becomes the underscore for great conversation, a casual food fare menu and cash bar cocktails benefiting Puerto Vallarta non-profit organizations. In October, Biblioteca Los Mangos will be the recipient.

---
October News from Puerto Vallarta's SPCA Sanctuary

Janice Gonzalez

October is 'Adopt a Shelter Dog Month' at the Puerto Vallarta SPCA Sanctuary and we have lots of lovelies looking for their forever homes. If you can't adopt a dog that needs a loving home, but still want to help, you can foster, sponsor, volunteer, donate, educate, or help spread the word.

---
PechaKucha Puerto Vallarta Vol. 3 Promotes Non-Profits

BanderasNews.com

PechaKucha Puerto Vallarta Vol. 3 will take place on Thursday, October 19, at 8:20 pm at Centro Cultural Biblioteca Los Mangos. This will be the first PechaKucha Night that will focus on a specific topic: the many non-profit organizations in the region that offer volunteering opportunities.

---
'Music For Mexico' Earthquake Relief Benefit Concert

BanderasNews.com

On October 1st, Act II will present 'Music For Mexico,' a benefit concert to help people in the areas hardest hit by the earthquakes that have devastated Mexico. Come show your support while bidding on wonderful donations from local businesses, and enjoying great entertainment!

---
Puerto Vallarta Charities that Help Homeless Animals

Warren Brander

Many visiting Puerto Vallarta will notice that we have more than our fair share of abandoned dogs and cats living on the street. A lot of visitors ask me what they can do. Here are a few of the charities that are working to control this situation and get these wonderful animals adopted.

---
Site Map
•
Print this Page
•
Email Us
•
Top