If shopping is your bag
, Puerto Vallarta is a paradise where you'll always find something to surprise, amaze and delight you. There's no one specific shopping district in the Banderas Bay area . . . you might find what you're looking for in a tiny shop, boutique or art gallery on a back street - or in a large department store at one of the area's modern shopping centers.
On Calles Libertad
, Juarez and Morelos, small shops selling traditional Mexican apparel, folk art, and beachwear juxtapose with art galleries and boutiques offering original art, pottery and designer clothing at prices that are sure to make you "shop 'til you drop." And as far as shopping malls are concerned, Plaza Marina, Plaza Neptuno, Plaza Caracol and Paradise Village are packed with specialty stores selling clothing, jewelry, original art and home decor.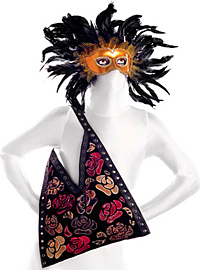 But for many savvy shoppers the real fun
begins when haggling with beach vendors, at street-side stands and in flea markets. Haggling is a common practice in Mexico, and in most cases, if you offer to pay about 40% less than the asking price, you'll end up paying somewhere between the initial amount and your counter offer. The only rule of the game is to maintain mutual respect while wavering between impulse and indifference.
The stalls and kiosks along
Cuale Island, in the Municipal Market and at the Pueblo Viejo Artisans' Market are also popular with visitors on the lookout for vacation souvenirs at bargain prices. The owners of these shops are always ready to bargain, so take an unhurried look around, fall into the temptation and buy, buy, buy!
Shopping in Puerto Vallarta
has a somewhat different focus for residents and long-term visitors than it does for tourists - centering more on every day necessities and all the "must do" chores of daily life. Unlike most other resort destinations, you can find stores and supermarkets all around Banderas Bay that cater to locals rather than tourists.
On almost every street you'll find
stores selling hardware, furniture, kitchenware, appliances, groceries, and just about anything else you can possibly imagine. Most stores stock international brands in addition to regional products at reasonable prices. And, if you just can't find what you're looking for - there's always Home Depot, Costco, Sam's Club or Walmart...
Click HERE to learn more about some of the many art galleries in Puerto Vallarta.
• B E L O W T H E F O L D •
Fashion for Compassion Luncheon at Hacienda Carlota

Colette Zarry
On February 5, Hacienda Carlota Restaurant and Deja New will host a Fashion Show and Luncheon to raise money for Puerto Vallarta's Colina Spay & Neuter Clinic, which provides free services to Banderas Bay pet owners who otherwise would be unable to get their cats and dogs sterilized.
---
Daiquiri Dick's Does Brunch With PuRR-fect Style

Marie Callan
Looking for the PURR-fect way to shop for all of the latest fashions in tropical clothing and accessories? Then head over to Daiquiri Dick's Restaurant on Los Muertos Beach on Tuesday, February 6 at 10:30 am for the fifth annual PuRR Project Fashion Show and Brunch.
---
Gil Gevins Book Signing Party at Lucy's Cucu Cabaña

Banderas News Team
Puerto Vallarta's favorite author, Gil Gevins, who has been delighting readers for thirty some-odd years with his hilarious short stories and columns, has recently published his latest novel, '1967.' If you're in town, don't miss the book signing party at Lucy's Cucu Cabaña on December 21.
---
Meet Leather Designer Claudette Johnston at No Way José!

Julie Guerrero
The JG Group proudly presents the next in their series of cocktail parties to introduce new services and providers for new property and business owners in Puerto Vallarta. Meet leather designer Claudette Johnston on December 21, from 6-7:30 pm in the Raicilla Lounge at No Way José!
---
Gerald Gallant and Emilio Rama Open at Galleria Dante

Gena Guarniere
Exhibitions by artists Gerald Gallant and Emilio Rama open at Galleria Dante on December 15, as part of this week's South Side Shuffle. Stop by Puerto Vallarta's largest and most eclectic art gallery to meet the artists and enjoy complimentary cocktails from 6-10 pm.
---
Demand for Natural Christmas Trees Grows in Mexico

La Verdad Noticias
With the demand for natural Christmas trees growing in Mexico, the National Forestry Commission has invested $7.8 million pesos in commercial tree plantations since 2013. Mexico now has 11,335 hectares planted and 900,000 trees ready to sell for Christmas 2017.
---
Galería June Rosen Lopez Holiday Open House, Dec. 16 & 17

BanderasNews.com
Just in time for Christmas, New York jewelry designer June Rosen Lopez is opening up her home gallery in PV's Romantic Zone to host a Holiday Open House. Everyone is invited to stop by from 1-8 pm on Dec. 16 & 17 to visit, have a drink, and view her collection of custom-made jewelry.
---
Southwest Airlines Makes a New Fashion Statement

Chicago Business Journal
Southwest Airlines has inked a multi-year partnership with Mexican fashion designer Carla Fernandez to use recycled leather from discarded Southwest airplane seats to create a new line of accessories and clothing ranging from shoes and bags to ponchos and key chains.
---
Season's First South Side Shuffle at Galleria Dante

Banderas News Team
An exhibition by Canadian artist Marc Galipeau opens at Galleria Dante on Friday, November 24, as part of the first Southside Shuffle of the 2017-2018 season. Stop by PV's largest and most eclectic art gallery to meet the artist and enjoy complimentary cocktails from 6-10 pm.
---
Beachfront Fashion Show to Benefit Corazón de Niña

Banderas News Team
Tired of wearing the same old beachwear day in and day out? Then come to El Dorado Beach Club on Playa de Los Muertos on Saturday, November 25 for the second annual Beachfront Fashion Show to benefit Corazón de Niña, a shelter for abused and abandoned children in Puerto Vallarta.
---
2018 Vallarta Heroes 9-1-1 Calendar is On Sale Now

PVRPV
Puerto Vallarta firefighters, lifeguards and police took a moment out from putting out flames to spark a few fires of their own last Thursday night at Paco's Ranch at the 'unveiling' of the 2018 Heroes 9-1-1 calendar. The 14-month calendar is on sale now for just $250 pesos.
---
Huge Garage Sale to Benefit PuRR Project, Nov. 11-12

Marilyn Khan
PuRR Project's 4th annual garage sale will be held in Marina Vallarta on Saturday and Sunday, November 11-12, 2017 with all proceeds benefiting the 180+ furry residents at PuRR Project, Puerto Vallarta's non-profit, no-kill feline shelter.
---
Amazon Launches Cash Payment Service in Mexico

BusinessOfFashion.com
Amazon.com Inc launched a cash payment service in Mexico on Tuesday, aiming to expand its customer base in a country where shoppers are wary of credit card fraud and often earn their living in paper currency. Now, shoppers can make cash payments at several convenience stores.
---
Furniture and Home Decór Shopping in Puerto Vallarta

Adam Garcia
After you've purchased property in Puerto Vallarta the next step is to make it your home. There was a time when Guadalajara was the only option for furniture shopping, but that has changed. Nowadays competitive stores abound and just about anything can be custom-made locally.
---
Tianguis Lo De Marcos' Opening Day is November 4

Galvan Real Estate
Returning for its Fourth Season, Tianguis Lo De Marcos will reopen its doors November 4 and feature the works of over 50 talented Artisans including growers of organic produce and fresh flowers, and makers of fresh baked goods, handmade clothing, jewelry and more.
---
Vallarta Heroes 911 Calendar Launch Party, November 9

Banderas News Team
Puerto Vallarta first responders will set off some sparks Nov. 9 at the 9-1-1 Calendar Launch Party hosted by Paco's Ranch. Festivities begin at 7 pm and include 2x1 drinks, live entertainment by Amy Armstrong, raffle, mini-auction and, of course, appearances by our calendar models.
---
Marina Vallarta Thursday Market Resumes October 19

Puerto Vallarta Tourism Trust
The Marina Vallarta Art & Market resumes Oct. 19 and will run every Thursday from 6-10 pm through May 31, 2018. Market shoppers will find art & jewelery, organic foods & homemade breads, clothes & handicrafts, among many other wonderful things while enjoying live music and lots of fun.
---
Amazon Plans to Build a Massive Warehouse in Mexico

Investopedia
Amazon.com is gearing up to open a massive warehouse in Mexico as it aims to tap into the e-commerce market that has yet to take off in the country. According to Reuters, the 1-million-square-foot warehouse will be located near Mexico City, and is slated to be completed in 2018.
---
Expat Entrepreneurs Offer a Tempting Taste of Vallarta

Robert Nelson
Entrepreneurs Todd and Kathleen Atkins spent the last five years traveling the world searching for a place to retire, but after a four-day visit last year the couple fell head over heels for Puerto Vallarta, where they bought the Xocodiva artisan chocolate and Lix ice cream shops.
---
Tianguis Lo De Marcos' Fourth Season Begins November 4

Galvan Real Estate
On Saturday, November 4, 2017, The Tianguis Lo de Marcos will reopen its doors for its fourth season, and you are invited to stop by and check it out! If you can't make opening day, this weekly market will be held every Saturday from 9 am until 2 pm through March 31, 2018.
---
Mercado Los Mangos Preparing for Sophomore Season

Paco Ojeda
Mercado Los Mangos, a seasonal market launched by Los Mangos Library earlier this year, has announced its second season will begin Oct. 28. With just over 3 months to go before the launch of its sophomore season, organizers are ready to begin reviewing new vendor applications.
---