If shopping is your bag
, Puerto Vallarta is a paradise where you'll always find something to surprise, amaze and delight you. There's no one specific shopping district in the Banderas Bay area . . . you might find what you're looking for in a tiny shop, boutique or art gallery on a back street - or in a large department store at one of the area's modern shopping centers.
On Calles Libertad
, Juarez and Morelos, small shops selling traditional Mexican apparel, folk art, and beachwear juxtapose with art galleries and boutiques offering original art, pottery and designer clothing at prices that are sure to make you "shop 'til you drop." And as far as shopping malls are concerned, Plaza Marina, Plaza Neptuno, Plaza Caracol and Paradise Village are packed with specialty stores selling clothing, jewelry, original art and home decor.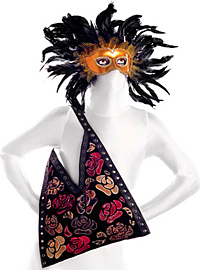 But for many savvy shoppers the real fun
begins when haggling with beach vendors, at street-side stands and in flea markets. Haggling is a common practice in Mexico, and in most cases, if you offer to pay about 40% less than the asking price, you'll end up paying somewhere between the initial amount and your counter offer. The only rule of the game is to maintain mutual respect while wavering between impulse and indifference.
The stalls and kiosks along
Cuale Island, in the Municipal Market and at the Pueblo Viejo Artisans' Market are also popular with visitors on the lookout for vacation souvenirs at bargain prices. The owners of these shops are always ready to bargain, so take an unhurried look around, fall into the temptation and buy, buy, buy!
Shopping in Puerto Vallarta
has a somewhat different focus for residents and long-term visitors than it does for tourists - centering more on every day necessities and all the "must do" chores of daily life. Unlike most other resort destinations, you can find stores and supermarkets all around Banderas Bay that cater to locals rather than tourists.
On almost every street you'll find
stores selling hardware, furniture, kitchenware, appliances, groceries, and just about anything else you can possibly imagine. Most stores stock international brands in addition to regional products at reasonable prices. And, if you just can't find what you're looking for - there's always Home Depot, Costco, Sam's Club or Walmart...
Click HERE to learn more about some of the many art galleries in Puerto Vallarta.
• B E L O W T H E F O L D •
Furniture and Home Decór Shopping in Puerto Vallarta

Adam Garcia
After you've purchased property in Puerto Vallarta the next step is to make it your home. There was a time when Guadalajara was the only option for furniture shopping, but that has changed. Nowadays competitive stores abound and just about anything can be custom-made locally.
---
Tianguis Lo De Marcos' Opening Day is November 4

Galvan Real Estate
Returning for its Fourth Season, Tianguis Lo De Marcos will reopen its doors November 4 and feature the works of over 50 talented Artisans including growers of organic produce and fresh flowers, and makers of fresh baked goods, handmade clothing, jewelry and more.
---
Vallarta Heroes 911 Calendar Launch Party, November 9

Banderas News Team
Puerto Vallarta first responders will set off some sparks Nov. 9 at the 9-1-1 Calendar Launch Party hosted by Paco's Ranch. Festivities begin at 7 pm and include 2x1 drinks, live entertainment by Amy Armstrong, raffle, mini-auction and, of course, appearances by our calendar models.
---
Marina Vallarta Thursday Market Resumes October 19

Puerto Vallarta Tourism Trust
The Marina Vallarta Art & Market resumes Oct. 19 and will run every Thursday from 6-10 pm through May 31, 2018. Market shoppers will find art & jewelery, organic foods & homemade breads, clothes & handicrafts, among many other wonderful things while enjoying live music and lots of fun.
---
Amazon Plans to Build a Massive Warehouse in Mexico

Investopedia
Amazon.com is gearing up to open a massive warehouse in Mexico as it aims to tap into the e-commerce market that has yet to take off in the country. According to Reuters, the 1-million-square-foot warehouse will be located near Mexico City, and is slated to be completed in 2018.
---
Patrón Introduces its First New Tequila in 25 Years

PRNewswire
Consumer preference for aged spirits has grown and today's range of aged tequila styles and tastes arguably rivals those of the finest bourbons, scotches and cognacs. To meet this demand, Patrón, the global leader in ultra-premium tequila, recently introduced Patrón Extra Añejo.
---
Mexico Dedicates a Postage Stamp to the Avocado

BanderasNews.com
For its contribution to development and the economy, the Mexican Postal Service has dedicated a postage stamp to the avocado, 'Mexico's Green Gold.' The stamp, designed by Sergio Barranca Rábago as a collector's item, will be available at post offices throughout the country.
---
Expat Entrepreneurs Offer a Tempting Taste of Vallarta

Robert Nelson
Entrepreneurs Todd and Kathleen Atkins spent the last five years traveling the world searching for a place to retire, but after a four-day visit last year the couple fell head over heels for Puerto Vallarta, where they bought the Xocodiva artisan chocolate and Lix ice cream shops.
---
Tianguis Lo De Marcos' Fourth Season Begins November 4

Galvan Real Estate
On Saturday, November 4, 2017, The Tianguis Lo de Marcos will reopen its doors for its fourth season, and you are invited to stop by and check it out! If you can't make opening day, this weekly market will be held every Saturday from 9 am until 2 pm through March 31, 2018.
---
Mercado Los Mangos Preparing for Sophomore Season

Paco Ojeda
Mercado Los Mangos, a seasonal market launched by Los Mangos Library earlier this year, has announced its second season will begin Oct. 28. With just over 3 months to go before the launch of its sophomore season, organizers are ready to begin reviewing new vendor applications.
---
Benito Santos Designs Wedding Dresses for Grand Velas

BanderasNews.com
Inspired by the contemporary and elegant design of the resort and its breathtaking scenery, renowned Mexican designer Benito Santos has created an exclusive collection of wedding dresses for the Grand Velas Riviera Nayarit. They are now on display in the resort's wedding showroom.
---
Savvy & Well: Vallarta Online Meal Delivery Service

BanderasNews.com
Save time and cook delicious food at home. Savvy & Well, a new online meal delivery service in Puerto Vallarta, does the prep work for you so all you have to do is follow simple step-by-step instructions to create restaurant quality meals in your own kitchen in about 30 minutes.
---
Devil's Bar Puerto Vallarta Launches 'Hellfire Tequila'

BanderasNews.com
The owner of Devil's Bar in Puerto Vallarta, Mexico, recently announced the launch of their new 'Hellfire Tequila.' The cinnamon-flavored tequila is a Mexican product, and the name 'Hellfire' was chosen to help the brand become known as the tequila version of Fireball Whiskey.
---
David's Bridal Opens First Franchise in Mexico City

edgl.com
David's Bridal has partnered with Diltex, a manufacturer and retailer of intimate apparel in Mexico, to open its first franchise location in Mexico City. The store, located on on Avenida Revolucion, carries a broad selection of designer gowns at an exceptional value.
---
Ranker: 10 Bottles of Tequila That Are Worth a Try

UPROXX
Ah, tequila. A bottle of the blue agave distillate from Jalisco, Mexico is must in any home bar. But which bottle? Ranker asked it's users which tequila is the fairest of them all. And ten thousand people voiced their opinion on the matter, leading to a list of ten bottles of tequila worth a try.
---
Xiaomi Debuts New Line of Budget Smartphones in Mexico

South China Morning Post
Beijing-based Xiaomi launched a new line of smartphones that includes its Redmi 4X and Redmi Note 4 models, which start at 3,999 pesos (US$208) and 5,499 pesos respectively, in the Mexico market on Tuesday at the company's first official product launch event in the country.
---
Some of Vallarta's Weekend Markets are Still Open

Lorena Sonrisas
From specialty foods and natural remedies to unique jewelry, clothing, accessories, art and home decor, the Banderas Bay area's many weekly markets offer the best of Puerto Vallarta. While many of these weekly markets have folded up their tents for the summer, a few are still open.
---
Export Commitments Make Avocados Scarce in Jalisco

El Economista
Since producers are prioritizing supplying international markets, avocados have become scarce and expensive in Jalisco markets and stores, and the little product that is marketed in the state is grown in other Mexican states, such as Nayarit and Sinaloa.
---
Exhibit by Artist Bill Megrail Opens at Galleria Dante

Claire Guarniere
An exhibition by artist Bill Megrail opens at Galleria Dante on Friday, April 21st, as part of the last Southside Shuffle of the 2016-2017 season. Stop by the largest and most eclectic art gallery in Puerto Vallarta to meet the artist and enjoy complimentary cocktails from 6-10 pm.
---
Mercado Los Mangos Benefits Vallarta Area Farmers

Paco Ojeda
When Mercado Los Mangos announced a one-month extension of its season, until the end of June, both vendors and shoppers responded enthusiastically. In particular, Mercado Los Mangos is attracting local farmers in search of shaded places to present and sell their products.
---
George Clooney's Casamigos Tequila Takes Home the Gold

Bar Magazine
Casamigos Tequila, the brand owned by George Clooney, has won gold in the Mexico Anejo Tequila of the Year category. Available in Blanco, Reposado and Añejo, these small batch ultra-premium tequilas are made from 100% Blue Weber agaves, grown in the red clay soil of Jalisco's highlands.
---
Mercado Los Mangos Extends Season Through June

Paco Ojeda
Not even ten weeks have gone by since Mercado Los Mangos opened its doors to the public for the first time, January 28, and the response from vendors and Puerto Vallarta shoppers has been so positive, organizers have already decided to extend its season until the end of June.
---
The Virtues of Natural Medicine for Pets & Their Humans

Paco Ojeda
While you are out doing your Saturday shopping at Mercados Los Mangos, be sure to stop by and say 'hello' to Claudia Hernández & Luis Estrada, who moved to PV less than 3 months ago. They own Alquimiate, a source of natural medicine products and therapies for pets and their humans.
---
Wal-Mart de Mexico Plans to Boost Investments

Marketwatch.com
Retailer Wal-Mart de Mexico said Tuesday it plans to increase its capital expenditures this year, with investments in opening and remodeling stores and bolstering the firm's logistics and online commerce. The company said it would invest 17 billion Mexican pesos this year.
---
The Search for Authentic Flour Tortillas in Vallarta is Over!

Paco Ojeda
While the corn tortilla - the staple of Mexican cuisine - is ubiquitous, traditional flour tortillas are not as common in Puerto Vallarta. But never fear! Patricia García of La Regia Flour Tortillas sells authentic, flavored - and even gluten-free! - flour tortillas every Saturday at Mercado Los Mangos.
---