Aviana Productions
Aviana Productions Video Marketing Company

Multimedia Marketing and Consulting

The award winning team of Jon Duncanson and Sylvia Gomez employs 20 years of storytelling and video/film crafting to give you the extreme upper hand in marketing yourself, your business, your development, or your "Call To Action."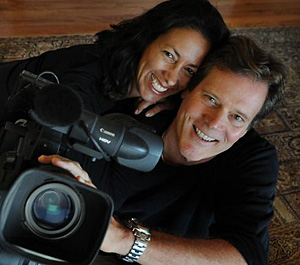 Puerto Vallarta couple Sylvia Gomez and Jon Duncanson run Aviana Productions, a video marketing company working in Los Angeles, San Francisco, Mexico, Chicago, Aspen and beyond. (IJ/Jeff Vendsel)
Duncanson and Gomez launched Aviana Productions in January 2007 after leaving their jobs as co-anchors at CBS weeks earlier. But the pair has worked side by side as network reporters and collaborated on numerous documentary and video projects since meeting in 1992 while covering a Turkish drug lord's escape from the Cook County Jail in Chicago.


Now Duncanson and Gomez divide their time between Mill Valley and Puerto Vallarta, Mexico, traveling back and forth with their 8-year-old son, Ian, as they do political consulting and produce marketing videos for resorts, including The Four Seasons Resorts, DINE/Punta Mita and The St. Regis, as well as corporate clients such as Intel Corp and Imanta.


Let your target audience see your vision at the click of a finger. Much more than photos and copy, Aviana Productions' High Definition streaming video productions highlight your ideas and your project in real time. Aviana Productions lets you walk, talk, and show in perspective, your dreams, your ideas. Then send them instantly to any computer in the world.


Marketing your vision means keeping people interested in what you're saying. Aviana's cutting edge video production marketing techniques bring your idea to life. No more flat photos. No more words that won't be read.


Aviana Productions can help you show and tell people who you are, why you do what you do, and demonstrate what you have to offer. Then, after the pitch is made, after the client has gone, your HD video production, streamed on the web, allows them to review your pitch, and compare with friends and associates. Long after your sales pitch is done, you're still selling.


For additional information on Aviana Productions' video services please call (322) 222-6540 in Mexico, (312) 550-2243 in the US or Canada, send an email to info(at)avianaproductions.com, or visit AvianaProductions.com.

• B E L O W T H E F O L D •
The Future of Real Estate: IPad Reinventing Real Estate Sales

Sylvia Gomez

The days of sending out just a brochure (or e-brochure) to sell a property are long gone, according to Ezine.com. With the advent of smart phone technology Social Media and the popularity of the iPad, real estate agents are being forced to reexamine their marketing strategies.

---
PV Biologist to be Profiled on CNN's 'Heroes' Segment

PVNN

Puerto Vallarta marine biologist Oscar Aranda Mena, who heads the Sociedad Ecologica de Occidente - known locally for its sea turtle hatchery and conservation efforts - will be going global this Thursday by being featured on CNN's 'Heroes' news segment.

---
Aviana Productions Wins North American Aegis Award

PVNN

Puerto Vallarta based Aviana Productions has been awarded a prestigious Aegis Award for its production of a marketing documentary film with golfing great Jack Nicklaus and DINE/Punta Mita. The short film was shot in Punta Mita, Mexico, near the resort town of Puerto Vallarta.

---
Little League Brings New Friends Together

Bob Cohen

Aviana Productions takes us to one of this season's T Ball games, where budding baseball players, ranging from 5-8 years of age, proved that they have what it takes to be the future stars of the Puerto Vallarta Little League.

Tell a Friend
•
Site Map
•
Print this Page
•
Email Us
•
Top