Vallarta Living | November 2009
OXXO Helping to Make Dreams Come True

Polly G. Vicars - PVNN
November 09, 2009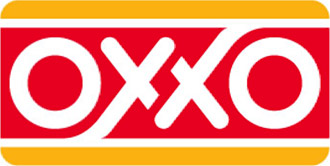 Oxxo helping Puerto Vallarta charities with their Rounding Up program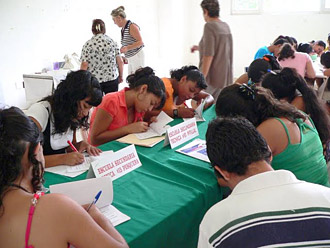 We can use the OXXO round up money for 100 annual Jr high scholarships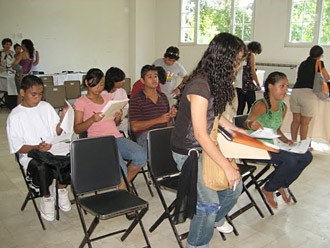 Or we can pay for 29 senior high scholarships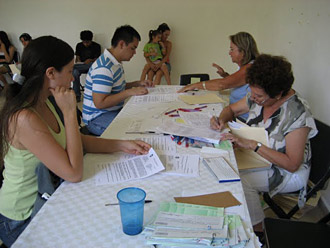 Or we can add 23 more University students
Last summer I wrote about OXXO's program to help local charities by instituting the practice of "rounding up" (redondear) in all of their stores in Vallarta and reported the great check they presented to RISE from the proceeds for the months of May, June and July.


Happily, Becas Vallarta (America-Mexico Foundation, Inc.) was then chosen to be the recipients of the "rounding up" for the months of August, September and October. During those months at the cash register of every OXXO store, if the bill came to an odd number of centavos, for instance $12.71 pesos, 29 centavos were not given to the customer as change, but were credited to the Becas Vallarta.


As a result, this week President Mariel de Fregoso received a letter from Laura Lorenzo Joya of Cadena Comercial Oxxo S.A DE CV giving her the magnificent news that the proceeds from our three months of redondear amounted to enough money to pay for a years scholarship for 23 university students or 29 high school students or 100 junior high students! Imagine that from a few centavos per purchase dreams will be coming true for that many young Vallartenses of great ability who would have almost no chance of finishing their education without help from Becas Vallarta and Oxxo.


We thank Oxxo and their employees on behalf of all 300 of our scholarship students. We salute the following store managers and their employees who raised the most money in their individual stores: First Place: Armando Silvestre, Oxxo Decameron; Second Place: Rafael Rivera, Oxxo Hamburgo; Third Place: Jose Luis Michel, Oxxo San Carlos; Fourth Place: Aleyda Uriarte, Oxxo La Cruz as well as First Place For Tienda Six: Diana Leticia Robledo Garcia, Six Aeropuerto.


And we thank all of you who, while paying your bill at Oxxo, said to the cashier, "redondeo por favor."


And now for a little teaser. What locally owned and famously known by all of us gringos store will begin to "round up" for Becas Vallarta in December? Stay tuned!

---

Polly G. Vicars and her husband of almost 60 years, Hubert (a.k.a. "Husband") retired to Puerto Vallarta in 1988 and soon became active members of several charitable organizations. Polly is the author of "Tales of Retirement in Paradise: Life in Puerto Vallarta, Mexico" [a sell-out!] and "More Tales of Retirement in Puerto Vallarta and Around the World." Proceeds from the sale of her books go to the America-Mexico Foundation, a scholarship foundation that is their passion.

Click HERE for more articles by Polly Vicars, or click HERE to learn more about Becas Vallarta and the America-Mexico Foundation.
Tell a Friend
•
Site Map
•
Print this Page
•
Email Us
•
Top