Vallarta Living | December 2009
Out and About in Puerto Vallarta

Twila Crawford - PVNN
December 10, 2009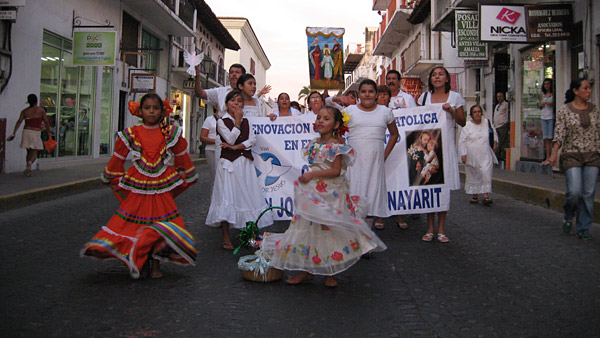 Every year from December 1st-12th the streets of Puerto Vallarta come alive with festivities, processions and religious fervor culminating with the celebration of the Festival of Our Lady of Guadalupe. (Mike Sole)
What a beautiful time of year! The pilgrimages of believers from around the Puerto Vallarta area move to the main church to leave gifts from this area for remembrances of baby Jesus, the wise men, Joseph and Mary and Mexico's heritage such as the Aztec-costumed dancers. Color in costumes and decorations are seen everywhere.


A truck load of persons in my neighborhood dressed for a place in a procession invited me to join them in the back of their pickup. If I had accepted, I imagine they would have thrown a blanket over me, with being out of place in my shorts and t-shirt.


How about our winter rains? After our excessively hot and dry summer.


Three local leaders are undergoing medical procedures in the US. Please remember in your thoughts former U.S. consular agent Jenny McGill, Writers Group president Don Gallery, and community leader Mel Bornstein.


Simon and Schuster executive Adene Corns presented a program about digital publishing to the Writers Group. She answered many questions from writers.


Author Jerie Callahan has copies of her book, Staying Afloat, about houseboats, here with her. She also conducts houseboat tours in the Seattle area. Author Jean Hearth from the Toronto area is in town for three months. Alex Curtis remains living in Vancouver.


For many of us counting our pennies these days, many dishes are under $10 at the family-run Rosita and El Pescador restaurants. Give the food a try in these eateries overlooking greenery, flowers and Banderas Bay.


Puerto Vallarta and Bahía de Banderas will soon share the same time zone. Mexico's Senate voted to align the clocks. It will make things easier. The rest of Nayarit will stay on Pacific time.


BanderasNews has teamed up with Mijo! Brands to redevelop the international news and entertainment website. BanderasNews.com has more than 8 million visitors per year. The new banderasnews.com site will be seen in Spring 2010. Denise Derameé is the outstanding editor of BanderasNews. Read more...


Richard and Pat Bendix are on a winter cruise, including the Amazon.


The Swedes restaurant, Pulpito 154, serves a variety of food, including some Swedish dishes. Outdoor dining is available for lunch, featuring sandwiches and other light fare. You can check with Rikard and Morgan at (322) 223-2353.


Remember this next week the Becas Breakfast at 9:30 am, Wednesday, December 16, at River Cafe. Funds raised help with scholarships for local children. US Consular Agent Kelly Trainor has arranged a networking breakfast at 9:00 am Friday, December 18, at River Cafe. Items diners bring will help with Sally´s Corner at Los Mangos Library.
---

An award-winning journalist, Twila Crawford lives in Puerto Vallarta, where, in addition to contributing articles to BanderasNews, the PV Mirror and other local publications, she writes Out and About in Puerto Vallarta, an informative column that offers inside information about who, what, why, where and when it's happening around Banderas Bay.
Click HERE to read more articles by Twila Crawford.
Tell a Friend
•
Site Map
•
Print this Page
•
Email Us
•
Top