Entertainment | Restaurants & Dining | June 2009
Vallarta Lifestyles' Restaurant Week 2009 Wrap-Up

Gary R. Beck - PVNN

From May 15th-31st 2009, some of the most recognized restaurants in Puerto Vallarta were once again serving up spectacular three-course menus (with three options each) discounted by up to 50% during Vallarta Lifestyle's 5th Annual Restaurant Week.

BanderasNews restaurant reviewer Gary R. Beck and video journalist Laura Gelezunas show us some highlights from Vallarta Restaurant Week 2009. (Vista Grill Restaurant)


If you would like to learn how you can promote your Banderas Bay area business or event through a video press release on BanderasNews, please contact Laura Gelezunas at VideoDivaProductions(at)yahoo.com. (Video Diva Productions)
Restaurant Week 2009, actually 17 days, was a thrilling event for me and around 43 guests, each of whom joined me for at least one night of fine dining at 15 of the 36 participating restaurants, where we sampled all nine courses offered: 3 starters, 3 entrées and 3 desserts.


On five occasions, I was joined by BanderasNews video journalist Laura Gelezunas. Together, we interviewed the restaurant chefs or owners, who described the cuisine offered and why they felt diners should choose their establishment. We also talked to some of the guests, who gave us their personal impressions of the restaurant's ambiance, various dishes and why they chose to visit this particular dining spot during Restaurant Week 2009.


I then composed reviews of the décor, food, ambience and service at each of the restaurants we visited, which were posted right here on BanderasNews in a special Restaurant Week section that provided readers with "inside information," a list of participating restaurants, a schedule of the places I planned to visit, and an invitation to join our group of food lovers on any given night.


I was named the social director, assembling emails for each night reminding invitées beforehand and then making our reservations at the eatery. These grouping of 'foodies' were wonderful dining companions who were supportive of our project and thoroughly enjoyed the restaurants we visited.


Some observations were totally unexpected but warmly received. A large number of BanderasNews readers joined other guests on these dining expeditions. Not only did we all have the opportunity to sample very fine courses at reduced fares, we made new friendships and planned to get together for future events. The result was a blending of people from many backgrounds, cities, countries and philosophies.


Many restaurants will continue to offer special menus and prices over the summer, like Daiquiri Dick's Summer Sizzle. Go out and dine at a fine restaurant and sample their cuisine at reduced prices. Bargains like these are hard to pass up!


Read Gary's reviews of the 15 out of 36 participating restaurants he visited:
---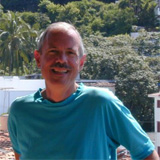 After 20 years in the San Francisco restaurant business, Gary R. Beck turned his attentions to cooking, dining out, creating recipes and exploring Puerto Vallarta's rich array of eateries. Famous for his restaurant guide, available online at CafePress.com or Lulu.com, Gary also writes restaurant reviews for Puerto Vallarta newspapers, Bay Area magazines, and now, a feature column for BanderasNews.com. Contact Gary at garyrbeck1(at)yahoo.com.
Click HERE for more articles by Gary R. Beck.
• P U E R T O V A L L A R T A R E S T A U R A N T W E E K 2 0 0 9 R E V I E W S •
Le Kliff Restaurant Week Review

Gary R. Beck

Since Le Kliff has reached international fame for its unusual architecture and stunning sunsets, not to mention it's gourmet cuisine, we could not pass up the opportunity to take advantage of the specially priced 3-course menu presented during Vallarta Restaurant Week 2009.

---
Restaurant Week at Barcelona Tapas

Gary R. Beck

Serving up both excellent bay views and small plates of delicious tapas meant to be shared amongst guests, Barcelona Tapas is the ideal place for eating out with friends - and those are just some of the reasons that it was on the top of my list of places to visit during Vallarta Restaurant Week.

---
Cilantro's Restaurant Week Review

Gary R. Beck

In addition to unique menu selections, Cilantro's serves up a fantastic view of Puerto Vallarta's most famous landmark, the uniquely crowned Our Lady of Guadalupe Cathedral, an extensive wine list and creative cocktails, all of which we immensely enjoyed during Restaurant Week 2009.

---
Restaurant Week at Trattoria Michel

Gary R. Beck

Swiss Michel Pascal Ferrari brings his knowledge of authentic Italian cuisine to bring Puerto Vallarta the traditional tastes of Tuscany at his south side restaurant, Trattoria Michel, where we enjoyed 'una notte italiana' right here in Puerto Vallarta during Restaurant Week 2009.

---
Vista Grill Restaurant Week Review

Gary R. Beck

At Vista Grill, Executive Chef Sergio Esquivel and his fine group of 'cocineros' present eclectic and creative cuisine, beautifully presented. Add to this top-notch service, gorgeous views, and the special Restaurant Week menu and you'll enjoy an evening that is as memorable as it is unique.

---
Restaurant Week at Vitea

Gary R. Beck

During Restaurant Week 2009, we visited Vitea Oceanfront Bistro, an intimate oceanfront bistro and bar offering classic and contemporary European fare in a casual atmosphere. But enough about the ambiance - what counts here is the exceptional fare, which is both classic and original...

---
Tikul Restaurant Week Review

Gary R. Beck

Tikul's artfully prepared and presented Pacific Cuisine, excellent wine selection, fabulous service and spectacular views of Marina Vallarta, plus a look at their special 3-course Vallarta Restaurant Week 2009 menu, put this gourmet restaurant on the top of my list of places to visit this month.

---
Restaurant Week at The River Café

Gary R. Beck

The River Cafe's creative and ever-changing menu always offers diners a wide range of national and International dishes created with only the finest ingredients and elegantly eye-catching plate presentations, but they've really outdone themselves with their Restaurant Week 2009 menu!

---
Trío Restaurant Week Review

Gary R. Beck

The Restaurant Week menu at Trio exemplifies the outstanding Mediterranean cuisine served at this upscale restaurant. Serving "food cooked with love," chef-owners Bernhard Guth and Ulf Henriksson personally see that every dish meets their exacting standards and that every guest is satisfied.

---
Restaurant Week at Hacienda San Ángel

Gary R. Beck

Between Chef Eduardo Mitchaca's Mexican infused international cuisine, the boutique hotel's luxurious surroundings and the fabulous views of downtown, Banderas Bay and Puerto Vallarta's famous sunsets, a visit to Hacienda San Angel during Restaurant Week is a must!

---
Kaiser Maximilian Restaurant Week Review

Gary R. Beck

Through May 31st, Kaiser Maximilian Restaurant & Café is offering diners their choice of 8 superb starters, 10 enticing entrées and 10 delectable desserts in a 3-course meal for only $299 pesos, making a visit to this upscale eatery during Restaurant Week not only necessary, but also most pleasurable.

---
Restaurant Week at Banana Cantina

Gary R. Beck

At bANANAcANtiNA, traditional and contemporary Mexican cuisine is always beautifully presented, but during Restaurant Week, the restaurant is presenting old-style dishes with modern twists that will excite your taste buds and encourage a return visit.

---
La Palapa Restaurant Week Review

Gary R. Beck

During Restaurant Week 2009, La Palapa executive chef Rafael Cornejo Solórzano and his staff are on a whirlwind journey of combining unusual ingredients, mixing unlikely partners, and presenting the dishes in an extremely elegant fashion. We were very much impressed.

---
Restaurant Week at Daiquiri Dick's

Gary R. Beck

With exceptional Pacific Rim cuisine and superior service in an elegant beachfront setting, when it comes to fine dining in Puerto Vallarta, Daiquiri Dick's has it all - especially during Restaurant Week 2009, when you can enjoy a special 3-course menu for only $299 pesos through May 31.

---
El Arrayán Restaurant Week Review

Gary R. Beck

We visited El Arrayán on May 16th, where our group sampled all nine dishes in the three courses offered on the Restaurant Week 2009 special menu. The three enticing entrees, Filet Mignon, Mahi Mahi and Cochinita Pibil, tested the kitchen's breadth... with the staff succeeding.

Tell a Friend
•
Site Map
•
Print this Page
•
Email Us
•
Top