Back In the U.S.A. - But Still Keeping an Eye on Mexico
a profile of English professor and writer Allan Wall
Allan Wall, who recently moved back to the U.S. after living in Mexico for a decade and a half, continues writing articles about various aspects of Mexico and Mexican society.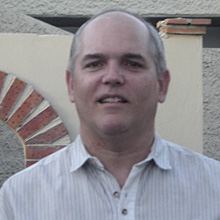 Allan Wall resided in Mexico for a decade and a half, where he worked as an English teacher in various schools and at various levels. Living in Mexico was a life-changing experience, and Allan felt that he had integrated into Mexican society more than many, maybe most, Americans who reside south of the border.


He associated with various sectors and socioeconomic levels of Mexican society: with the rich, the poor, the middle class, campesinos, laborers, professionals, Catholics, Protestants, Secularists, etc. He has lived in what many Americans would consider a Mexican slum, traveled extensively in Mexico, and taught a Bible class (in Spanish) at the church he attended.


In 1996, Allan married Lilia, a Mexican citizen, who was a high school science teacher. Lilia and Allan have two bilingual sons, David (9) and Raphael (6). While residing in Mexico they enjoyed traveling to different parts of the country.


While residing in Mexico, Allan was also a member of the Texas Army National Guard, traveling to Texas for monthly drills. In 2004, his unit was called up to go to Iraq, where he spent most of 2005. In Iraq, Allan was stationed at Tallil Air Base, which contains within its security perimeter the ancient city of Ur, home of Abraham. During his tour in Iraq, Allan carried out various assignments, including security missions, working with Iraqi civilians, and serving as a liaison with the Italian Army.


After his 2005 tour of duty in Iraq, Allan returned to Mexico, and resumed writing articles and teaching


Topics in Allan's articles include the contemporary Mexican political scene, history and culture, tourism, and Mexican emigration as viewed from south of the border.


Allan enjoys hearing from readers. His email address is allan39@provalue.net and his website is located at AllanWall.info..