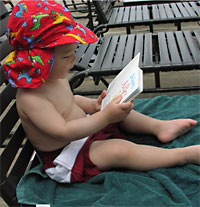 Ahhhh, vacation . . . Vacations provide us with an ocean of free time, time to rest, relax – and catch up on your reading! There's nothing quite like sitting on the beach with a good book, and deciding what to read on vacation is half the fun. If you are looking for some good "beach reading" for your Puerto Vallarta vacation, you've come to the right place!


In Puerto Vallarta there are many bookstores, sidewalk coffee shops and cyber cafes scattered around Old Town, where you can find used books in English for sale and/or exchange. "Page In the Sun," across the street from Lazaro Cardenas Park, has a good selection, "The Book Store" on Carranza offers newly released English books and magazines, and the Los Mangos Public Library on the road to Pitillal has a nice English-language section plus quite a few magazines and newspapers.


If you are staying in Nuevo Vallarta, stop by NVBookstore on the second floor of the Paradise Plaza Shopping Center for Best Sellers and newly released books in English.