Puerto Vallarta Art Talk
Puerto Vallarta is home to a vibrant art scene, perhaps the most lively in all of Mexico. Often referred to as "Mexico's Art Mecca," Vallarta boasts more art galleries than any other coastal destination in Mexico.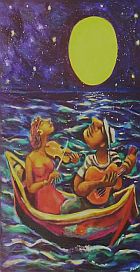 Each gallery specializes in a different genre, showcasing everything from paintings and sculpture to indigenous art, collectible folk art and fine pottery created by both internationally famous and up-and-coming Mexican artists.
During the tourist season, which runs from mid-October through May, frequent Art Walks are scheduled in Old Town and Marina Vallarta that feature some of Vallarta's many fine galleries and their leading artists.
Not to mention Puerto Vallarta's picturesque boardwalk, the Malecón, which has become a promenade of monumental sculptures by world-renowned artists such as Ramiz Barquet, Alejandro Colunga, and Sergio Bustamonte.
This overall focus has contributed both to Puerto Vallarta's reputation as a world class art center, as well as being considered a "work of art" in it's own right.