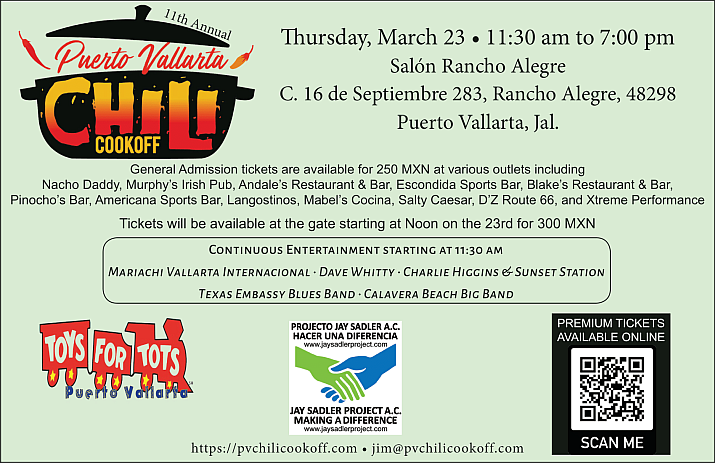 Puerto Vallarta, Mexico – After a short postponement, the 11th Annual Puerto Vallarta Chili Cook-Off is back, but it's happening at a new venue, Salón Rancho Alegre. "I think we've found a great spot to hold the Cook-Off," said Committee Chair Jim Sullivan. "The people here at Rancho Alegre have been very accommodating and I'm sure the public is going to have a great day."
This all-day (Noon to 7:00) family event features free chili tasting from more than 15 local restaurants and individuals. These Chili Chefs also compete for trophies in the "Popular" and "Professional" categories. In an unusual circumstance, last year, Blake's Restaurant & Bar won both categories. They will be back again this year to defend their titles.
In addition to the Chili tasting, four of the area's best bands will provide entertainment throughout the day. Add in the Mariachi group that will open the day, the raffle prizes provided by the participating restaurants, a Silent Auction with many outstanding items to bid on, and the always exciting 50/50 draw, and the Chili Cook-Off will have something for everyone to enjoy.
And, if you happen to work up a thirst after tasting all that chili, you can head over to one of the four beverage stations on the Cook-Off grounds: the Murphy's Irish Pub Beer Gardens, the Nacho Daddy Margarita Bar, Ofelia's Wine Bar or the Americana Sports Bar Caesar and Bloody Mary Bar.
All the proceeds from ticket and t-shirt sales, as well as a percentage of all food and beverage sales, go to fund the non-profit Jay Sadler Project A.C. and it's work to improve various institutions in the Puerto Vallarta and Banderas Bay area. These institutions include day care centers, senior citizen homes and schools for the disabled, public schools in rural areas and other private charitable institutions.
Reserved, covered seating is available online. General Admission tickets are available for $250 MXN at various outlets around the area including: Nacho Daddy, Murphy's Irish Pub, Andale's Restaurant & Bar, Escondida Sports Bar, Blake's Restaurant & Bar, Pinocho's Bar, Americana Sports Bar, Langostinos, Mabel's Cocina, Irma's Restaurant – Bar, Salty Caesar, Mama Caguama's Takos & Beer, D'Z Route 66, and Xtreme Performance.
Tickets will be available at the gate on March 23rd starting at 12 Noon for $300 MXN.
Salón Rancho Alegre is located at Calle 16 de Septiembre 283, Rancho Alegre, Puerto Vallarta, 48298. Click HERE for a Google Map.