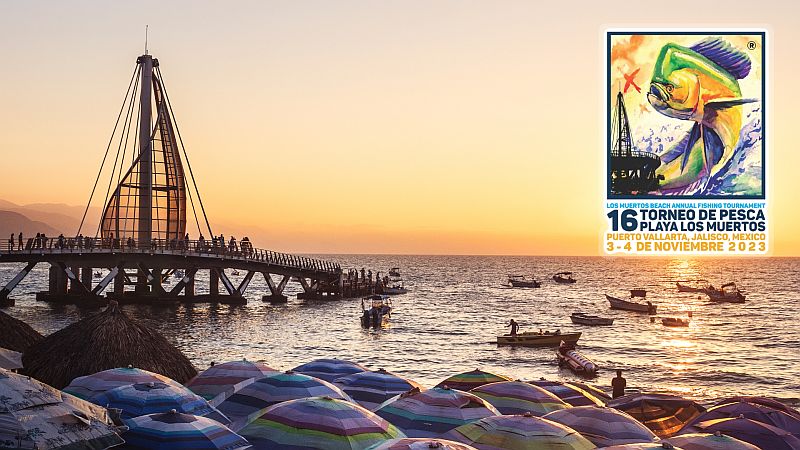 Puerto Vallarta, Mexico – You don't have to be rich to enter the 16th Annual Los Muertos Beach Fishing Tournament! Scheduled to take place on Friday and Saturday, November 3 and 4, this fun and friendly fishing competition has attracted anglers from all over Mexico for the last 15 years.
The tournament began back in 2007, when a group of friends decided to determine which of them was the best fishermen. With a total of 20 boats entering the contest for just $50 pesos each, the Los Muertos Beach Fishing Tournament was born – and soon became an annual tradition.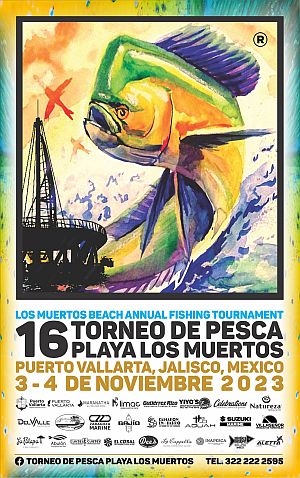 To encourage the conservation of the Sailfish and Marlin species, this year's event will once again be a special Dorado-only tournament, with cash prizes for the top 3 catches in this category.
If you are into great sportfishing, but don't have a lot of money to enter the professional fishing tournaments held in and around Banderas Bay, this is the one for you! The 16th Annual Los Muertos Beach Fishing Tournament has an entry fee of just $6000 pesos per boat, and any type of boat can enter the competition.
Whether you are fishing from a panga or a yacht, the number of anglers on your team is limited to half of your boat's capacity.
To participate in the 16th Playa Los Muertos Fishing Tournament, at least one person from each boats must register in person at the Deportes Gutierrez Rizo store on November 3, 2023 from 10:00 am to 8:00 pm. It is essential to bring a copy of your boat registration, a sport fishing license for each angler that will be fishing from your boat, and the $6,000.00 peso registration fee with you.
Last year, 118 boats competed, and in this edition more than 130 are expected to participate, including teams from Europe, Jamaica and various states of the republic.
The tournament will be held on Saturday, November 4, 2023, starting at 7:00 am, and ending at 2:00 pm at Los Muertos Pier, which is where each boat's catch will be weighed. The minimum qualifying size will be 7 KG. Cash prizes will be awarded to the three largest Dorado caught during the tournament, as follows:
1st Place: $300,000 Pesos
2nd Place: $100,000 Pesos
3rd Place: $50,000 Pesos
After the winners are determined and prizes are awarded, a fiesta will be held with carnitas cooked on the beach and served free to the public, and live entertainment by Rock and Reggae bands. This is the party of the year on Playa Los Muertos, so don't miss it!
For more information (in Spanish), visit the Facebook event page.