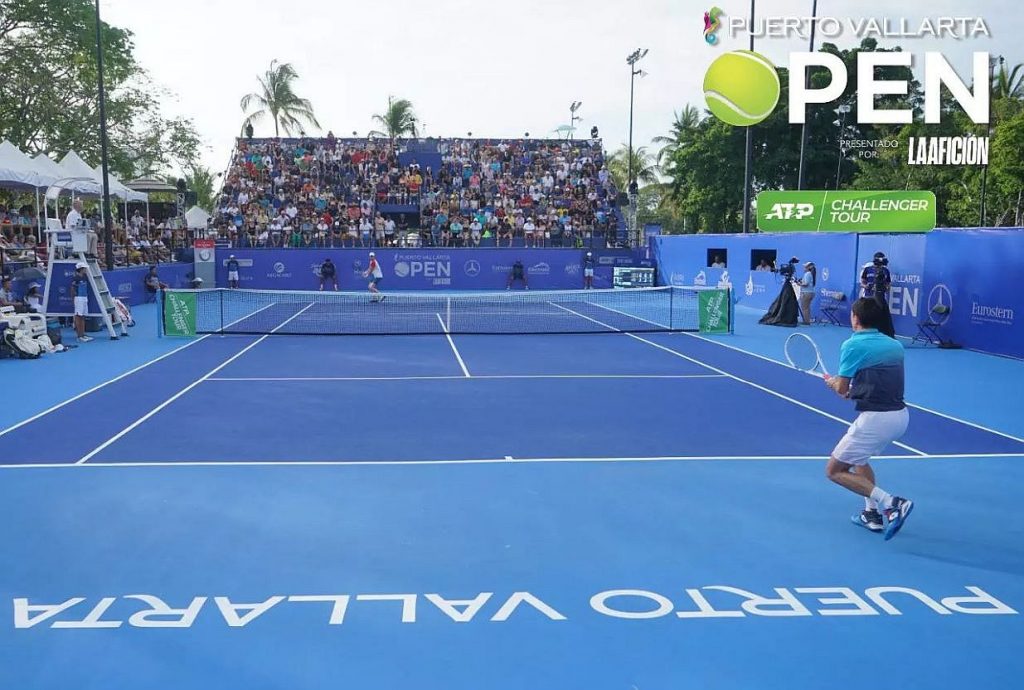 Puerto Vallarta, Jalisco, Mexico – Bringing world class professional tennis players from all over the world together, the third edition of the Puerto Vallarta Open, an ATP Challenger Tour Tournament, will take place from November 22nd through 28th at Parque Parota in the city's Hotel Zone.
At a press conference held on Sunday, Francisco Javier Romero, who leads the organizing committee, revealed the details of this 3rd edition of the Puerto Vallarta Open, which is recognized as the best challenger tournament in the world and has brought some of the world's great tennis players together in previous editions.
Javier Romero indicated that of 140 tournaments that are held around the world, the Puerto Vallarta Open is the favorite of international tennis players, since they have the opportunity to not only play in, but also enjoy, this beautiful city by the sea.
Set to be played on the new outdoor hard courts at Parque Parota, the Puerto Vallarta Open will offer a prize of $52,000 USD and ATP ranking. The purse to be distributed this time is a lower figure than that of previous editions of the PV Open, however, this year's group of players is better placed on the world list.
Javier Romero pointed out that the Parota Club has the capacity to host 800 fans and that the courts were built to accommodate the tournament and the international requirements of the ATP. He emphasized that all health protocol will be rigorously followed.
In the first phases of competition games will be played Monday-Wednesday from 2:00 to 11:00 pm, semifinals will be played on Thursday and Friday from 4:00 to 11:00 pm, and the doubles and singles finals will be played on Saturdays and Sundays starting at 7:00 pm. The cost of admission will start at $200 pesos for general seating and go up to $600 for box seats.
Puerto Vallarta has a long history with the ATP. It held its first Challenger in 1994 and hosted tournaments for the ATP Challenger Tour and the Women's Tennis Association (WTA) from 1996 to 1998. The ATP Challenger Tour Tournament returned to Vallarta in 2018 and was played again in 2019. International Tennis Federation (ITF) Futures Tournaments were held in Puerto Vallarta from 2000 to 2010. Tennis legends such as Martina Navrátilová, Billie Jean King, Vasek Pospisil and Santiago González Torre have played here.
Puerto Vallarta is a dream tennis destination for tennis buffs and beginners. There are ample opportunities to learn or practice the sport in several of the destination's resorts and hotels. Clinics and individual instruction are available.
For more information about the Puerto Vallarta Open, please visit the Facebook event page.
Parque Parota is located at Avenida Francisco Medina Ascencio LB S/N, Fluvial Vallarta. Click HERE for a Google map.