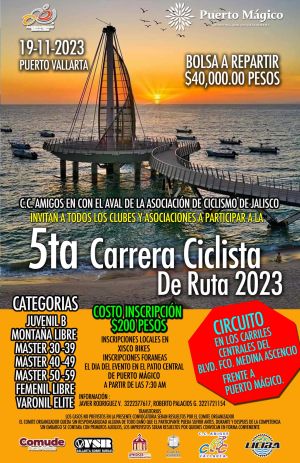 Puerto Vallarta, Mexico – Get ready for the 5th edition of the Puerto Vallarta Carrera Ciclista de Ruta (road cycling race), organized by the Municipal Sports Council and the Amigos Cycling Club, in collaboration with the Jalisco State Cycling Association. On Sunday, November 19th, the central lanes of Francisco Medina Ascencio Avenue, from Puerto Mágico to Fluvial Vallarta, will host the region's top road cycling contenders.
This regional invitational event promises intense competition and boasts a total prize purse of 40,000 pesos. Approximately 150 cyclists are expected to participate, making it an exciting day for cycling enthusiasts and onlookers alike.
Alvaro Botello Gómez, head of the Municipal Sports Council (COMUDE), has announced that the race will commence in front of Puerto Mágico at 9:00 AM.
There are two registration options. Local participants can register at XISCO BIKES for a fee of 200 pesos, while out-of-town participants can pre-register via WhatsApp (322-237-7617 or 322-172-1154) and complete their registration on the event day, starting at 7:30 AM in the central courtyard of Puerto Mágico.
The event will feature various categories, including open categories for both men and women, Youth B (ages 15-16), Master A (ages 30-39), Master B (ages 40-49), Master C (ages 50-59), and an Open Mountain category.
In the elite men's category, the first-place winner will be awarded a cash prize of 4,000 pesos, the second place 3,000 pesos, the third place 2,500 pesos, the fourth place 1,800 pesos, and the fifth place 1,500 pesos.
Exciting prizes will also be up for grabs in the remaining categories.
Botello Gómez has assured participants that there will be support from the Traffic Sub-Directorate, as well as assistance from the Civil Protection and Fire Department to ensure the safety of all participants.
Don't miss the opportunity to witness an exciting day of cycling action in Puerto Vallarta on November 19th. It's set to be an eventful and competitive race with participants from across the region, promising a thrilling experience for both riders and spectators. So, gear up, get ready, and be a part of this thrilling event!
For more information, visit the C.C. Amigos Vallarta Facebook page.