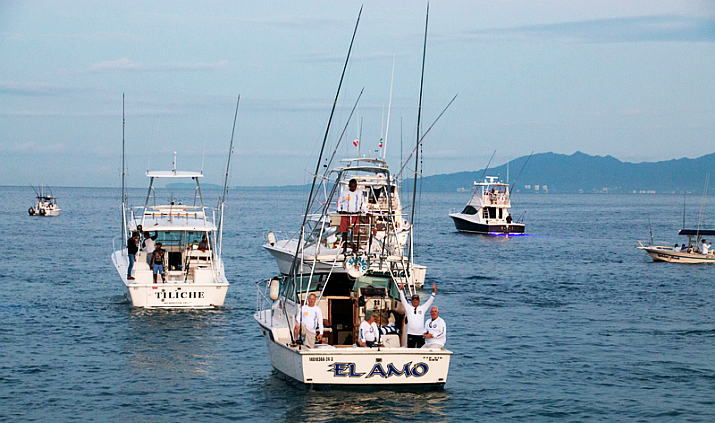 Puerto Vallarta, Mexico – One of the most prestigious national and international sportfishing tournaments on the Mexican Pacific, the Puerto Vallarta Torneo Internacional de Pez Vela y Marlin, will celebrate its 66th edition from November 9 through 12, 2022.
Since, in order to contribute to the recovery of this marine species, the sailfish category will be catch and release for the first time, this year's tournament has been designated the "Torneo Internacional Pesca de Marlin y Atún Puerto Vallarta."
Sponsored by the Club de Pesca Puerto Vallarta (Puerto Vallarta Fishing Club), whose objective is to promote sport fishing, sportsmanship, and the organization of tournaments that encourage the preservation of the abundant species that reside in the warm blue waters of Banderas Bay and Mexican Pacific, the International Marlin and Tuna Tournament offers anglers 3 exciting days of competitive fishing in some of Mexico's finest waters.
Due to the success of previous tournaments, and thanks to the support of city authorities, local sponsors, Fishing Club members, the media and the community in general, the 66th edition of the Puerto Vallarta International Fishing Tournament promises to be a spectacular event.
The prizes to be distributed amongst the winners will be, in total, almost one and a half million pesos, among which large amounts of cash, boats, fishing rods and equipment stand out.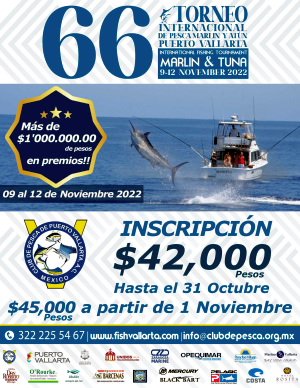 Pre-registration is now open for teams of up to 4 fishermen per boat. Those who register before October 31 will receive a discount. Visit FishVallarta.com for more information and tournament registration.
Registration will be held on Wednesday, November 9, from 3 to 10 pm, at the Club de Pesca, located at 145 Hamburgo Street in Colonia Versalles. (See Google Map)
An opening ceremony at the Rosita Hotel in downtown Puerto Vallarta (See Google Map) will kick-off the three-day tournament at 7:00 am on November 10. Afterwards, teams can 'head out to sea' for the first day of fishing. For the next two days of the tournament they can head out anytime after midnight.
Fish receptions and weigh-ins will be held between 1:00 and 6:00 pm each afternoon on the Marina Vallarta Malecón, next to the Marina del Rey condominiums. (See Google Map)
Anglers will compete daily to win prizes for catching the largest (that comply with tournament rules and regulations) marlin, tuna, dorado and sailfish, in the waters of Banderas Bay.
The Awards Ceremony will be held at 7:00 pm on November 12 next to the Marina del Rey condominiums on the Marina Vallarta Malecón. The four categories for prize winners are Marlin, Tuna, Dorado (Mahi Mahi) and Sailfish (catch and release). There will also be an award for The Best Crew.
If you are serious about sport fishing, you won't want to miss the 66th Annual Puerto Vallarta International Sailfish and Marlin Tournament!
For more information visit the Club De Pesca Puerto Vallarta website or Facebook page.