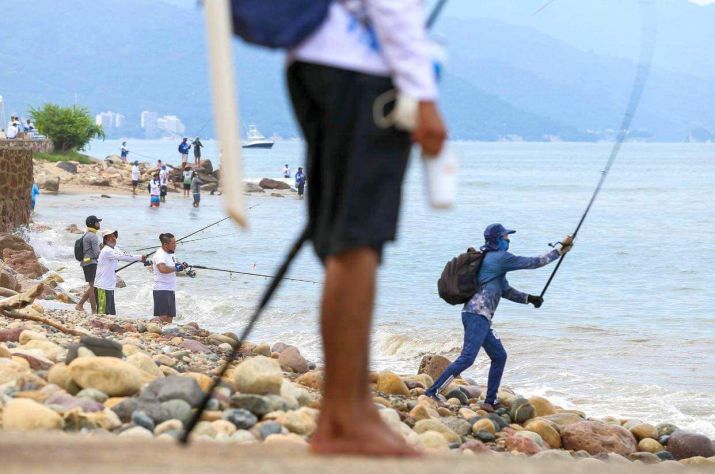 Puerto Vallarta, Mexico – Everything is ready for the sixth edition of the Surfcasting Vallarta Shore Fishing Tournament, which is set to take place from 6:00 am to 1:00 pm on Sunday, April 30.
The cost of registration is $350.00 pesos, which includes a commerativve t-shirt. Payment can be made via deposit to account number 5579-0701-2722-0534 at the closest OXXO or Banco Santander. Once you have made the deposit, you must send a message via WhatsApp to 322-116-7307 with a photo of the deposit slip, your name, and your t-shirt size.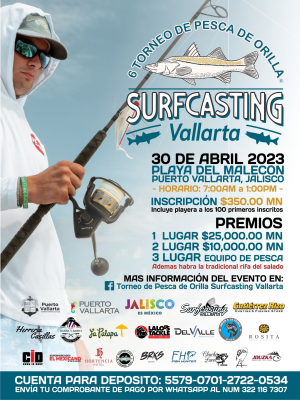 On the day of the tournament, all pre-registered participants must check in at 5:00 am at the Los Arcos del Malecón amphitheater, where they will coplete their registration and pick up their t-shirt and tournament bracelet, which will be used to identify and locate participants.
Those who wish to participate, but did not pre-register, must wait until 6:30 am to register for the tournament, which begins at 6:00 am.
All tournament participants can fish along the shoreline from the Malecón Beach (in front of McDonald's) down to Restaurante Cuates y Cuetes on Playa de los Muertos (just north of the pier).
Organizers Sergio Gutiérrez Peña and William Casillas Rodríguez announced that there will be no fish category this year, so all species, except for the manta ray and other protected or endangered fish, are eligible to win. The prizes for those who catch the three heaviest fish will be $25,000 pesos for first place, second place will take $10,000 pesos and third place will win fishing equipment.
It should be noted that registration also includes participation in the "La Rifa del Salado," a raffle of fishing and beach products awarded by the sponsors of the tournament.
For more information, visit the Torneo de Pesca de Orilla Surfcasting Vallarta Facebook page.