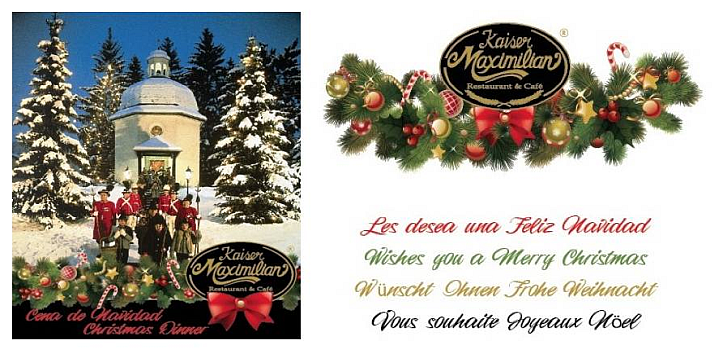 Puerto Vallarta, Mexico – Kaiser Maximilian, in the heart of the Puerto Vallarta Romantic Zone, will be celebrating Christmas on December 24 with a four-course dinner that is sure to make your holidays memorable. The European bistro atmosphere and attentive staff in both the Espresso Bar and the restaurant's main dining room will add to the festive experience.
Owner Andreas Rupprechter and Executive Chef Juan Carlos Palomer have created wonderful selections on the sumptuous holiday menu that offers 5-8 choices for each of the 4 courses for just $1050 pesos per person. (Beverages and gratuities not included.) The restaurant's a la carte menu will not be available.
KAISER MAXIMILIAN'S CHRISTMAS EVE DINNER MENU
Saturday, December 24, 2022 from 6-11 pm
Choose one item from each course
First Course (select one)
• Spinach pie, spinach, feta cheese, olive oil, crispy fillo, herbs emulsion
• Cesar salad with crispy potato croutons
• Duck confit salad, sherry vinaigrette, caramelized squash, pears, greens
• Marinated beets and carrots, berry sauce, greens and goat cheese
• Raviolis with fennel filling, prosciutto, mushrooms and tarragon sauce
Second Course (select one)
• Butternut squash cream, pumpkin seed oil, cinnamon croutons
• Onion soup with white wine, toast and gratinated cheese
• Red cabbage cream soup with roasted duck crust, potato dumpling
• Sautéed squid, cauliflower puree, charred baby broccoli, passion fruit vinaigrette
• Grilled octopus, chick pea purée, pickled onions, balsamic vinegar gel
• Crab cake with avocado purée, tequila lime glaze, glass leeks
• Roasted quail with mushroom risotto and parmesan
Third Course (select one)
• Turkey medallions stuffed with nuts, dried fruits, fine vegetables, sweet potato purée and cranberry sauce
• Beef tenderloin, creamy gorgonzola cheese, vegetables, mushrooms, potato gratin
• Zwiebelrostbraten, flat pounded beef loin, Austrian onion rings, sauteed potatoes
• Roasted leg of veal on glazed vegetables, Spätzle and cream sauce with mushrooms
• Chicken breast stuffed with spinach and ricotta, gnocchi, lemon sauce, dill oil
• Salmon trout fillet with Speck raisin nage, herbs, celery purée
• Sea bass, cooked onions, tomato, garlic & potato emulsion, kalamon olives, potato chips and herb oil
• Sautéed shrimp, fish filet and chicken, rice stuffed sweet pepper, chipotle sauce
Fourth Course (select one)
• Apple Strudel with vanilla ice cream
• Flexible chocolate ganache, nuts, strawberry sorbet, mango gel, meringue
• Warm pecan chocolate bourbon tart, vanilla ice cream, whipped cream
• Sour Cream Cheesecake, coconut crust, rum-poached pineapple, strawberries
• Chocolate pot de crème, caramel mousse, sea salt
• Linzer tart (almonds), vanilla ice cream, berry sauce
• Sacher chocolate cake with mint ice cream
This special holiday menu will make you feel like an emperor for just $1050 pesos per person. (Beverages and gratuity not included.) Spaces will fill quickly, so make your reservation TODAY for a wonderful Christmas Eve dinner at Kaiser Maximilian by calling 322-223-0760 or 322-222-5058.
Feliz Navidad, Merry Christmas, Frohe Weihnacht, Joyeaux Noél!

Open Monday-Saturday from 8 am to 11 pm for breakfast, lunch and dinner, Kaiser Maximilian Restaurant & Cafe is located at Olas Altas #38B in the Zona Romántica of Puerto Vallarta. For reservations call (322) 223-0760 or visit KaiserMaximilian.com