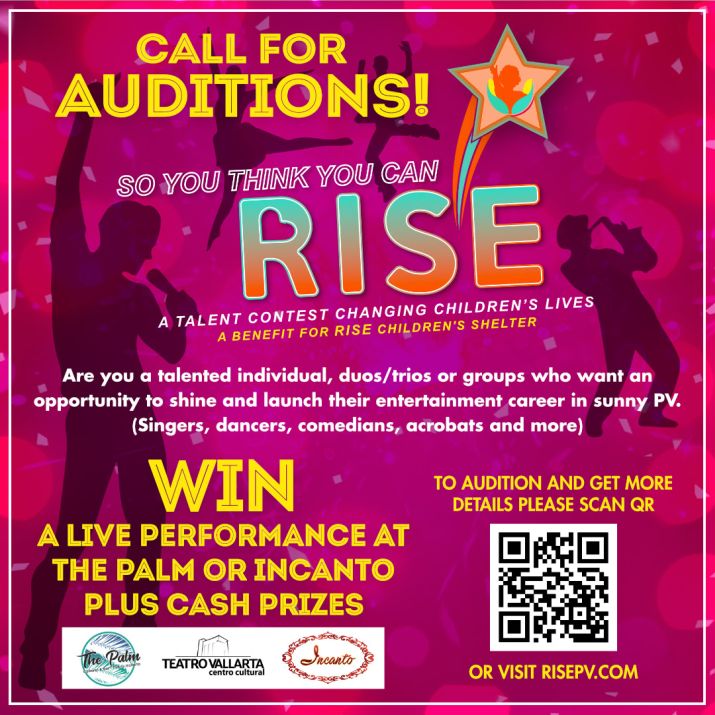 Puerto Vallarta, Mexico – RISE is on the rise again! This year, we are having Puerto Vallarta's first Variety Talent Show and we are looking for Singers, Dancers, Comedians, Magicians, Acrobats, Martial Artists, Hula Hoopers, and any other talent you want to bring to the stage!
The Top 3 artists will win a performance at The Palm, Incanto, and a new face in PV entertainment, Colectivo Hueco, with the top winner taking home $10,000 pesos in cash!
We are looking for talented individuals, duos/trios or groups who want an opportunity to shine and launch their entertainment career in sunny Puerto Vallarta, Mexico.
If you've got talent and are ready to step out onto the stage, there is no better place to do so then in Puerto Vallarta – home to world-class entertainment.
Please help us out and spread the word – if you know someone with talent, please share!
Auditions are Sundays at Colectivo Hueco – November 14, 21 and 28. Sign up now at risepv.com.
Preliminary Rounds will be held on Sundays – January 9, 16, 23, at The Palm and January 30, February 6 and 13 at Incanto. The winners of these events will advance to the FINAL Show.
These shows will be hosted and judged by your favorite PV celebrities, and we will include audience voting, too! You can be an integral part of the new generation of PV stars.
The Grand Finale, hosted by Roy Gomez, PV's 'Freddie Mercury', and featuring guest performers you won't want to miss, will be on Sunday, February 20th at Teatro Vallarta.
Who said you can't have fun and help others at the same time? Proceeds from this event will go to RISE children's shelter in Puerto Vallarta.
For more information, contact Lisa Manoogian at lisa(at)risepv.com
About the Cause

R.I.S.E. (Refugio Infantil Santa Esperanza) is a privately funded, 50-bed children's shelter in Puerto Vallarta, providing a loving environment for children who are "at risk" at home or have no home. These resilient children range in age from newborn to mid-teens. For 20 years RISE has operated with a combination of a great staff and a team of volunteers that keep RISE running. RISE is 100% funded through private donations and fundraising is a huge part of our ability to provide the children with nutritional meals, education, medical & dental services, activities, clothing and more. Learn more at risepv.com.