Puerto Vallarta, Jalisco, Mexico – What can I say about my trip to Mayto Beach? I am not sure that words can describe the true wonderment of this hidden gem… but I will try.
Heading south out of Puerto Vallarta on Highway 200 with my dog Rex is an adventure in itself. Passing through the different towns, you will get a new perspective of the beaches and the ocean as glimpses of the beautiful views reveal themselves at various points along the way.
There are a wide variety of properties to see in this part of the Bay too. After a while the tall canopy of the tropical forest gives way to pine forests and the call of the Cicada is loud. I have been told that this is their way of calling for the rains but I am hoping that the rains don't listen for now!
If you wish to, you can stop off at the Vallarta Botanical Garden along the way as this is always a magical trip for gardeners, but non-gardeners can also wonder at its beauty.
Back to the drive, and after about one hour, you will come to El Tuito, a beautiful little town in the mountains that is full of tradition. Stopping off here I had to pick up my favorite pan dulce (sweet bread) from Mrs. Claudia Gallegos (just ask for her as almost everyone at El Tuito knows who she is) I just love these with my coffee in the mornings.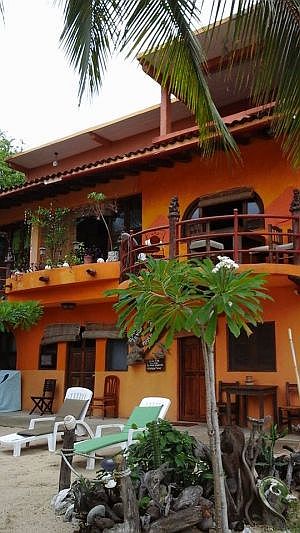 Once out of El Tuito the drive becomes even more of an adventure as the road becomes rougher than the highway but that is all part of the fun right? I'm heading to my favorite place to stay and the anticipation is sweet.
A stay at El Rinconcito is like stepping back to a time when life was easy and service was personal. While staying in five star luxury can be amazing there is nothing, for me, quite as special as a stay in a small family run hotel. From the moment I arrived I was welcomed as if I was an old friend and treated with such genuine respect and kindness that it helped me to relax immediately.
Relaxation is the key here. The main attraction is the beach and the hotel complements it so beautifully. From the palapa bar and kitchen to the individually styled rooms every small detail has been carefully thought out.
Hand carved tables and chairs made from Parota hardwood spill out from the terrace down to the beach and it is here that the family share their breakfasts and evening meals if you wish to eat there. Everywhere that you look there is a piece of art to wonder at and a cheerful quote or polite instruction carved into driftwood. The main attraction however is the beach.
Wander down past the bar and suddenly the sight of rolling white sands and deep aqua blue waters will take your breath away. Mile upon mile of sand lies before you to be explored.
The hotel is tucked away at the end of the beach, giving seclusion and peace, with areas to sit in the shade and hammocks calling you to climb in. Once the sun went down the magic continued with the stars giving a show, as the lack of light pollution and clouds gave them a chance to shine like I have never experienced before. The word "Breathtaking" is just not descriptive enough.
No trip to Mayto would be complete without a visit to El Tehuamixtle for seafood. Oysters are my weakness and I was not disappointed. The cost is reasonable but the setting and the views are worth a visit even if you don't eat oysters.
If you are looking for 5 star luxury, a pool and a restaurant & bar with lots of entertainment choices, then you will be disappointed. However, if you are the kind of person that wants to experience a rare opportunity to spend time on deserted beaches with no intrusion from the hustle and bustle of daily life and a true Mexican Welcome from genuine hosts with nothing to do but relax, then El Rinconcito and Mayto beach is the place for you.
And, if you fall in love with Puerto Vallarta and its surrounds and decide to stay, contact me at alfredoh(at)tropicasa.com, or call me on my cellphone at 322-142-6296, and I'll help you find your dream home.
Thanks to Cheri Kelly for her help in writing this article.
---

When you are ready to buy your dream home, villa, condominium or piece of land in Puerto Vallarta, contact local real estate agent Alfredo Herrera. Having worked in the Puerto Vallarta / Riviera Nayarit real estate market since 2006, Alfredo has the knowledge and experience to help you find, and purchase, the property that's right for you – in the most seamless way possible. For more information, click HERE, call him at +52 322-142-6296 or visit PuertoVallartaRealEstateExpert.com.