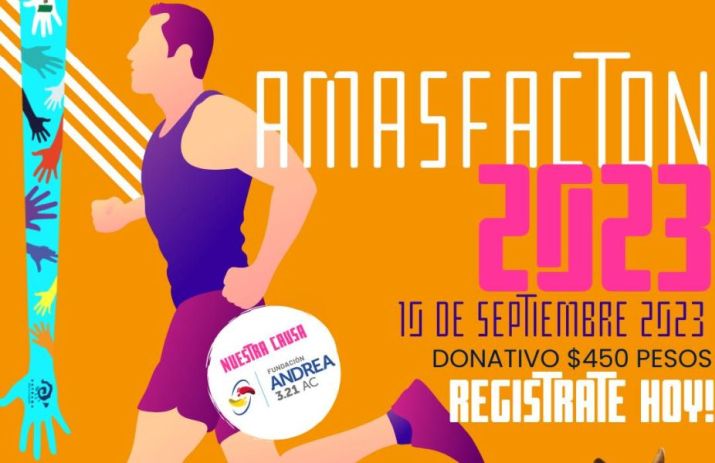 Puerto Vallarta, Mexico – Get ready for an exciting day in Puerto Vallarta as The Andrea 3.21 Foundation and the Mexican Association of Insurance and Fiscal Agents team up to present the AMASFACTÓN 2023 "Inclusive Distances" Recreational Race. Set to kick off at 8:00 am on Sunday, September 10th at the Agustín Flores Contreras Municipal Sports Stadium, the race aims to raise over 100,000 pesos to support children with Down syndrome.
Don't let age define your spirit! If you're 15 or older, this event is for you. Choose from a variety of distances – 1K, 3K, 5K, or challenge yourself with a 10K course. Whether you're walking, running, rollerblading, pushing a stroller, or walking your pet, this event celebrates diversity while contributing to a great cause.
Registration fees are designed to make a difference. Adults can register for 450 pesos, while children can join in for 150 pesos. Even your four-legged friends can participate for just 50 pesos. Your registration doesn't just get you a spot in the race; it's an investment in positive change.
A Noble Cause: Empowering Lives
Behind the excitement of the race lies a profound mission. The aim is to raise over 100,000 pesos to support the Fundación Andrea 3.21 AC. This non-profit Civil Association is dedicated to transforming the lives of children and young people facing daunting challenges such as Down syndrome, intellectual disabilities, and neuromotor disorders. Through a scholarship program, they receive comprehensive care at the Centro de Enseñanza y Aprendizaje Activo A.C. and the specialized Children's Rehabilitation Clinic. This holistic approach empowers them to lead dignified lives and promotes their full integration into society, education, and the workforce.
Online registration is open until September 9th, and it's a straightforward process through AsDeporte. Let's lace up those shoes, leash those pets, and be part of the AMASFACTÓN 2023 "Inclusive Distances" Recreational Race. It's not just a race; it's a chance to make a lasting impact on young people's lives.
For more details visit the Amasfac Sección Puerto Vallarta Facebook page. For race registration, visit the official website. Together, we can create a future where inclusion knows no bounds.