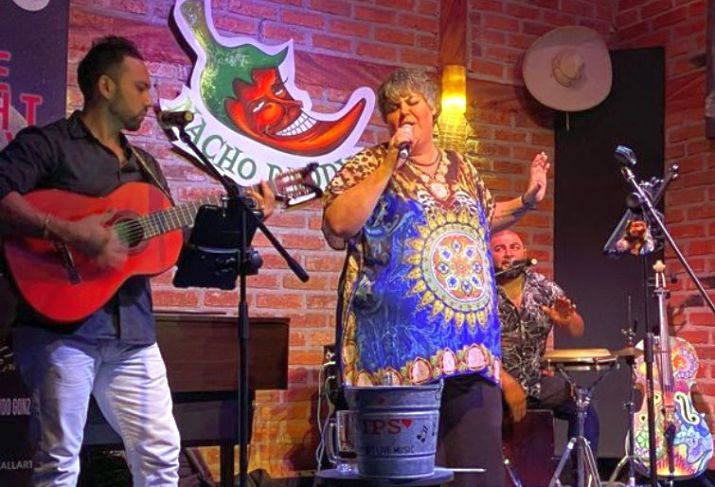 Puerto Vallarta, Mexico – Amy Armstrong is back! For the few folks in Vallarta who aren't familiar with Amy, she is that unique mix of stand up comedian and cabaret singer. Her audiences absolutely love her and roar with laughter at her spontaneous comedy. When Amy sings and entertains, she touches the hearts of everyone with her breathtaking talent and quick wit.
Amy has been performing for Puerto Vallarta audiences for over a decade. Five years ago, she teamed up with Fernando Gonzalez, the lead acoustic guitarist and founder of the extraordinary local band, Piel Canela PV, to create the now-famous 'Duo Dorado.'
The Golden Duo has spent countless hours designing shows for the 2021/2022 entertainment season at Nacho Daddy, and they are bringing two new shows, 'I Love Duo Dorado: Spanglish Post Covid' which plays on Saturdays at 8:00 pm and 'Raw & Real' on Wednesdays at 8:00 pm. The talented Luis Rincón, who has stirred up music-lovers in the community with his cello and percussion expertise, joins Amy & Fernando for both shows.
Amy is known for her exuberant joy which she spreads to all in the room. It is infectious and genuine. Fernando and Luis bring their expert musicianship to the stage. What a trio they form! Fernando and Amy are celebrating five years performing together.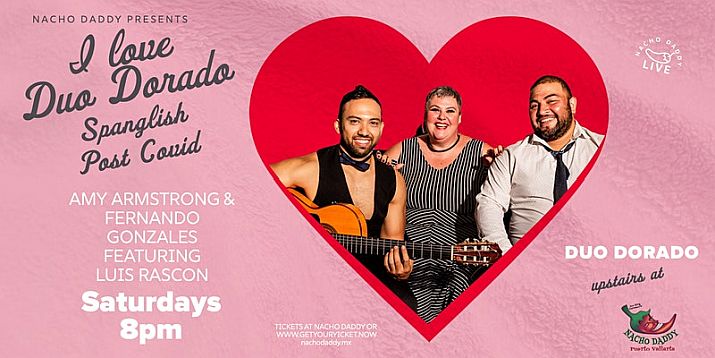 'I Love Duo Dorado: Spanglish Post Covid' is designed to have lyrics sung in Spanish by Fernando then crossing over to Amy for the English words, with many times both artists ending in Spanish. Expect to hear their special renditions of popular songs such as Adele's "Easy On Me," Sting's "State of my Heart," Marc Anthony's "I Need To Know," Lady Gaga's "Shallow" from the movie A Star is Born, and Michael Jackson's "Man in the Mirror" with a smooth Latin beat à la Mexican superstar Luis Miguel.
'Raw & Real' has not yet been reviewed, but it's playing at Nacho Daddy on Wednesdays at 8:00 pm. No matter which show you choose to see, given the popularity of this group of musicians, we recommend that you get your tickets TODAY at Nacho Daddy, Basilio Badillo #287 in the heart of Puerto Vallarta's Romantic Zone, or online at nachodaddy.mx.
A Note from Nacho Daddy Management:
Making This Pandemic Pand-Epic! We are slowly bringing back live entertainment, keeping a careful eye on safety and guidelines. We have a great season of entertainment lined up and can't wait to see everyone, whenever you are ready to stop by. Audience capacity is currently limited to 50% downstairs and 40% upstairs, and we are also streaming all performances LIVE on Facebook and YouTube! For everyone's safety, Nacho Daddy will only have one performance per evening upstairs at Nacho Daddy until further notice.
Local entertainment reviewer Gary Beck contributed to this article. For more Puerto Vallarta show reviews, join his More of Beck's Best: Theater, Cabaret and More! group on Facebook.
---

Open daily from 11 am to 12 am for lunch, dinner, live music and lots of fun, this popular south side hangout is located at Basilio Badillo #287, only two blocks off the beach in the heart of the Romantic Zone. Credit cards accepted. For more information, visit NachoDaddy.mx or become a fan on their Facebook Page for promotions, daily specials and more.
Click HERE to learn more about Nacho Daddy Mexico Restaurant & Sports Bar.