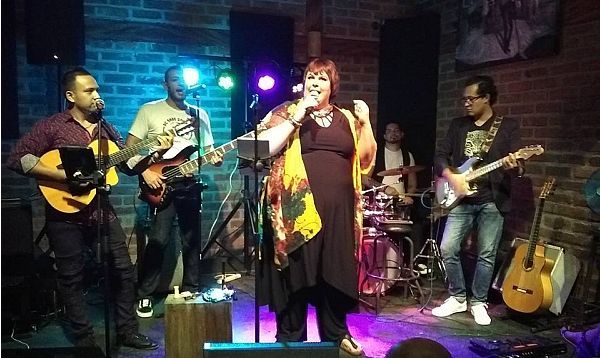 Puerto Vallarta, Mexico – The community welcomes Amy Armstrong back after her run last January at Nacho Daddy, where she was always singing to jammed packed crowds of her loyal and loving fans. This made her decision to return to Puerto Vallarta to be part of the week-long Pride festivities for yet another year come straight from the heart.
Amy is one of a kind: a combination of huge-voiced songs, comedy bordering on 'blue,' an actress and a hostess. She is the total M.C. of her shows. Her sassy wit brings out comic lines and when she opens her mouth, the music flows outward pure and full as she seemingly effortlessly hits notes high and low, with no raspy clutching.
On opening night of May's 3-night run (May 20, 22, 25), the room was overflowing, an impressive statement for the so-called 'low season,' but the many people who come to town for the annual Vallarta Pride parade and parties have changed the face of the month of May.
Busting loose with a little Queen, "Another One Bites the Dust," set the tone for the evening: pop, striking rock, and sweet ballads. Her strong delivery of Aretha Franklin's "Chain of Fools," a classic R&B song, perfectly suited Amy's vocals and style. From that first moment on, the audience found it hard to remain still, with heads and bodies moving to the terrific beat of the band and Amy's strong and solid voice.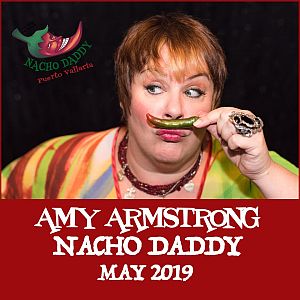 Thrilling the audience as much as herself, Piel Canela accompanied her on the stage. The band's leader, Fernando Huerta Gonzalez, is in Canada and was sorely missed, but with the superbly talented electric bass guitarist Pepe Galván; "Mimi" Al Ramirez, astounding as always, giving hot licks on his acoustic guitar; and Gary Flores Morales, from a Mexico City family of musicians, on striking percussion, the band rocked! They have presented their own show all season at The Palm Cabaret, where they worked alongside Kim Kuzma and Nate Buccieri, who made a guest appearance on opening night of 'Respect the Queen,' thrilling the audience with his total control over the keyboards.
The group rocked "Crazy Little Thing Called Love," another gem from Queen. It became clear that Amy has endeavored to create a show with a rock/pop theme. She has designed each show to be unique by including special guests and friends. The amazing Amy Winehouse departed way too soon was saluted with the fine mid tempo "Valerie." Local favorite Kami Desilets filled break time with "Cabaret" from her current show here. She will continue to delight the community with new plans for the fall/winter season.
Amy possessed the next tune, "What About Us," from Pink. The emotional highway is paved with hope and love. "Dancing On My Own" could make one cry, the song being so solitary in its thoughts. Lyrics say "I'm in my corner, watching you kiss her."
Next, Amy readied everyone for some reggae as they took the classic "I Say a Little Prayer" by Dionne Warwick to the islands with swaying, steady music. Sade's "Smooth Operator" is a delightful composition which Amy grasps and sends out to the audience in a slightly jazzy, but smooth, style.
A rolling steam of rhythm marked "Sweet Child O' Mine," and then she declared "Baby I Love You, ain't no doubt about it," with the mood shifting to the fields of blues and jazz. From the new "A Star is Born" movie, the sweet tune sung and co-written by Lady Gaga "Always Remember Us This Way" was sung stunningly beautifully by Amy. Countless new fans, friends and lovers of Amy Armstrong are ensuring she is on their entertainment calendar, and promising that her rooms will remain packed.
And, speaking of packed rooms, you only have one more chance to see Amy Armstrong and Piel Canela celebrating Vallarta Pride with their "Respect the Queen" show – on Saturday, May 25th at 9:00 pm.
Given the popularity of this show, we recommend that you get your tickets TODAY at Nacho Daddy, Basilio Badillo #287 in the heart of Puerto Vallarta's Romantic Zone, or online at reactionshows.com. General Admission: $30.00 USD.For more Puerto Vallarta show reviews, visit Gary's More of Beck's Best: Theater, Cabaret and More! page on Facebook.