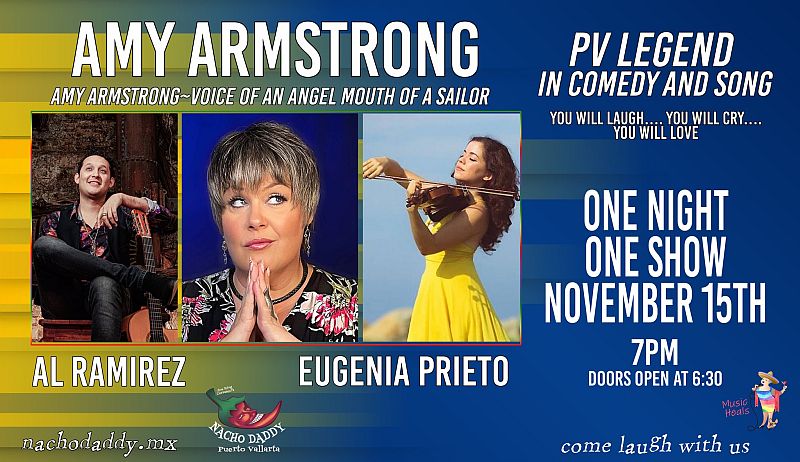 Puerto Vallarta, Mexico – Everyone's favorite 'Diva Loca,' Amy Armstrong, known for having 'the voice of an angel and the mouth of a sailor,' returns to Puerto Vallarta for one night only on Wednesday, November 15 at 7 pm. Get ready for an unforgettable evening at Nacho Daddy!
In a world of auto-tune, lip-sync, and vocal augmentation – to hear a rich, natural, projective voice like Amy Armstrong's is an affirmation that true vocal talent still exists! Her dynamic personality, comedic wit, and soulful voice, complemented by Al Ramirez and Eugenia Prieto's unique musical adaptations, keeps fans coming back time and time again – and leaves them wanting more.
So, by popular demand, Amy will return to Puerto Vallarta on Wednesday, November 15 for one night only. If you are a fan of live entertainment, don't miss your chance to enjoy an original and satisfying evening of entertainment at Nacho Daddy. Don't miss out on this incredible show – it's going to be one for the books!
Given Amy's popularity, we recommend that you get your tickets TODAY at Nacho Daddy, Basilio Badillo #287 in the heart of Puerto Vallarta's Romantic Zone or, for a small fee, you can get them online at eventbrite.com. General Admission: $700 pesos.

Open daily from 11 am to 12 am for lunch, dinner, sports, live music and lots of fun, this popular south side hangout is located at Basilio Badillo #287, only two blocks off the beach in the heart of the Romantic Zone. Credit cards accepted. For more information, visit NachoDaddy.mx or become a fan on their Facebook Page for promotions, daily specials and more.
Click HERE to learn more about Nacho Daddy Restaurant & Sports Bar.