Puerto Vallarta, Mexico – After selling out every show during her month-long residency at Nacho Daddy in January, and two encore performances in February, everyone's favorite 'Diva Loca,' Amy Armstrong, returns to Puerto Vallarta just in time for Pride Week!
Known for having 'the voice of an angel and the mouth of a sailor,' Amy's powerful and versatile voice mesmerizes listeners, while her hilarious and sometimes risqué humor keeps them doubled over in laughter.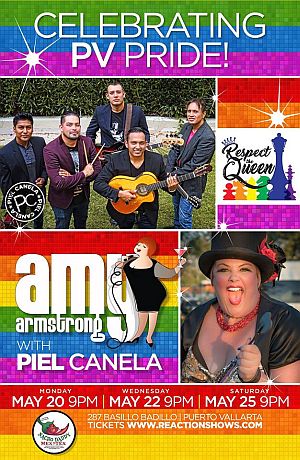 She has performed around the world, has been a regular headliner on the RSVP Vacations circuit, and is considered to be one of the most popular main-stage and cabaret acts for LGBT events. With her long-term musical partner Freddy Allen, Amy Armstrong has headlined the National HRC Black-tie event in Dallas and served as the Grand Marshal for the LGBT Pride Parade in Washington, DC.
While in Vallarta earlier this season, Amy shared the Nacho Daddy stage with the extraordinary local band, Piel Canela, in her newest show, 'Respect the Queen.' Featuring songs by Aretha Franklin and Freddy Mercury/Queen, like Natural Woman, Say A Little Prayer, We Are the Champions and Crazy Little Thing Called Love, and more, Amy and the boys wowed Puerto Vallarta audiences night after night.
Amy's dynamic personality, comedic wit, and soulful voice, complemented by Piel Canela's unique musical adaptations, kept fans coming back time and time again – and left them wanting more. So, by popular demand, she'll return to Nacho Daddy for three Vallarta Pride performances of 'Respect the Queen,' on May 20, 22 and 25.
Given the popularity of this show, which hits the stage at 9:00 pm, we recommend that you get your tickets TODAY at Nacho Daddy, Basilio Badillo #287 in the heart of Puerto Vallarta's Romantic Zone, or online at reactionshows.com. General Admission: $30.00 USD.
Amy has been entertaining Puerto Vallarta audiences for more than a decade and, every time she's here, she donates her time and talent to local non-profit community organizations – and Pride Week will be no exception.
On Tuesday, May 21, at 3:00 pm, Amy will host a very special edition of Adult Bingo at Nacho Daddy to raise money for SETAC and PuRR Project – and rumor has it she'll be making an appearance at the Púlpito Drag Derby, a benefit for Vallarta's LGBT Community and Wellness Center, SETAC.If you see Amy while you are out and about during Pride Week, be sure to thank her for always being so willing to share her time and talent with the people of Puerto Vallarta.