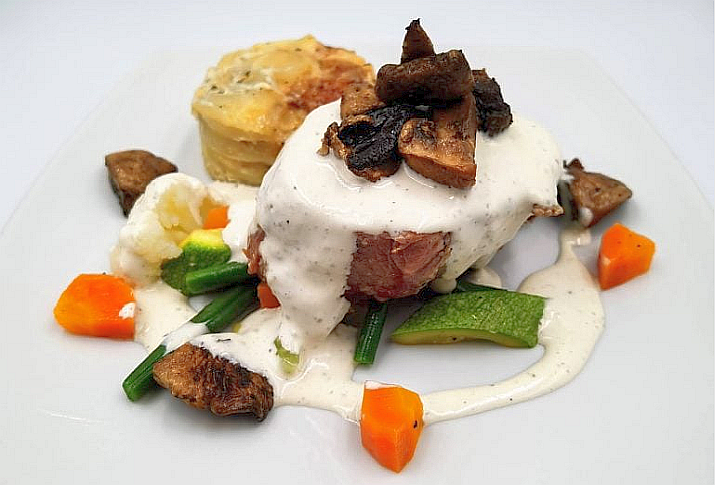 Puerto Vallarta, Mexico – Now in its 19th year, Restaurant Week gives everyone a chance to sample some of the best food in Puerto Vallarta at exceptional prices. If you enjoy European sidewalk cafés and fine continental cuisine, be sure to stop by Kaiser Maximilian from May 15 through June 10, 2023 for great food and unbeatable savings.
Dining there is always delightful, but during Vallarta Restaurant Week diners are in for a special treat, as Executive Chef Juan Carlos Palomer has created a fabulous three-course prix fixe menu, with your choice of one dish from each delicious course, for a one-of-a-kind gourmet experience that costs just $575 Pesos.
Kaiser Maximilian's 2023 Restaurant Week Menu
Choose one dish per course for $575 pesos
(Price does not include drinks nor tips)
APPETIZERS
Mushroom Cream Soup – With quinoa, roasted chiles
Tuna Carpaccio Niçoise – Egg, tapenade, green beans, tomato jam
Creamy Chicken and Mushroom Ragout – Served with puff pastry
MAIN COURSES
Beef Tenderloin – With red flannel hash, black pepper & hollandaise sauce
Red Snapper Fillet – With baby potatoes, vegetables, cilantro oil
Pork Chop – Nut chutney, sweet potatoes, sautéed cabbage
DESSERTS
Cottage Cheese Strudel – With peach compote, vanilla ice-cream
Linzer Tart – With yogurt ice-cream and berries
Chocolate Pot de Crème – With caramel mousse, sea salt
In addition to your choice of innovative dishes on the special three-course menu, an extensive wine selection, by the glass or the bottle, along with a wide selection of creative cocktails and ice-cold beers, offer diners even more choices, and the perfect complement to your meal.
Kaiser Maximilian's Restaurant Week menu is being served at the Espresso Bar from noon until 11 pm and in the Main Dining Room from 5 to 11 pm through June 10th. The regular a la carte menu is also available. Seating is limited, so reservations are recommended.

Open Monday-Saturday from 8 am to 11 pm for breakfast, lunch and dinner, Kaiser Maximilian Restaurant & Cafe is located at Olas Altas #38B in the Zona Romántica of Puerto Vallarta. For reservations call (322) 223-0760 or visit KaiserMaximilian.com