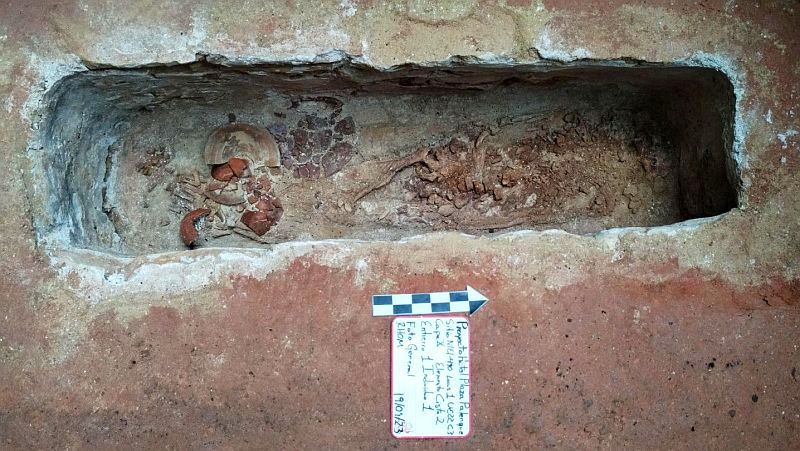 Mexico City – Archaeologists working on the construction of the Tren Maya Hotel in Palenque, Chiapas, Mexico, have uncovered an ancient human burial site. This discovery sheds light on the history of the region and provides insights into the lives of the people who once lived there.
The find, which occurred on September 11, 2023, was announced by Diego Prieto Hernández, the Director General of the National Institute of Anthropology and History (INAH), during President Andrés Manuel López Obrador's Monday morning press conference. The burial site is believed to date back to the time when Palenque was known as Lakamha', a pre-Hispanic city.
The burial site contained the skeletal remains of an individual, along with a collection of funerary items. These items included three ceramic vessels, a pair of ear ornaments, and two green stone beads. The careful arrangement of these items suggests that the person buried here held significant importance within the community.
The burial was discovered four meters below the top of a Maya structure and was constructed as a cist, resembling a stone box, sealed with limestone slabs. The individual was buried in a supine position with legs extended and the head facing north. This burial style reflects the cultural practices of the time.
Experts believe that the structure housing the burial was built specifically to honor and preserve the memory of this important individual. This finding offers valuable insights into the social structure and beliefs of the ancient Palenque community.
In addition to the burial discovery, Prieto Hernández shared updates on the progress of the Archaeological Zone Improvement Program (Promeza) in Palenque, as well as in Moral-Reforma and El Tigre. These projects aim to conserve and enhance the archaeological sites along the Tren Maya route.
The renovation of the "Alberto Ruz L'huillier" Site Museum in Palenque is 34% complete, and the Visitor Center (Catvi) is ready to welcome artisans and tourist guides, providing opportunities for the local community.
The INAH's extensive work in discovering and safeguarding valuable cultural artifacts along the initial stretch of the Tren Maya route has resulted in the documentation and protection of 2,698 real estate properties; 248 furniture items, 284,900 analyzed ceramic fragments, 177 human burials, and 55 natural features linked to pre-Hispanic Maya communities.
These archaeological finds not only uncover the secrets of the past but also highlight the importance of preserving and understanding our shared cultural heritage. It reminds us of the rich history that lies beneath the surface, waiting to be discovered and appreciated.