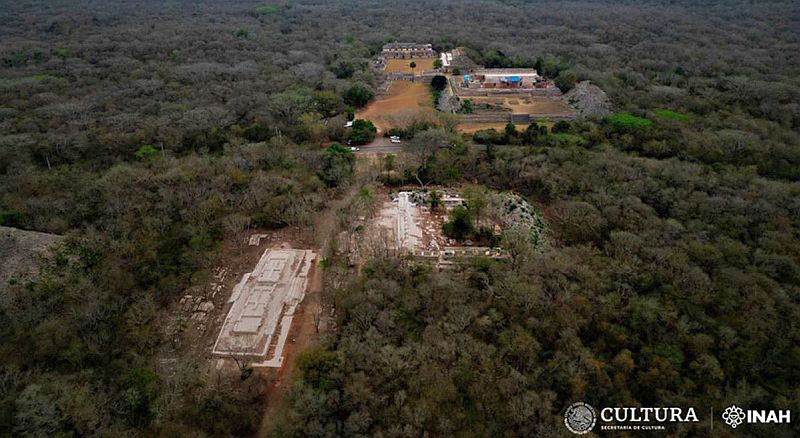 The Mayan Train project has yielded yet another archaeological find. Archaeologists from the National Institute of Anthropology and History (INAH) recently unearthed two pre-Hispanic residential complexes at the Kabah Archaeological Site in Yucatán.
Diego Prieto Hernández, the director general of INAH shared this news during President Andrés Manuel López Obrador's September 7 morning press conference, where he summarized the progress of the Programa de Mejoramiento de Zonas Arqueológicas (Archaeological Site Improvement Program, or Promeza), promoted by the federal Ministry of Culture through INAH.
While there had been indirect hints about these complexes located in the central part of the settlement, they had remained hidden beneath layers of vegetation. Now, their excavation and study promise to expand the visitor circuit at the ancient city of Kabah and shed more light on its ancient inhabitants.
Kabah, whose Mayan name translates to "Lord of the Strong or Mighty Hand," is situated approximately 100 kilometers from the city of Mérida. It was founded between 250 and 500 AD by migrants from the Petén region of Guatemala or Belize.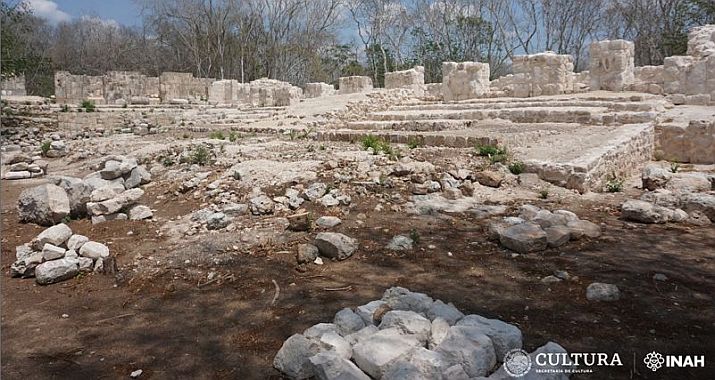 Delving into the recently discovered residences, the anthropologist reported that a palace-like structure measuring 26 meters in length stands out. Its main facade features an impressive portico with eight pillars and nine openings. The structure was adorned with feather, bead, and bird motifs incorporated into its architecture. Furthermore, remnants of stucco masks were found on the staircase, spanning up to nine meters in length.
So far, the team of researchers, led by archaeologists Lourdes Toscano Hernández and José Huchim Herrera, has also recovered ceramics characteristic of the Petenera area, including polychrome jars and utilitarian vessels.
Referring to a meeting AMLO held at the Chichén Itzá Archaeological Site with over 500 professionals involved in the Promeza along the Maya Train route on September 2, 2023, the INAH director highlighted the president's symbolic opening of the Chichén Viejo or 'Initial Series' complex. This site will soon be open to the public, allowing national and international tourists to explore this ancient enclave.
The Initial Series, investigated by INAH since 1997, earned its name because the main pyramid bears the only inscription with a date in the Mayan Long Count, corresponding to July 26, 878.
As Prieto Hernández concluded his presentation, he provided statistics up to September 7, 2023, showcasing the extensive archaeological salvage efforts associated with the Maya Train project. These efforts have led to the documentation and preservation of 55,132 structures, 1,249,777 ceramic fragments, 1,925 complete or restored artifacts, 1,339 archaeological pieces in the process of restoration, 647 human remains, and 2,252 natural features associated with the landscape and human activity.