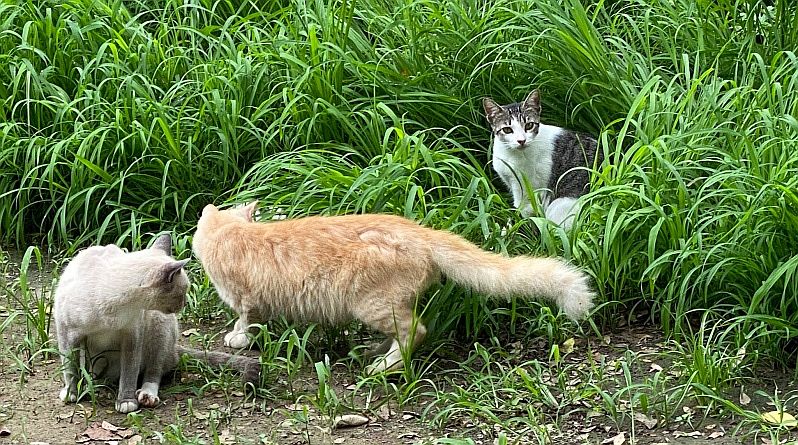 Puerto Vallarta, Mexico – The latest news from PuRR Project, a non-profit, no-kill feline shelter located just north of Puerto Vallarta, Mexico, that provides homeless cats and kittens a recuperative stay with the ultimate goal of adopting them out to loving homes sterilized, vaccinated and disease free.
THE PURR 2023 CALENDAR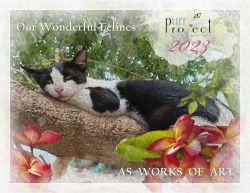 It's hot off the press and ready to order… the 2023 calendar is a work of art featuring the cats and kittens of PuRR! If you are currently in the USA or Canada and would like to place an order, please contact Bama at info(at)purrproject.com. The donation this year is $25 each and will cover postage. You can pay by check or by PayPal. Information for both is on the PuRR Project website.
We are not sure where we will be selling them from here in Puerto Vallarta, but will announce that next month. Hopefully we will be able to resume our Saturday morning adoption post in Old Town in November and will have logo T-shirts & caps to sell as well as the 2023 calendar!
THE PURR NURSERY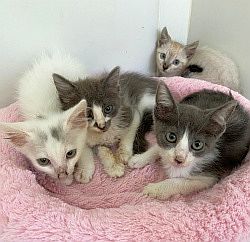 The numbers change so fast it's hard to keep up! As of this writing there were 71 kittens and two adults plus four mamas still in the nursery casitas or in foster homes. In July, we had a slow month with sadly only a few adoptions at Petco. The count at the shelter is still at just over 300 including all the adults. Many of the older kittens will soon be released to live in the yard as they get passed over for adoption and we run out of casita space… always a sad day for us.
With this many kittens, the normal monthly budget skyrockets! The cost to get each kitten ready is very expensive. Vaccines, flea treatments and parasite meds are costly. The FIV/Feline Leukemia test alone costs $20 dollars. The special kitten food is much more expensive than the big bags we buy at COSTCO for the adult cats. And extra vet days add up the cost. If you would like to donate to help the shelter get through the next few months, any amount is welcome and appreciated. Just click on THIS LINK for additional information and a convenient PayPal link.
OUR VET: DRA. EVA TORRES CAMPOS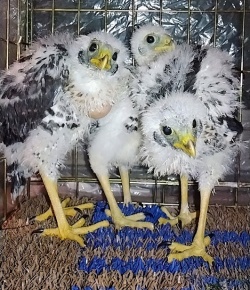 We've mentioned before that Dra. Eva is an expert in marine wildlife and is often called on to help crocodiles, turtles and iguanas. Recently she received a plea from the Vallarta Botanical Garden about 3 baby eagles whose nest had fallen and no mother came to the rescue… so Eva and her friend, biologist Carolina, did!
Now, in addition to the baby possum, crocodile, python, and rabbits, her backyard shelter has eagles in a specially built cage where they must learn to fly and practice the hunting skills necessary for release back into the wild. Feeding them and building the aviary is expensive and being funded by their wildlife and rescue association: RESCATE Y REHABILITACION DE FAUNA SILVESTRE CALEV AC. You can follow them on FaceBook or YouTube and donations are always welcome!
VOLUNTEERS
We are always in need of volunteers to go on our regular Thursday visits out to the shelter. Having a car is a necessity as the shelter is remote and there is no public transportation nearby. We meet in the Marina at 10:15 a.m. and usually get back around 2:30 p.m. It's fun getting to know all the shelter cats and kittens but it's also a lot of work! We clean litter boxes, bathe new kittens and then assist Dra. Eva with vaccinations and meds… and of course cuddle a lot of cats! For more information contact Linda at info(at)purrproject.com.
GRACIAS! THANKS! MERCI! DANKE! ARIGATO!
We could not continue to feed and care for the over 300 shelter residents without the help of your donations! Our gratitude for donations last month goes to: Karan Borges, Cynthia Kline, Mike & Bobbie Ireland, Kathy & Mike Lay, John Graham & Jill Brady. Special thanks to Elizabeth Fuerherm for the cat tree, scratching posts, carriers and other cat supplies!
We are always grateful to our regular donors: Gary Phillips. Sharon & Ken Rose, Pat & Sandy Glenn, Trisha Aljoe, Joanne Bryla, Heidi Benedict, Robert Weed, Larry Sherwood, Timothy Oleno, Elizabeth Fuerherm, Janice North, JaLene Taylor and the McCullough Charitable Fund.
For more Kitty News & Photos, please visit PurrProject.com.
---

PuRR Project is a Non-Profit shelter in Puerto Vallarta, Mexico that provides homeless cats and kittens a recuperative stay with the ultimate goal to adopt them out to loving homes. All of our residents have been sterilized, vaccinated and are disease free. We accomplish this through our own efforts as well as collaboratively with other animal welfare organizations. Both monetary donations as well as donations of dry cat food are most welcome – and much appreciated. Donations 501(c)(3) tax-deductible in the U.S. For more information, visit PurrProject.com or send an email to info(at)purrproject.com.