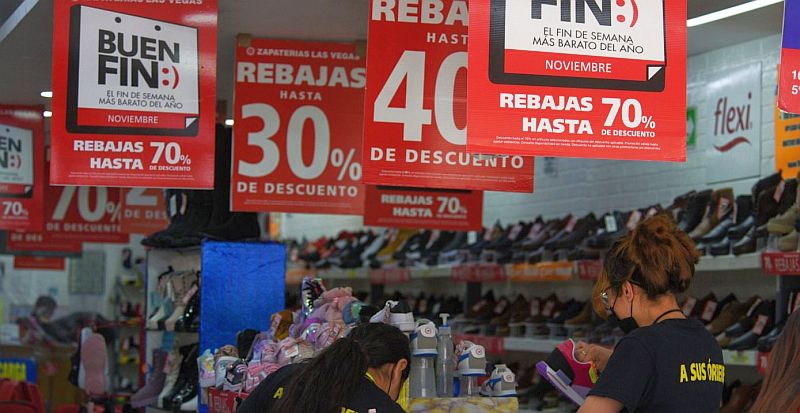 The highly anticipated Buen Fin shopping event is slated to take place from November 17th to 20th this year, as confirmed by the National Association of Supermarkets and Department Stores (Antad). The organizers are projecting a notable 5% increase in sales compared to last year.
Last year's program garnered impressive sales of 134.4 billion pesos. With this strong momentum, the sales are anticipated to exceed 141 billion pesos this year, as forecasted by Luis Abel Romero, the Deputy Secretary of Industry and Commerce at the Ministry of Economy.
"Our perpetual aim is to outpace the previous year's performance. We believe that a 5% growth target is realistic, given the prevailing inflationary pressures and price adjustments in response to market dynamics," concurred Vicente Yáñez, President of Antad.
The announcement of the Buen Fin's dates was accompanied by the initiation of registration for businesses looking to partake in this nationwide campaign. Collaboratively organized by the Ministry of Economy and representatives from the private sector, the event continues to garner significant interest from businesses across the nation.
Omar Kuri of the National Confederation of Chambers of Commerce, Services, and Tourism (Concanaco-Servytur) recalled the record-breaking participation of 1,700 Mexican companies during the previous year's edition.
Additionally, René Guzmán from the Tax Administration Service (SAT) confirmed the return of the 500 million pesos prize pool for lucky draws among both businesses and individuals making purchases using bank cards during this shopping season, with a minimum spend of 250 pesos.
In line with tradition, Jorge Alberto Gaitán from the Federal Consumer Protection Agency (Profeco) assured consumers that the agency would actively oversee adherence to promotions and discounts, while assisting Mexican shoppers in finding the most competitive prices.
Jorge Alberto Gaitán reminisced about the previous year, highlighting the deployment of 160 assistance centers and over a thousand Profeco personnel across the nation, reinforcing the commitment to consumer welfare.
As anticipation builds, Buen Fin 2023 promises an exciting opportunity for both businesses and consumers alike to benefit from lucrative deals, while fostering economic growth and encouraging responsible spending.
The list of businesses participating in this year's event has not yet been released, as registration is still open on the official website, elbuenfin.org. Once business registration closes, users will be able to consult the directory of participating stores on the same website.