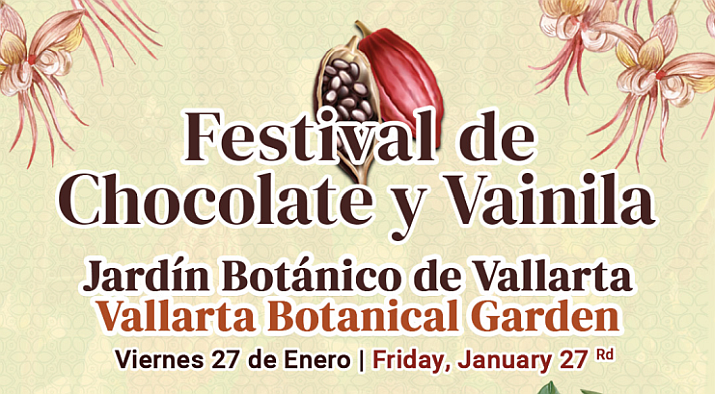 Puerto Vallarta, Jalisco, Mexico – On January 27, 2023, Vallarta Botanical Garden will host a Festival celebrating two important plant species native to the rain forests of Mexico – Chocolate and Vanilla – and everyone is invited! Come enjoy tastings, live music, Pre-Hispanic Dance and more from 11:00 am until 4:00 pm.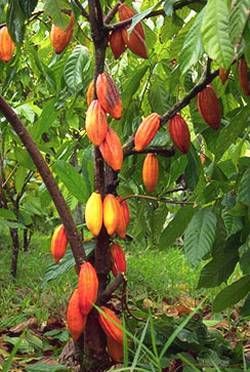 Cocoa Trees at the Vallarta Botanical Garden
The cacao bean, the basis of cocoa and chocolate, is one of Mexico's many culinary gifts to the world. Cacao beans come from the cacao tree known by its scientific name as Theobroma Cacao which literally means "food of the gods."
Among Mexico's indigenous peoples, cacao beans were ground by hand and then mixed with water, ground corn and chile pepper, often flavored with vanilla or some other tropical plant. This drink was known as chocolate. Aztec emperor Moctezuma drank chocolate daily.
The household of Nezahualcóyotl, the chieftain of neighboring Texcoco, consumed more than 20 kg (44 lbs) of cacao a day. Never would he have imagined that his elixir's prized ingredient would become an everyday luxury as it is today. In modern Mexico, chocolate is still primarily something to drink, often made with cinnamon or vanilla.
Vanilla Plants at the Vallarta Botanical Gardens
Culinary vanilla (Vanilla Planifolia) was first cultivated by the Totonac people of the Gulf Coast of Mexico in the present-day state of Veracruz. According to mythology, the tropical vanilla orchid was born from a story of love and tragedy.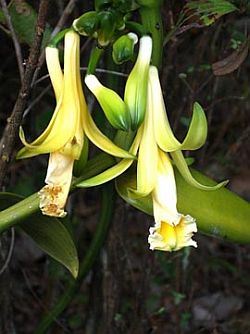 When Princess Xanat, forbidden by her father from marrying a mortal, fled to the forest with her lover, the two were captured and beheaded. Where the blood of the princess' lover touched the ground a tree grew and next to it, where the princess' blood touched the ground the vine of the vanilla orchid grew attaching to the tree forever.
Since cacao trees and vanilla plants are abundant at the Vallarta Botanical Garden, what better place to celebrate some of Mexico's most traditional ancestral delights? Make plans now to come out to the Festival de Chocolate y Vainilla, where you can learn more about these botanical treasures while enjoying:
11:00 am – A Guided Cocoa and Vanilla Tour
11:30 am – Mexican Chocolate Presentation, tasting, and Sale by our local producers
1:00 pm – Prehispanic Dance Presntation (Hall of Flowers)
2:00 pm – Live Music at the restaurant
All activities are included in the standard Garden entry fee of $300 pesos per person. Entrance to the Garden is free for members.
Visit the internationally famous Vallarta Botanical Garden located just 30 minutes south of Old Town at Km. 24 on Highway 200 and easily accessible by public transportation and taxi. This 74 acre wildlife preserve and botanical garden have something fun for everyone. Over 200 species of birds have been observed on the Garden's grounds. Don't forget to bring your swimsuit for a refreshing dip in the jungle river. See plantings of vanilla, chocolate, and hundreds of other botanical delights! The Garden is open daily from 9 am to 6 pm. Garden admission is just 3200 pesos. For more information, call (322) 223-6182 or visit vbgardens.org.