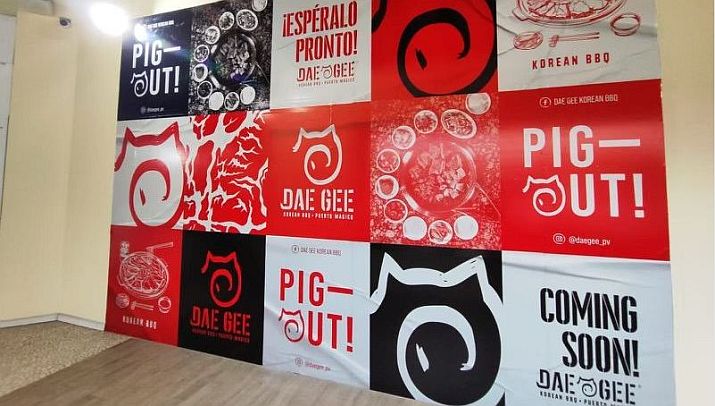 Puerto Vallarta, Mexico – Puerto Vallarta is set to sizzle this October with the arrival of a new culinary gem – Dae Gee Korean BBQ. This eagerly awaited restaurant will make its home in the heart of the city's popular Zona Romántica neighborhood, specifically at Ignacio L. Vallarta 290. Just a short two-block stroll from the iconic boardwalk and the famed Playa Los Muertos beach, this location promises to be a hotspot for food enthusiasts.
What sets Dae Gee Korean BBQ apart is its unique dining experience. Situated on the second floor, diners will enjoy open-air seating with lively street views, providing a glimpse into the vibrant surroundings of Puerto Vallarta's most colorful neighborhood. The restaurant boasts a 1,000-square-foot space, accommodating up to 60 guests at BBQ tables, comfortable booths, and a welcoming bar area with six additional seats.
But that's not all – there's more sizzle on the horizon. Puerto Vallarta will soon witness the grand opening of a much larger Dae Gee Korean BBQ location, spanning an impressive 4,300 square feet. This expansion project is underway on the second floor of Puerto Mágico, the new cruise ship terminal, shopping, and entertainment complex located approximately 5 miles south of the International Airport. The eagerly anticipated opening for this second location is slated for December 2023.
What makes this development even more tantalizing is that these restaurants represent just the beginning of Dae Gee Korean BBQ's grand expansion plan in Mexico. The goal is to introduce as many as 20 Dae Gee Korean BBQ establishments across various Mexican cities, including Cancun, Cabo San Lucas, Guadalajara, Monterrey, and Mexico City. This ambitious expansion effort is being spearheaded by the Restaurant Management Group (RMG), a Puerto Vallarta-based company whose partners bring over a century of combined experience in the restaurant and franchise industry, having worked with renowned brands such as Jamba Juice, Nathan's Famous, Mark Pi's, Taco Maker, and more.
About Dae Gee Korean BBQ
The story of Dae Gee Korean BBQ began in 2012, but it truly soared to prominence in 2015 when it was featured on the popular food reality TV show "Diners, Drive-Ins and Dives," hosted by the legendary Guy Fieri. Fieri couldn't contain his excitement, proclaiming, "This isn't just any Korean restaurant. This one's off the hook!"
Dae Gee, which translates to "pig" in Korean, offers a dynamic dining experience where patrons have the opportunity to grill their own meat at their tables. The menu showcases a diverse selection of traditional Korean meats like Galbee (Beef Shot Ribs), Sam Gyeob Sal (Sliced Pork Belly), and Dak Bulgogi (Chicken), all marinated in Dae Gee's secret sauce. Diners can savor their preferred meat in various forms, whether in bowls, hot stone pots, or wrapped in lettuce. The meal can be customized with an array of sides, including rice, fresh slaw, spicy sauce, and an assortment of traditional Korean accompaniments like kimchee, broccoli, radish, and fish cakes.
With Dae Gee Korean BBQ's imminent arrival, Puerto Vallarta is gearing up for a delectable journey into the world of Korean cuisine.