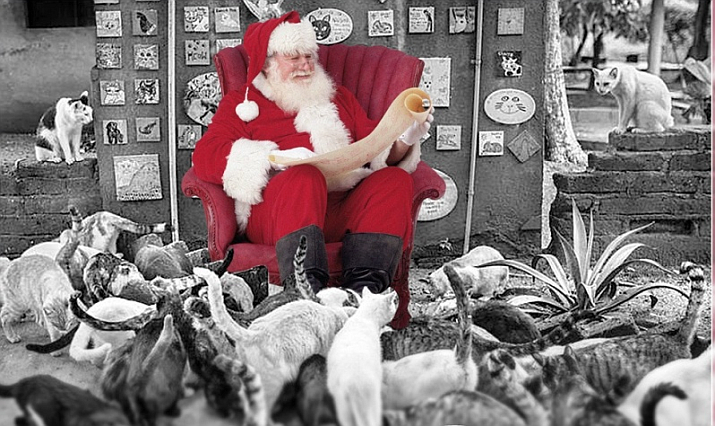 Puerto Vallarta, Mexico – December 2022 news from PuRR Project, a non-profit, no-kill feline shelter located just north of Puerto Vallarta that provides homeless cats and kittens a recuperative stay with the ultimate goal of adopting them out to loving homes sterilized, vaccinated and disease free.
SHELTER UPDATE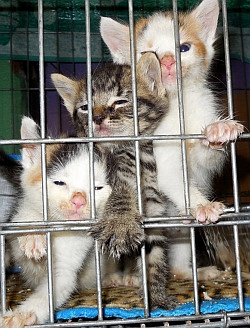 It was a busy November at the shelter with thirty new kittens plus one Mama! Three casitas, four bungalows and the clinic are full of kittens of all ages. That's a lot of work for the vets with testing, deworming, vaccines and sterilizations to keep track of. Plus a lot of litter boxes to keep clean and a lot of laundry. We go through a huge amount of litter, made more difficult when COSTCO put a 2-bag limit per customer because of shortages. Thankfully, we usually have people eager to volunteer to spend a Thursday helping out with chores and socializing kittens. We were also happy to have eight adoptions at PetCo and another six from the shelter!
SATURDAY MARKET DAY
After over two years, we are so happy to be back at Daiquiri Dick's on Saturdays!! With the Olas Altas Market across the street, we get lots of foot traffic with folks stopping by to check out the PuRR logo T-shirts, caps, drink holders and the 2023 Calendar! The Kitty Dish Towels have also been favorite gift items. We'll be just outside the front door from 10:00 am until 1:00 pm if you want to stop by and say Hello or make a donation.
FEATURED FELINE: OCTAVIA
This beautiful classic Tabby came to the shelter last Christmas and was thought to be about a year old then. She was deemed too old to go with the kittens to PetCo so has never really had a chance for adoption. She is super sweet and would make a loving companion for someone who wants an older kitty. If you are interested in adopting one of our 'teenagers,' like Octavia, contact Linda at adopt(at)purrproject.com.
VIRTUAL ADOPTIONS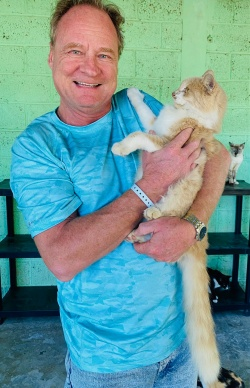 On a recent visit to PuRR, Frank Mueller picked up a handsome fuzzy kitty and immediately decided that Jack would be HIS Virtual kitty! Jack the Cat was very pleased.
Virtually Adopting one of our cats is a great way to show your support! These are usually older cats that have little hope of finding a Forever Home. Many have disabilities or may be just too feral to be adopted. YOU can "Virtually Adopt" one of these felines for yourself or as a gift to a feline-loving friend for only $120 a year and help us continue to give these adult cats a safe home and medical care for life. You can learn how to virtually adopt and also meet all the candidates by going to our website, or writing us at adopt(at)purrproject.com.
GRACIAS! THANKS! MERCI! DANKE! ARIGATO!
We send a special thanks to Joanne Carter, Catherine Goglia & Jim Shoemaker, Danette Parker, Thomas Fitzgerald and Sharon Sable for their generous donations, and of course to all our regular donors: The McCullough Charitable Fund, Gary Phillips, Sharon & Ken Rose, Trisha Aljoe, Joanne Bryla, Pat & Sandy Glenn,, JaLene Taylor, Larry Sherwood, Timothy Oleno, Janice North, Robert Weed, Heidi Benedict, and Elizabeth Fuerherm.
Our shelter is supported solely by your donations! Check out our DONATE page to see ways you can show your support.
Support PuRR Project every time you shop with amazonsmile!
Enter: PURR PROJECT USA, Milton DE
A percentage of all your purchases will be donated to PuRR Project.
For more Kitty News & Photos, please visit PurrProject.com.

PuRR Project is a Non-Profit shelter in Puerto Vallarta, Mexico that provides homeless cats and kittens a recuperative stay with the ultimate goal to adopt them out to loving homes. All of our residents have been sterilized, vaccinated and are disease free. We accomplish this through our own efforts as well as collaboratively with other animal welfare organizations. Both monetary donations as well as donations of dry cat food are most welcome – and much appreciated. Donations 501(c)(3) tax-deductible in the U.S. For more information, visit PurrProject.com or send an email to info(at)purrproject.com.