Puerto Vallarta, Mexico – As we begin the long goodbye to summer, Democrats Abroad Costa Banderas is thrilled to announce two exciting events this month. With less crowds and fewer distractions, September is a great time to get out and meet other Democrats that are living or visiting in the Banderas Bay area, so make plans now to join us!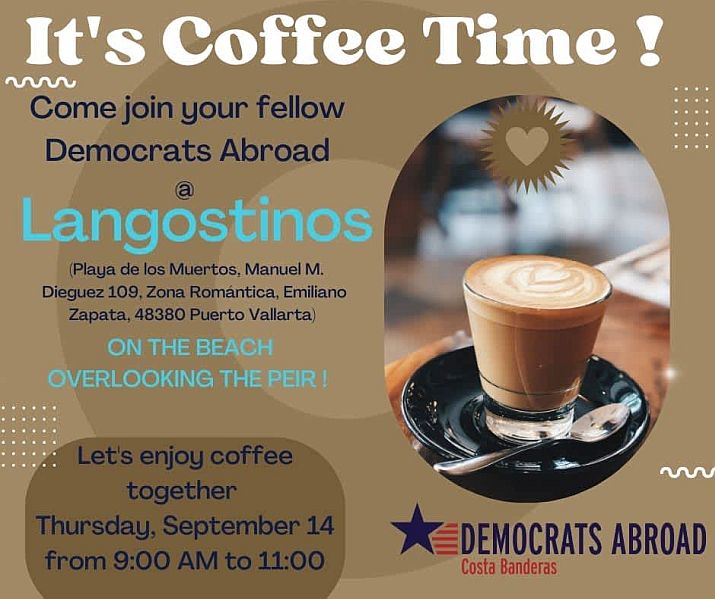 Coffee and Conversation on the Beach at Langostinos
Thursday, September 14th, from 9:00-11:00 am
Join Democrats Abroad Costa Banderas for a perfect morning at Langostinos, the iconic palapa restaurant nestled by the pier on Playa de los Muertos. On Thursday, September 14th, from 9:00-11:00 am, we invite you to savor your morning coffee while soaking in the breathtaking beach views. It's an excellent opportunity to meet old friends, make new ones, and bring along a friend to share in the camaraderie.
Langostinos, renowned for its full-service offerings and the option to dine with your toes in the sand, provides the ideal atmosphere for meaningful conversations and connections. To ensure we have enough space for everyone, please RSVP and let us know if you can make it. We can't wait to see you there!
Langostinos is located at Playa de los Muertos, Manuel M. Dieguez 109, Zona Romántica, Emiliano Zapata, 48380 Puerto Vallarta. (Click HERE for a Google map.)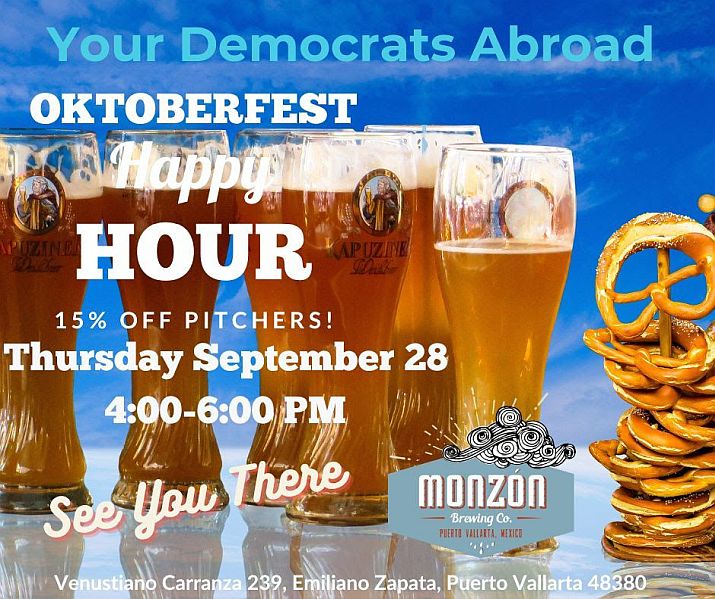 Oktoberfest Celebration at Monzon Brewing
Thursday, September 28, 2023 at 4:00 pm
Get ready for an early Oktoberfest celebration with Democrats Abroad Costa Banderas at Monzon Brewing on September 28th. While Oktoberfest traditionally takes place in late September and runs through the first weekend in October, here in Puerto Vallarta, we're kicking off the festivities early. If any of you have been to the most famous one in Munich, or even the large one in Stuttgart, you'll know what a fun time it is.
The connection between Oktoberfest and Mexico might not be immediately apparent, but both cultures share a deep appreciation for festivities. The ties between German and Mexican cultures have a long history, dating back to colonial times and evolving through waves of immigration and cultural influence.
German culture has left its mark on Mexico, influencing architecture, music, literature, and cuisine. Did you know that the beloved Banda music, frequently heard in our region, has its roots in the fusion of Mexican and polka music? Originating in Sinaloa in the 1880s, Banda music is a testament to this cultural blend.
Join us for an afternoon of fun and friendship, and perhaps even a pitcher of beer, as we toast to the unique blend of cultures that make up our vibrant community.
For more information and to RSVP for this exciting event, please visit democratsabroad.org.
Monzon Brewing is located at Venustiano Carranza 239, Zona Romántica, Emiliano Zapata, 48380 Puerto Vallarta, Jal. (Click HERE for a Google map.)
---

With country committees and local chapters in over 80 countries around the world, Democrats Abroad is the official Democratic Party organization for the millions of Americans living outside the United States. For more information about the Costa Banderas Chapter of Democrats Abroad, contact Vice-Chair Glenda Bland at DAMexico-GBland(at)democratsabroad.org.