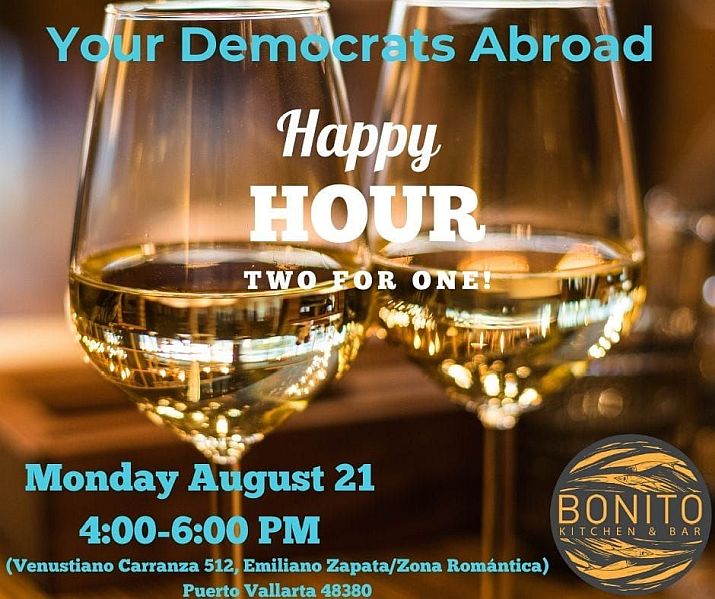 Puerto Vallarta, Jalisco, Mexico – Board members for Democrats Abroad Costa Banderas haven't taken the summer off, well – not entirely. We kicked off with a huge Happy Hour at Whiskey Kitchen in May. We still had plenty of our members here, so connecting and meeting new members was great.
We've been holding two monthly events, a coffee on the beach at Langostinos every 2nd Tuesday. Even though many of our members escaped the heat and humidity here in Vallarta, we've had tremendous turnouts. Coffee mornings filled with conversations are a definite keeper and a fantastic way to begin a day.
Happy hours continued in June and July after May. We've been back to Whiskey Kitchen and River Café. Be sure to attend the August 21 Happy Hour at Bonito's Kitchen in Zona Romantica for great drinks and AC!
A group of DACB volunteers provide food prep and serving at Vallarta Food Bank one day a month – the first Tuesday. It's a fulfilling way of giving back to the community and a great way of connecting to fellow like-minded people.
More events are in the works – more coffee mornings, Happy Hours (hopefully an Octoberfest next month!), and some movies and forums – so stay tuned.
Our chapter will start to gear up for our get-out-the-vote (GOTV) campaign in September. We are looking for volunteers to help with GOTV, and we need donations to help us get as many people registered, ballots requested and voting as possible. Visit democratsabroad.org to donate to our local chapter.
Elections in every state are more important than we may even imagine, and we can't be complacent. Be sure you are registered, and let us know if you need help.

With country committees and local chapters in over 80 countries around the world, Democrats Abroad is the official Democratic Party organization for the millions of Americans living outside the United States. For more information about the Costa Banderas Chapter of Democrats Abroad, contact Vice-Chair Glenda Bland at DAMexico-GBland(at)democratsabroad.org.