Vallarta Living | Community Services
Democrats Abroad Mexico - Costa Banderas Chapter
The official organization of the Democratic Party in Mexico
Democrats Abroad is the official Democratic Party arm for the millions of Americans living outside the United States. We strive to provide Americans abroad a Democratic voice in our government and elect Democratic candidates by mobilizing the overseas vote.
Democrats Abroad provides the following benefits:
• Help Americans abroad vote in U.S. elections.
• Protect the right to vote for Americans abroad.
• Work with US government officials and elected representatives to advocate for issues that concern Americans abroad
• Work with the broader Democratic Party to achieve our goals.
• Build communities of like-minded Americans around the world.
• Help elect Democrats in every congressional district in the U.S.
• Advocate for legislation to expand the voting rights of Americans Abroad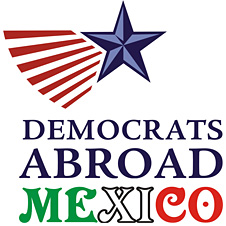 2020 was a record-breaking year for Democrats Abroad, as we nearly tripled our outreach to Americans abroad and are on track to double the vote from abroad in 2024. The unique challenges presented by the global COVID pandemic and international mail disruption made these achievements particularly significant.
Democrats Abroad is a 100% volunteer-run organization, with active chapters across six continents and members who vote in every U.S. state and congressional district. Costa Banderas is one of the eight chapters in Mexico. One of our main goals is to educate U.S. citizens in the Costa Banderas area on how to vote in elections. It's important to elect Democratic candidates and protect our democracy.
Would you like to volunteer? We are always looking for volunteers to help plan and organize events, to recruit new members and to educate voters. Click HERE to contact us to volunteer. Democrats Abroad Costa Banderas is a non-profit so we always need donations to help our Get-Out-The-Vote efforts. You can donate at DemocratsAbroad.org.
If you live in Puerto Vallarta or the greater Banderas Bay area and need voting assistance, Contact the Costa Banderas Chapter of Democrats Abroad Mexico at Info-MX-CostaBanderas(at)democratsabroad.org and we'll be in touch.