Puerto Vallarta, Mexico – Dr. Leslie Korn, a renowned expert in Natural and Integrative Medicine specializing in the treatment of trauma, chronic illness and optimal wellness, is offering a free, one hour course that covers Nutritional and Integrative approaches to help us to care for ourselves and others during COVID-19.
Here, she tells us about the course and its objectives:
When I heard about COVID-19 early this winter, I was traveling on the road and thus already using intensive natural methods to enhance my health and prevent winter viruses like influenza.
I began sharing some of these ideas in my last newsletter and now I want to share with you more in-depth about how I have adapted these methods to Covid-19, based on the emerging scientific research and also applying long-held indigenous knowledge.
As we face a world pandemic, we need the tools and know-how to prevent illness, boost immune system function and improve overall health. Also, we must have tools to care for our mental health and the stress of coping.
In this course I guide you through 10+ keys to prevention and to enhancing the capacity of the body and mind to respond effectively to stress and viruses.
Nutritional and Integrative approaches help us to care for ourselves and others; they reduce stress and trauma and aid sleep.
These practical methods incorporate the use of herbs, dietary and nutritional supplementation, along with specific body work methods to enhance sleep.
In this training you will:
• Identify specific integrative interventions to boost the immune system
• Review herbal medicines that help maintain health and reduce stress
• Understand the cytokine storm of COVID-19
• Discuss the role of inflammation and its relationship to the virus
• Develop specific bath protocols for fatigue, headaches and sleep
• Identify virus-fighting vitamins
• And much more
This course is one-hour long. I am making it available at no cost as part of my commitment to our shared public health and wellbeing. Join me and explore how to address COVID-19 through integrative medicine. Click HERE to enroll now.
---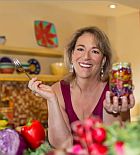 Leslie Korn has lived and worked in Banderas Bay since 1973 conducting research in Traditional Medicine of Mexico. She is a Harvard Medical School and Harvard School of Public Health-educated clinician in clinical practice in Mental Health Nutrition, Integrative Medicine and the prevention of dementia and cognitive decline. She is the author of 8 books, including
'Natural Woman: Herbal Remedies for Radiant Health at Every Age and Stage of Life.'
To learn more about her work, visit
DrLeslieKorn.com.
She can be reached at
lekorn(at)cwis.org.
Click HERE to read more articles by Leslie Korn.