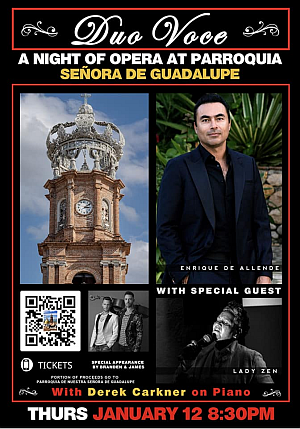 Puerto Vallarta, Jalisco, Mexico – Join Vallarta favorite, Enrique de Allende, and Lady Zen for a magnificent night of music at The Church of Our Lady of Guadalupe in downtown Puerto Vallarta on Thursday, January 12 at 8:30 pm.
Enrique's powerful voice is like none other and he continues to make a name for himself in the music world, with his spectacular talent. Born in San Miguel de Allende, Mexico, Enrique de Allende has been singing all his life. After majoring in music at university, he went on to study with Seth Riggs and more recently with the renowned David Foster.
As both a poet and a singer, Lady Zen possesses the powerful voice of a mezzo-soprano and the excitement of a brilliant storyteller. Lady Zen has been performing for over 20 years in both large and intimate venues around the world. She was awarded a J. William Fulbright Scholarship in Opera Performance through the University of Arkansas, and a Community Service/Social Justice award through the University of Southern Maine.
And if you've been fortunate enough to hear Enrique and Lady Zen sing together, you know that you won't want to miss this show!
Joining Enrique de Allende and Lady Zen will be Branden and James. As a duo, they have traveled around the world playing in concert halls, cabaret venues, and luxury cruise lines. They collaborated with Broadway veteran Shoshana Bean on their debut album "Chasing Dreams" and launched a 70-city U.S. tour in 2021-2022.
Join Enrique de Allende and Lady Zen along with their special guest stars, Branden and James, for "Duo Voce" at The Church of Our Lady of Guadalupe (Hidalgo 370 in downtown Puerto Vallarta) on Thursday, January 12 at 8:30 pm. A portion of the proceeds from the sale of tickets will be donated to the church.