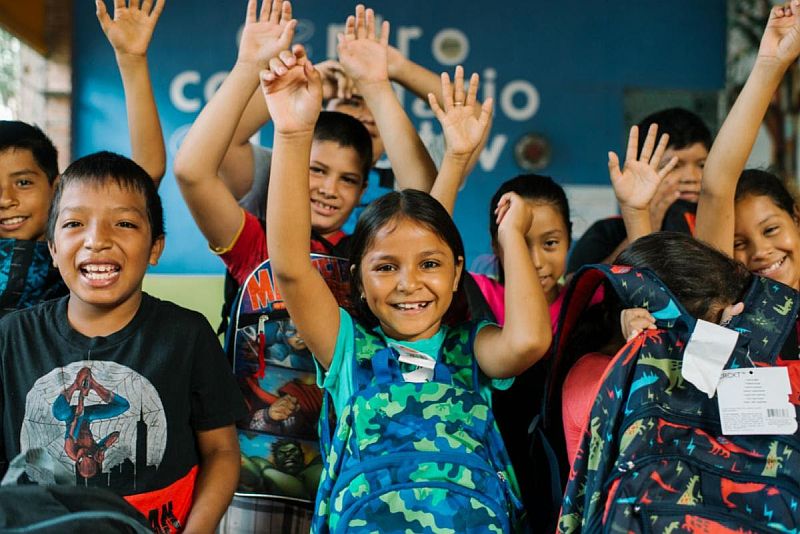 San Pancho, Nayarit, Mexico – Entreamigos began in 2006 on a kitchen table in the middle of a San Pancho street. Today, housed in a giant warehouse recognized as a model sustainable facility, it is an active community center with classes and workshops, a scholarship program, a bilingual library for children and adults, a computer center, an extensive recycling program, a gift store and the Recicla thrift shop.
Here's what's happening at Entreamigos: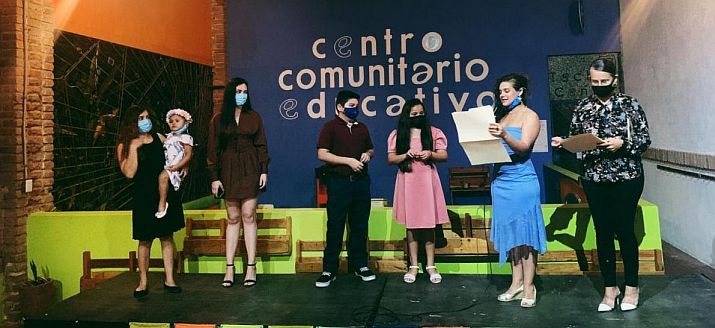 Congrats to Our Graduates
We are excited to announce that we have two more college graduates from the Entreamigos scholarship program! Itzel Guadalupe Garcia Silva graduated with a degree in International Commerce and Abdel Monsterrat Ávarez Alvarado with a degree in Nutrition. We are so proud of the accomplishments of both young women as they set off into the world to pursue their goals.
This year makes a total of 22 college graduates from the scholarship program, all of whom are part of the first generation in their families to attend university. Thank you to all our scholarship donors who inspire and enable these students to pursue their educational dreams.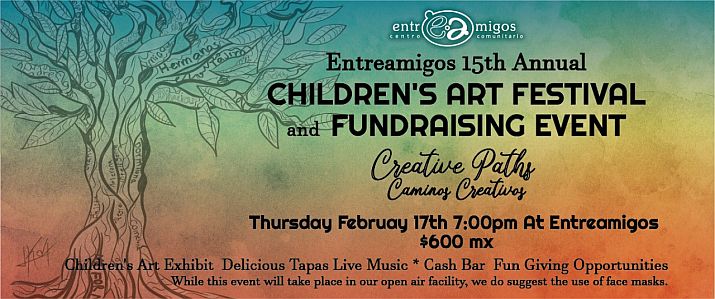 15th Annual Children's Art Festival
We are so pleased with all of the art classes that are going on in the center this month in preparation for our 15th Annual Children's Art Festival. Fortunately, we have many outside and open-air spaces in which the classes can safely take place. Special thanks to the 17 volunteer artists who organized the mini workshops series for groups of four to six students. Their artistic disciplines range from painting to paper-making to paper mache to jewelry design and more.
The gorgeous works of art will be displayed at Entreamigos and paired with our annual fundraiser on Thursday, February 17th at 7:00 pm.
The event will be spread out over our three open spaces and you can enjoy appetizers, music and a cash bar as you explore the exhibit, along with other opportunities to support. Click HERE to purchase tickets now!
For those of you who love us from afar and are not able to attend the event, we will be holding an online auction beginning February 1st with opportunities to bid on fun items and donate to support Entreamigos.
Our event safety protocols:
If we are permitted to hold the event, the precautions that we will take will be as follows:
1) All event staff and volunteers will use face masks.
2) We ask that guests use face masks when not eating or drinking.
3) The event will be held utilizing the three open air spaces of Entreamigos (library, art patio, and garden/stage).
4) Hand sanitizer and extras masks will be readily available.
Should the current Nayarit restrictions continue regarding the size of events, we will plan our compliance as follows:
• We will have designated attendance times with a maximum of 100 attendees per shift. This is in compliance with the guidelines of 50% of our 300 person capacity. More details regarding this option will be determined by further government communication.
• We will provide as timely communication as possible as we develop the details of the event. Thank you for your understanding and patience as we continue to do our best to navigate these uncertain times with safety and consideration for everyone.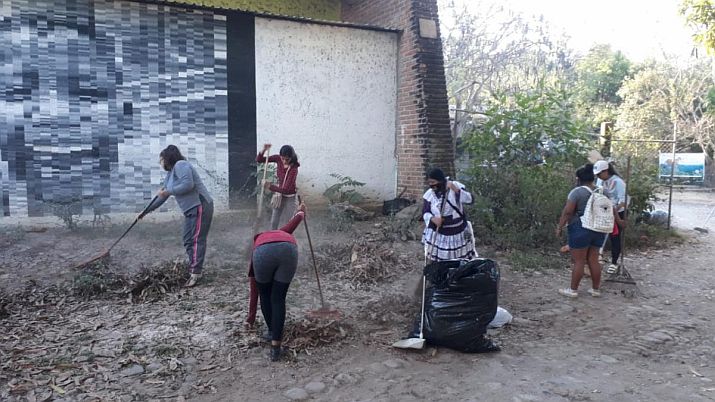 Sprucing Up Our Space
At Entreamigos we are so fortunate to be able to count on so many people to help us keep our space alive and beautiful. This month, we had a group visit from Solcius in Utah, who together repainted our entire front facade!
Thank you, Solcius! It looks amazing!
Additionally, this past week, we had the social participation of parents from our jungle group and scholarship programs who spent their Sunday raking and cleaning our parking lot space.
Thank you community parents! You make such a difference!
We Need School and Art Supplies!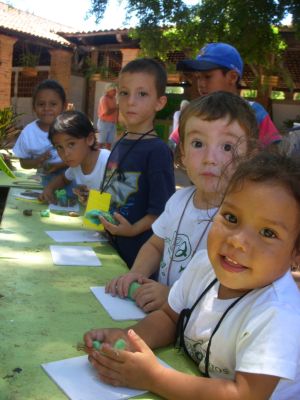 With our students having virtual classes, they are depending on Entreamigos even more for their school supplies. However, with travel being reduced over the past two years, our stock is running low. If you have a trip to San Pancho planned in the coming months and have room in your luggage or are able to bring an extra suitcase, here is a list of what we most need right now:
• back packs
• notebooks (wide ruled and college ruled)
• scissors
• glue sticks
• colored pencils
• markers
• black and blue pens
• erasures
• rulers
• pencil sharpeners
• construction paper
• puzzles (under 300 pieces)
• decks of cards
• board games (not language dependent or Spanish version)
Thank you for your support with these important supplies!
Don't Forget to Smile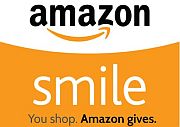 As we continue to order products and groceries online, we wanted to remind everyone that an easy way to support Entreamigos is through Amazon Smile.
Simply go to smile.amazon.com and enter Entreamigos as your beneficiary organization, you can shop with your normal account and Entreamigos receives .5% of the price of your purchase at no additional cost to you.
Support Entreamigos
If you would like support this important work, you can make a secure donation via credit card or PayPal, by clicking HERE.
Thank you for making a difference in the lives of the children and families of San Pancho!

Entreamigos primary focus is to increase educational opportunities for the children of San Pancho in Nayarit Mexico. To achieve these goals Entreamigos runs an art collective non-profit store, a library, a computer center and a collection of educational and community based workshops and initiatives. Entreamigos is entirely funded by donations and almost completely run by volunteers. To learn more about our programs and activities please visit entreamigos.org.mx.