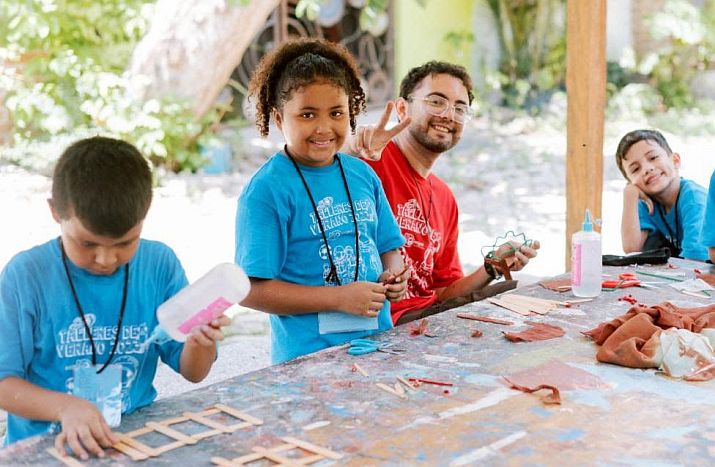 San Pancho, Nayarit, Mexico – Entreamigos began in 2006 on a kitchen table in the middle of a San Pancho street. Today, housed in a giant warehouse recognized as a model sustainable facility, it is an active community center with classes and workshops, a scholarship program, a bilingual library for children and adults, a computer center, an extensive recycling program, a gift store and the Recicla thrift shop.
Here's the latest news from Entreamigos:
Entreamigos' 2023 Summer Camp was a Tremendous Success!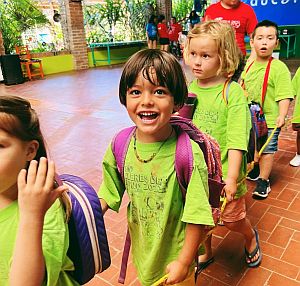 With 200 children in attendance, we were packed with energy for two weeks filled with learning, fun, and adventure. Campers formed bonds together, along with their amazing volunteer counselors, during their time at camp. So many incredible memories were made together in community.
On the last day we had a lovely closing ceremony showcasing the projects the campers worked on, along with incredible display of pictures to remind us of the fun we had. These keepsakes will serve as tokens of the children's time at camp and the abilities they've acquired over the two weeks spent with us. Campers left with valuable memories, skills, and new connections.
We honestly could not provide this valuable resource to the children in San Pancho without the support of the counselors who generously volunteered their time and expertise. There were 86 volunteers and assistants who provided 62 workshops! Children were offered a variety of activities like painting, swimming, crafting, cooking, biking, surfing… to name just a few. We are deeply grateful for each and every person who came and shared a part of themselves.
We would also like to extend our gratitude to Global Life. Their generous donation provided materials and quality supplies to support the volunteers who led workshops. And also another huge thank you to Barbara Kirkwood for allowing us to provide crucial swim lessons in her swimming pool.
Finally, an enormous thank you to Jill Mitchell who took so many photos to capture magical moments during camp. She has been taking pictures for Entreamigos for over 15 years! (All of these photos were taken by Jill, and you can check out more of her work by clicking HERE.)
Summer camp is truly a special time and we're already looking forward to next year!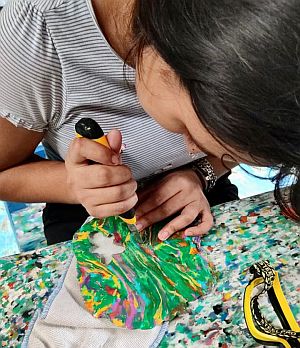 Season End Recycling Numbers
Recycling is one the main pillars at Entreamigos; an essential aspect of sustainable waste management and environmental conservation. The primary goal of recycling is to reduce the consumption of new raw materials, energy usage, and the strain on natural resources, while also minimizing the negative environmental impacts associated with waste disposal.
After our team goes out for collection around town, the sorting process begins so that we can distribute each material to the appropriate recycling center. To maximize the benefits of recycling, it's important for all of us to continue our collaborative efforts in creating a more sustainable future. This season, Entreamigos has collected 11.15 tons of plastic, 49.98 tons of glass and 9.9 tons of cardboard!
We are also very excited for new recycling processes that are in the works for the plastic we collect in town. We have begun to train our staff and will be sharing our new development with you next season. It's exciting to see how we can all be a part of keeping our environment healthy.
End of Season Gratitude
As we look back on an incredible season at Entreamigos, we are overwhelmed with gratitude for each and every one of you who played a part in making it truly wonderful. We hosted 624 volunteers, who provided 5,884 hours of support during the 2022-23 season! The presence, support, and contributions of every person have been the heartbeat of our community, filling it with energy and passion.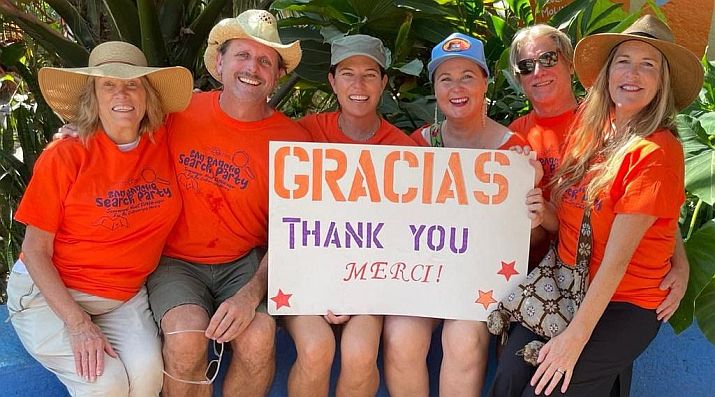 From our Scavenger Hunt FUNdraiser to Holiday Baskets, the Environmental Faire to the Children's Art Festival, we have made so many memories together. Maybe you taught a workshop or participated in our Literary Week activities. Perhaps you donated items to the Reciclashop or supported us through purchases in the gallery. The warmth of your smiles and generosity of your donations have enriched our mission in countless ways. Any level of support, big or small, is truly adding value to our purpose. From the bottom of our hearts, thank you for being a part of the Entreamigos family.
The end of this season we say our final farewell to Gaelle Posada and Sarah Kaminshine with heavy hearts. Their incredible contributions and dedication to Entreamigos over the years has made a huge impact, and their presence will undoubtedly be missed. We wish them both the best in their next endeavors, knowing their talents will surely shine bright as they move on.
As we make our plans to move forward, we invite you to continue this journey with us. We will see you again on October 16th when we will open our doors for the next season with Indira Santos fearlessly leading the way!
Summer Donations Welcome!
If you are doing any summer cleaning and have items to donate, we are taking them through out our off season. Don't hesitate to drop items and contact us so we can make sure to attend to them. Thank you!!
Support Entreamigos
If you would like support this important work, you can make a secure donation via credit card or PayPal, by clicking HERE.
Thank you for making a difference in the lives of the children and families of San Pancho!

Located at Av. Tercer Mundo No. 12 in San Francisco, Nayarit, Mexico, Entreamigos is an active community center whose primary focus is to increase educational opportunities for the children of San Pancho. To achieve these goals Entreamigos runs an art collective non-profit store, a library, a computer center and a collection of educational and community based workshops and initiatives. Entreamigos is entirely funded by donations and almost completely run by volunteers. To learn more about our programs and activities please visit entreamigos.org.mx.