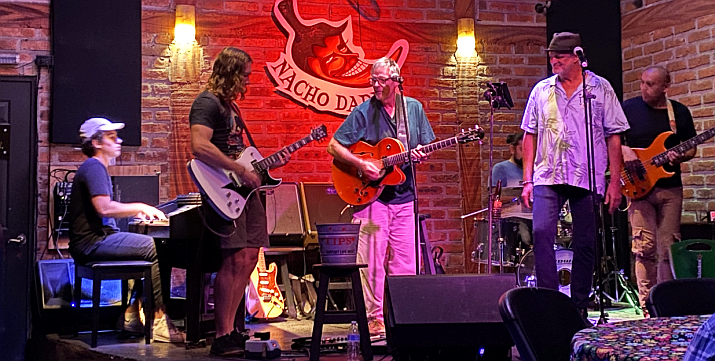 Puerto Vallarta, Mexico – Known as THE place to go for affordable nightlife in Puerto Vallarta's Zona Romantica, Nacho Daddy Mexico is where locals, ex-pats and tourists from around the world gather to eat, drink, and listen and dance to live music. And though the season is winding down, you still have a chance to catch some great shows in May.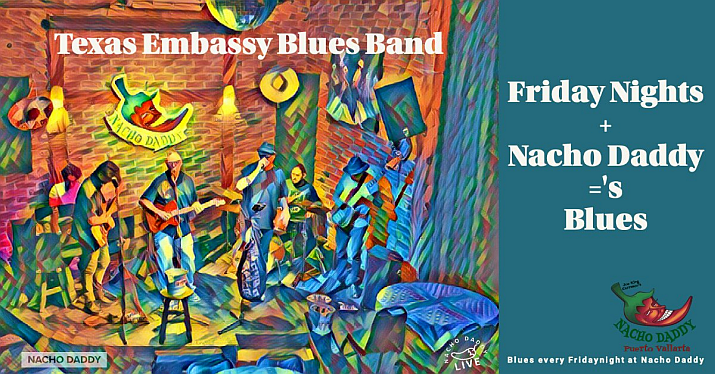 Fridays: Texas Embassy Blues Band
If you love the blues and gritty blues favorites don't miss the Texas Embassy Blues Band, which takes the upstairs stage on Fridays at 8:30 pm. This crowd-pleasing ensemble features several of Puerto Vallarta's most talented musicians, including Nacho Daddy owner/founding partner, Sean Moore, who rounds out the band's soulful sound with his husky lead vocals.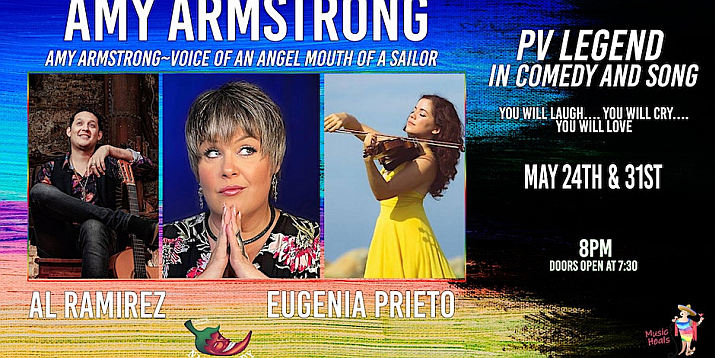 Wednesdays: Amy Armstrong & Friends
Puerto Vallarta's favorite 'Diva Loca,' Amy Armstrong, who is known for having 'the voice of an angel and the mouth of a sailor,' will be performing with Eugenia Prieto & Al Ramirez on Wednesdays, May 24th & 31st at 8:00 pm. For the few folks in Vallarta who aren't familiar with Amy, she is that unique mix of stand up comedian and cabaret singer. When you experience this 'Diva of Song and Fun' you'll be drawn in, entertained, and uplifted. Armstrong's incredible voice mesmerizes as she belts out fabulous tunes, injecting humor between each song.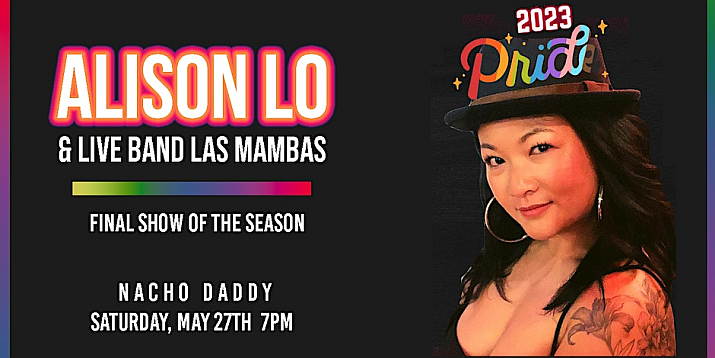 Alison Lo & Las Mambas
In celebration of Vallarta Pride, Alison Lo will be performing her final show of the season at Nacho Daddy on Saturday, May 27 at 7:00 pm. Alison, whose velvet voice and high energy brings new life to soulful classics from across decades, in various genres from pop, rock n roll, R&B, disco, country, jazz and more, will be backed by Las Mambas, Puerto Vallarta's amazing all-female powerhouse party band.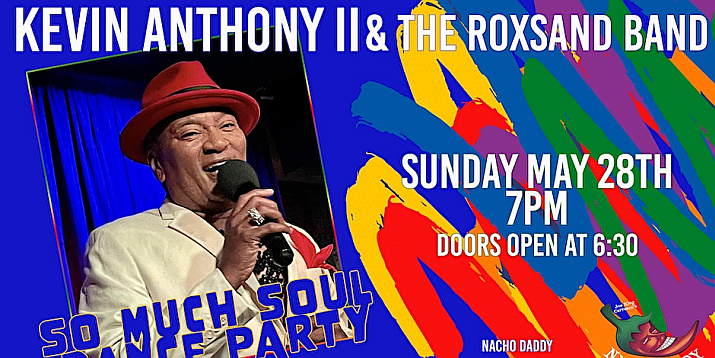 Kevin Anthony II & The Roxsand Band
Broadway star Kevin Anthony II brings his hit show, 'So Much Soul Dance Party,' to Nacho Daddy at 7:00 pm on the last Sunday of every month during 'low season'. Kevin and his Roxsand Band put the capital 'S' in Soul, so come out and dance to the classics of our lifetimes… both old and new. Kevin will entertain you with songs from Soul's greatest artists, including Otis Redding, Al Green, Elton John, James Brown, Madonna, Shania Twain and many more. Come out and dance, sing, laugh and of course drink a little with Kevin (he prefers Grey Goose!) at his monthly 'So Much Soul Dance Party'. His next performance is on Sunday, May 28 at 7:00 pm.

Open daily from 11 am to 12 am for lunch, dinner, live music and lots of fun, this popular south side hangout is located at Basilio Badillo #287, only two blocks off the beach in the heart of the Romantic Zone. Credit cards accepted. For more information, visit NachoDaddy.mx or become a fan on their Facebook Page for promotions, daily specials and more.
Click HERE to learn more about Nacho Daddy Restaurant & Sports Bar.