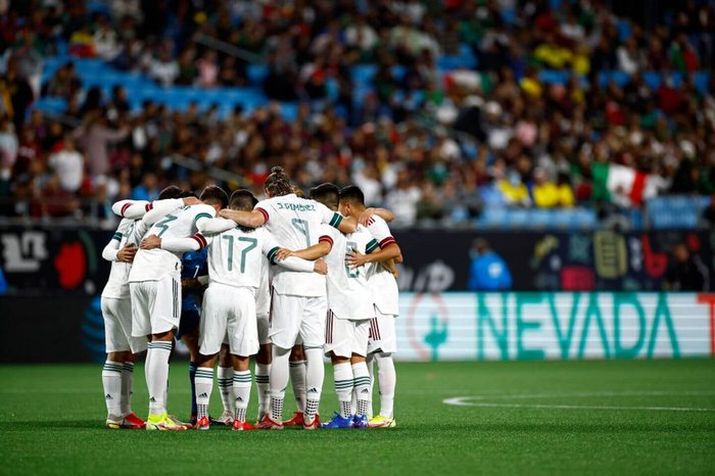 FIFA sanctions Mexico to 2 games behind closed doors for fans' homophobic chant. The Mexican national team has already played two World Cup qualifying games without fans on Sept. 2 and Oct. 7 after supporters chanted a homophobic slur during CONCACAF Olympic qualifying earlier this year.
FIFA has sanctioned Mexico to play its next two World Cup qualifying home games behind closed doors for the ongoing use of a homophobic chant by fans. Additionally, El Tri has been fined 100,000 Swiss francs, which is the equivalent of roughly $109,771 USD.
Mexico's next three World Cup qualifying matches – Nov. 12 (vs. USMNT), Nov. 16 (vs. Canada) and Jan. 27 (vs. Jamaica) – will not be held at home. El Tri won't play a home game again until Jan. 30 against Costa Rica, followed by Panama on Feb. 2.
The Mexican national team received a two-game sanction by FIFA in June after supporters used the homophobic slur during a CONCACAF Olympic qualifying match earlier this year. Mexico ended up only playing one World Cup qualifying game in an empty stadium – against Jamaica on Sept. 2 – after the sanction was reduced. The team was allowed fans at their next WC qualifying match against Canada on Oct. 7.
The slur was also shouted by fans in March during Olympic qualifying matches against the United States and the Dominican Republic.
At the time of FIFA's first sanction, Yon de Luisa, the president of the Mexican soccer federation, said that there's a risk to Mexico's involvement in the 2026 World Cup – which is to be hosted by the U.S., Canada and Mexico – if the chant did not stop.
"How can we host a World Cup if we are going to have our stadiums empty?" he asked at the time, adding that the consequences for Mexican football could be devastating if fans don't stop.