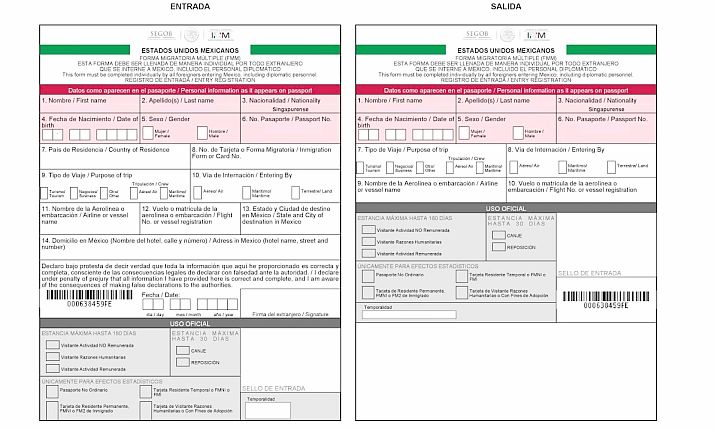 Puerto Vallarta, Mexico – On your flight to your vacation home in Puerto Vallarta, you're likely accustomed to having the cabin crew distribute paper tourist visa cards to complete prior to your arrival at the airport – if they haven't run out or didn't have any available on the plane prior to departure, causing your arrival process to take longer as you stand aside in the airport to complete the tiny data entry boxes.
But there is good news for travelers to Puerto Vallarta, with the recent announcement that the Multiple Migratory Form (FMM or more commonly called a "tourist visa") has been eliminated.
For tech savvy visitors that had been filling out their FMM visa application online, there is also no longer a requirement to complete a digital version. To replace both digital and paper forms, immigration officers will now simply stamp visitor's passports upon arrival and use stamp dates to track entries and exits.
There are several benefits to this new system:
• The arrival process has been streamlined and long immigration lines at the Puerto Vallarta airport have been considerably reduced. What may have taken an hour during peak traffic times at the airport, now takes about 10 minutes.
• The elimination of paper forms is a much more environmentally friendly advancement.
• Vacationers or those enjoying their second home in Mexico, don't have to worry about inadvertently misplacing their tourist visa, which would result in difficulties when exiting the country and require fines to be paid.
Something to remember when arriving to Puerto Vallarta on a tourist visa, is that your length of stay is limited to 180 consecutive days until you have officially overstayed your visa, and through the passport stamping system, Mexican immigration will still be tracking your time in the country.
Click HERE for more Puerto Vallarta real estate and lifestyle tips from Tropicasa Realty.

Since 1997, Wayne Franklin and his team at Tropicasa Realty have been a trusted name in Puerto Vallarta real estate. Tropicasa Realty is the region's representative for "The Leading Agents of the World" and with over 100 years of combined experience in real estate, all agents of the company are affiliated with AMPI. Wayne Franklin or any member of his knowledgeable team can be contacted in-person at their Romantic Zone Office – Pulpito 145-A at Olas Altas. While in PV they can be reached at (322) 222-6505 or by calling 866-978-5539 (Toll-Free) from the U.S.
Click HERE to learn more about Tropicasa Realty, or visit tropicasa.com.