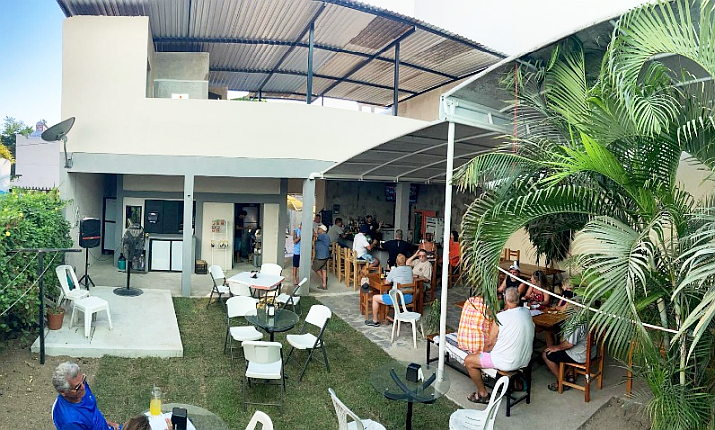 Puerto Vallarta, Mexico – My wife and I live in the charming town of Bucerías, 30 minutes north of Puerto Vallarta. Bucerías has a population of approximately 16,000 with a high population of resident and visiting Expats (Canadians & Americans), yet still retains the charm of a small town Mexican village.
If you are 20 years old and want large night clubs and a party scene, it's probably not high on your list. But, if you are 40+, this is a spot that you should strongly consider visiting as it is filled with many restaurants, pubs, markets and miles of sandy beaches that are clean, uncrowded and not full of beach vendors.
When clients and family visit us, one of the first things they ask is what pubs and restaurants we recommend. These are four of our favorites.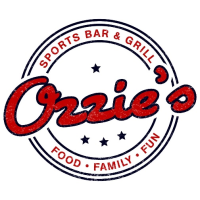 I would recommend that any Expat visitor to Bucerías makes this their very first stop. Located on Calle Lazaro Cardenas (main road paralleling the beach), the food is good, with excellent burgers, wings and "the coldest beer in Bucerías". But, what really makes this the place not to miss is the atmosphere, service and down home friendly neighborhood vibe. Many of you will remember the TV Show Cheers, where "everybody knew your name", that's Ozzies! There's always an NHL, NFL, NBA or Nascar race on the many huge TV's on both floors. The friendly staff always make a point to get to know you, what you drink, and where you are from! The second or third time you walk in, the bartenders and waiters/waitresses will have your drink brought to you as soon as you sit down. It's just that kind of place.
Need to know something about the town, want to get to know other expats, want to feel like you're part of the community, this is the place. Oh, and before you leave, try one of my good friend Carlos' hibiscus margaritas! Okay, Ozzie's is pretty easy to find, but what about the hidden gems that you may miss if you don't know where they are.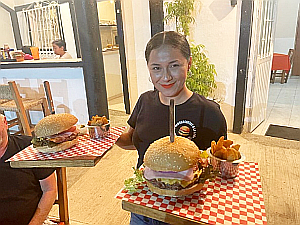 Located on the east side of the 200 highway, you're going to want to use the gps on your phone to find this one. It's about a 15 minute walk from the beach. Many expats do not venture out of the "tourist" area on the west side of the highway, and this is a huge mistake.
The area provides a traditional Mexican vibe with children playing outside on the street, local small corner grocery stores, little stores making everything from shoes to clothes, and providing every service option that you can think of. Spend some time on this side of the highway and you will fall in love with the culture, the atmosphere and the people.
One of my favorite spots here is Buce-Burger. Picture a restaurant that pops out of nowhere in a residential neighborhood where outside on the street is a wood fired grill where all the food is cooked, offering burgers hot dogs and wings.
I always order the La Marimar burger which is a huge burger with large shrimp on top. Honestly, and I have travelled extensively throughout Canada and the U.S., this is the best burger I've ever had in my 54 years! You do not want to leave this town without visiting this area and trying these burgers, wow!! You might want to stop at the local grocery store on the corner to grab a couple beer to have with your dinner.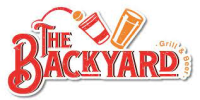 You would never know this restaurant and pub existed unless someone told you about it. This is another one that you'll want to use your GPS on your phone to find, and it might take you a little bit to still find.
It literally is a doorway off of a back alley parallel to the 200 highway. The service is exceptional, the staff are friendly and they have live music. The margaritas are excellent, and they offer tacos, seafood and BBQ ribs that are to die for! Make your way there, have a little fun, eat some great food, and visit with many expats that are long term residents of the area.
MezzoGiorno Ristorante Italiano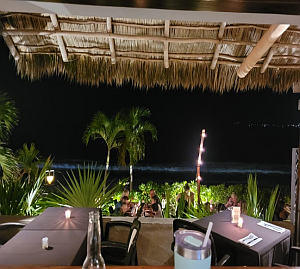 In Bucerías there is an area called Centro where all the big markets are, as well as a central town square area. There's a lot of action in this area, a few bars with live music, many restaurants, street vendors and lots to see and do. This is where the large Bucerías sign is located, right beside the beach. From the Bucerías sign, 5 blocks north along the road paralleling the beach is this spectacularly surprising ristorante. It's out of the way and off the beaten path, but if you are wanting a night out of elegance, ambience and some of the best Italian food that you would never expect in this area of the world, this is the place.
Walking into the restaurant you get the feel of a high class Italian restaurant in New York City, not a town of 16,000 in Mexico! Located right on the beach, there are three levels to the restaurant with all tables having a view of the ocean with the breakers coming in literally 20 feet away.
The service is high end, the ambience is unbeatable, and the food, wow, simply exceptional. If you want to spoil yourself and your partner, take in the romantic scenery, and have a fantastic meal that you'll remember, this is the place!

Written by Jim McKinnon, an expert real estate agent with many years in the business, working with Warren Brander Realty Group. You can connect with him by email at jim(at)wbrealtygrouppv.com.
To learn more about Warren Brander Realty Group, click HERE.