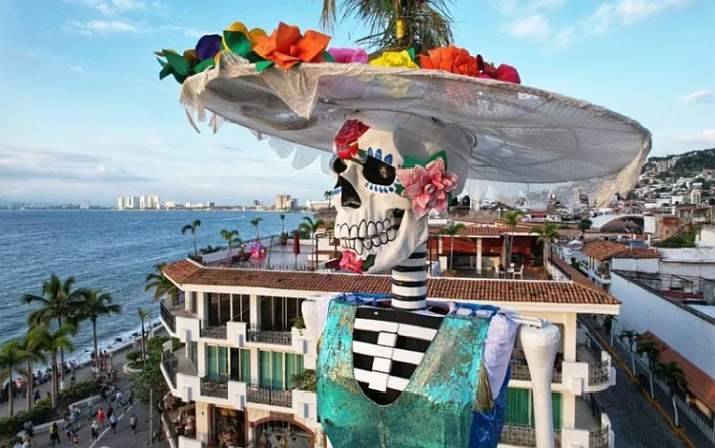 Puerto Vallarta, Mexico – One of Mexico's most cherished traditions, El Día de Los Muertos, is just around the corner, and Puerto Vallarta is gearing up to once again immerse itself in a vibrant celebration filled with colors, scents, flavors, and age-old customs during its annual Day of the Dead Festival.
The Day of the Dead festivities in Puerto Vallarta are truly extraordinary, often likened to the festive spirit of Christmas due to their spectacular decorations and the joy they bring to tourists.
This year promises to be no different. Under the leadership of Mayor Luis Alberto Michel Rodríguez, the Municipal Government will, for the third consecutive year, install a colossal Catrina on the Malecón, enhancing the city's appeal to visitors.
In 2021, a nearly 16-meter-tall Catrina graced the Puerto Vallarta Malecón but fell short of achieving the Guinness record for the 'Largest Catrina In The World.' However, the Catrina from last year, soaring above 22 meters in height, successfully secured the Guinness World Record.

This monumental skeleton became the focal point of an elaborate celebration featuring the placement of altars honoring the deceased, over 80 enormous "sugar skulls" adorned with various designs along the Malecón, and a diverse program of cultural events.
This year, La Catrina will once again take her place, although the design remains a mystery. She will join the Day of the Dead decorations, alongside life-sized catrinas crafted by hotels and educational institutions, which have long been a tradition along the Malecón. Additionally, altars will be set up at the municipal palace, according to sources within City Hall.
The Day of the Dead celebrations in Puerto Vallarta are nothing short of legendary, so it's a great time to plan your visit and partake in this citywide tribute to the dearly departed, observed on the day following Halloween in the United States and Canada.
Unlike Halloween, where death is often associated with fear, on El Día de Los Muertos, death – specifically, the memories of those who have passed away – is celebrated and embraced. Come and join in the festivities suitable for the whole family!