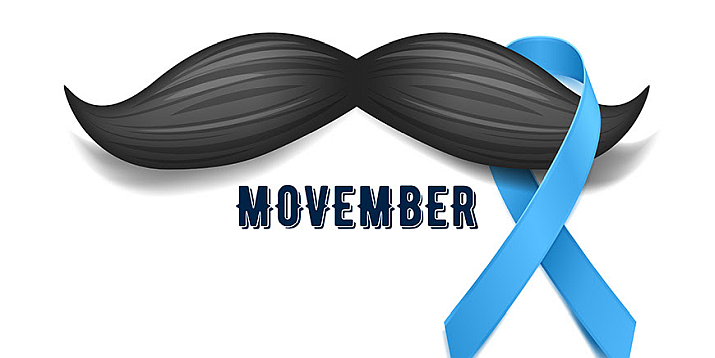 Puerto Vallarta, Mexico – October went by in a flash. Our Pink Cocktail for breast cancer awareness was amazing and thank you to all who participated and attended. We performed a record number of mammograms this past month. Super!
We really hope you will join us for a couple of hours on November 11, 2022 as we celebrate Men's Health Month. Raffles for free consults, snacks, lots of information! No charge event – stop by and meet our urologists.
Yes, this says MOVEMBER because the month of NOVEMBER is the month we focus on Men's Health, Prostate and Testicular Cancer. Movember began as a movement several years ago. You will see we have several activities involving Movember this month.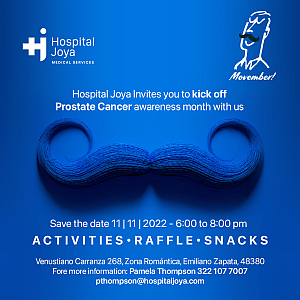 NOVEMBER SPEAKERS PROGRAMS
All speakers programs (unless noted) are held at:
Hospital Joya Marina Across the street from where the cruise ships dock.
First floor Multi-purpose room 9:00 am
No charge, RSVP Please
Prostate & Testicular Health
Dr. Jonathan Robles, Urologist
November 9, 2022 9:00 am
One in 6 men will be diagnosed with prostate cancer at some point in their lives. While testicular diseases tend to occur less frequently, they are no less serious. Although it's impossible to completely prevent prostate and testicular disorders, men can take action to lower their risk by getting regular medical checkups and performing self-exams. If you have a prostate and testicles, this program is for you!
How to Fall
Physiotherapy Vallarta
November 16, 2022 9:00 am
I have had people request for a really long time to have a program, "How to Fall". Finally! As we age I believe our fear of falling increases (it sure does for me!). Obviously, sometimes one does not know they are going to call, but oftentimes, one does and it happens in a blink of an eye! This program is for every single one of us.
Bone Weakness – Diagnosis and Treatment
Dr. Joel Galindo & Dr. Ricardo Martinez
November 23, 2022 9:00 am
Most people think of weakness of bones is only in women but that is not the case! Many men have these issues as well, especially as they age. If you are of a "certain age" (most of us) then this talk is for you. How does bone weakness affect a hip or knee replacement? Spine surgery? Find out along with much more.
Everything You Need to Know Regarding Health Insurance in the Area
Pam Thompson along with National Insurance and International Insurance staff of Grupo Joya
November 30, 2022 9:00 am
When someone asks questions on Facebook (for example) regarding insurance usually 1) it is a popularity contest between local brokers and 2) oftentimes misinformation is shared. We would like to clarify and answer all of your questions regarding how health insurance works here – and not just at a Joya Hospital but all private hospitals in the area. There will be no brokers at the program. I love the brokers but this is not about selling policies. It is about making sure one understand completely how policies work (international, national and traveler's policies). My goal for this program is to have every single question answered by the time we are done.
• We have a complete and economical Men's Check-up and Women's Check-up available. If you would like information, just send me an email. Good, basic testing and as well, includes a follow up appointment to review with a bilingual GP
• MRI, CT Scan, Colonoscopy, Endoscopy – and other diagnostic procedures. These are all ongoing. If you need one of these (or another type of study) it is only an email away!
• We are lucky here in the area to have specialists of all types. Some though, have a very long wait for an appointment including: Endocrinologist, Psychiatrist, Dermatologist. Keep that in mind if you feel you will need an appointment.
• Flu vaccines and pneumonia vaccines are free and available at any Centro de Salud clinic.
• Covid vaccines: These are all handled by the Mexican government. It is up to them as to what vaccine, who they are for, when it will be and where they will be given. NEVER are the vaccines for sale. Social media is the best way to know this information.
• I do the End of Life re-cap every so often. If you would like to be contacted when the next one is, please let me know and I will add you to the list.
• I do not sell insurance, but I do have a lot of information as to how insurance works in the area. If you would like a copy, just let me know.
WISH LIST
I have re-done our Wish List. If you would like a copy, just send me an email. I basically will take anything and fine someone who needs the item, regardless of what it is. I really try to get things to people who "fall through the cracks" without an English voice. We send a lot of donations to the Regional Hospital (state hospital) and now there are two so a larger need – from newborn items to medical supplies. Once in a while we will have a patient in the hospital who is here alone. That can be a scary situation for sure. I often request someone to drop by for a visit with them, briefly. It all depends on the situation and I never know when this will be needed so if you would like to be on a list for this, please do let me know.
CLINICS
All of our clinics are by RSVP only & most fill quickly. To participate, send me an email and include the person's name, which clinic and phone contact please. Prices on clinic days are discounted. Most are cash only and we request correct change.
Mammogram Clinic
November 10, 2022 November 17, 2022
Price: 2,300 pesos
Incredible – we did nearly 100 mammograms last month! It is time to do more. 3D Tomosynthesis machine, low-pressure, low radiation. Breast ultrasound if deemed necessary. Physical exam by female oncologist.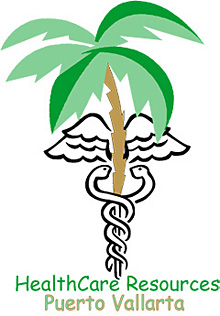 GYN Clinic
November 11, 2022 (Southside Vallarta)
November 17, 2022 (Hotel Zone)
November 30, 2022 (Southside Vallarta)
Price: 1,000 pesos
Includes pap smear and pelvic exam by a female GYN.
Urology Prostate Clinic
November 17, 2022 – Clinic Sanmare
November 21, 2022 – Southside location
Price: 500 pesos
Men's Prostate Health Clinic
Urologist Dr. Jonathan Robles
Price: 500 pesos, cash only.
Separate, discounted price for urinalysis and PSA.
Vascular Clinic
November 18, 2022
Price: 600 pesos
Poor blood flow, especially in the legs, can cause a lot of pain, sometimes even a clot. Our vascular specialist will evaluate completely all of this, make recommendations.
Eye Clinic
November 21, 2022
Price: 500 pesos
Complete eye exam, pressure check.
Cardiac Clinic
November 22, 2022
Price: 600 pesos
Southside Vallarta And Hotel zone
EKG, consult with bilingual cardiologist. This is less than 50% price than a normal cardiac consult.
Spine Clinic
November 25, 2022
Price: 500 pesos
Southside in the morning
Clinic Sanmare in the afternoon.
Review exam with our spine specialist. Recommend to have at least an X-ray prior – discounted price.
Knee Clinic
November 28, 2022
Price: 500 pesos
Clinic Sanmare
Knee pain? Time for a knee replacement? Arthritis? This is a great price to check these items out. X-ray prior to clinic with discounted price.
I post a lot of items as well, on my Facebook page. They are public posts so anyone can see them. Feel free to have a look!
Welcome back if you are one of our snowbirds. It has been a very long, hot and humid summer – but just like every year, we survived. Once again, the weather is gorgeous, there are loads of new restaurants, things to try. Do you teach a specific kind of class? Do you have a specialty that you would like to talk about? If so, please let me know. Maybe we can work together, get your information out there.
Here's to a very happy and healthy November!
Pam Thompson
healthcareresourcespv.com
pamela(at)healthcareresourcespv.com