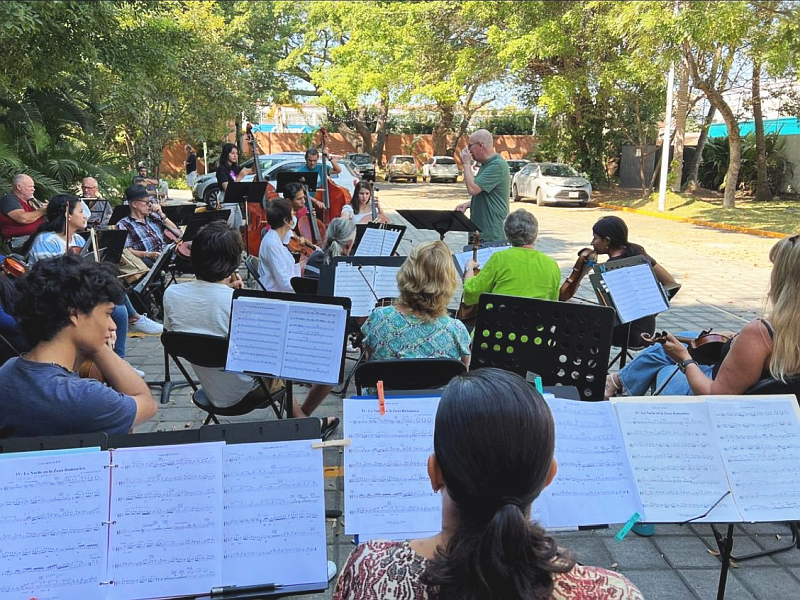 Puerto Vallarta, Mexico – Orchestra rehearsals are in full swing at IAMPV (Instituto de Artes Musicales Puerto Vallarta), a non-profit organization that provides musical education to children and young adults, and serves as an umbrella organization for the Vallarta Symphony Orchestra and the Salty Paws Jazz Orchestra, as they prepare for their Winter season concerts.
The OSV – Orquesta Sinfonica Vallarta, Puerto Vallarta's community orchestra – will give two "GREAT SYMPHONIES" concert performances, one in Vallarta and one in Nuevo Vallarta, on February 19 and 20th.
The Sunday, February 19, 2023 performance (5 pm) will be at the Melia Hotel, Paseo de la Marina Sur #7 in Marina Vallarta. (See Google Map)
However, for a definitely SUPERIOR LISTENING EXPERIENCE, the Monday, February 20, 2023 (5 pm) performance is the way to go – it will be held in Paradise Village/Nuevo Vallarta, at the Salon Paraiso/Harkness Institute, Paseo de Los Cocoteros #13. The acoustics are superlative and the room is really elegant and beautiful. (See Google Map)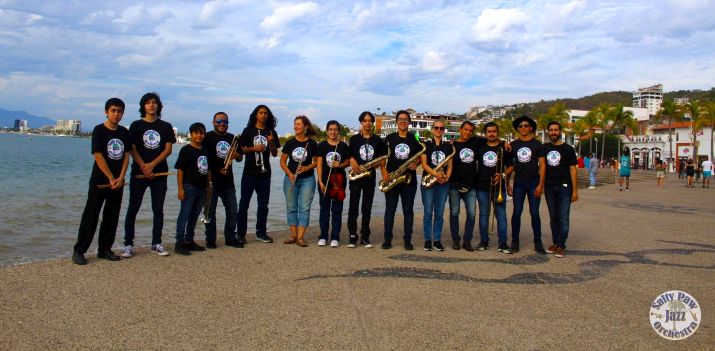 The Salty Paw Jazz Orchestra will be performing at the Thursday Marina Market from 6:00 to 7:45 pm on February 16 and March 23, 2023. They'll also be playing at the IFC Fundraiser at Oscar's Restaurant on Sunday, March 5, 2023 at 4:00 pm.
Meet our Team – Violin leaders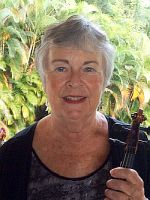 Mary MacLachlan – an "original" – has played in orchestras since she was 10 years old! She first played professionally at age 19 with the Edmonton Symphony Orchestra and continued professionally for decades, plus teaching instrumental music both privately and in schools.
When she and her husband Don moved to Vallarta in 2004 she was invited to join a small group of musicians who wanted to play classical music together. From this core group of about 8 players, OSV has become the orchestra that we have today. There are still 3 of the original members that play in the orchestra.
Her passion continues to be playing the classics in an orchestra. Mary is on the OSV board to assist both with music selection and the many details that are involved in our performances. She spends summers in British Columbia, on a lake, in the woods. She loves to walk, entertain family and friends, and enjoy the outdoor living that the location affords.
Angel Romero is a violinist and educator with great interest in making all kinds of music, with a passion for teaching and interactive learning. She is the current OSV Concertmaster. Angel's professional credits include: Soloist at the VII International Meeting of Contemporary Music Violin Schools "Young Musicians Festival" at San Rafael's house of culture; Winner of the inter-institutional violin competition CDMX 2017; premiere of works by various new composers; member of Ceres Quartet; and member of Orquesta Sinfónica de Puerto Vallarta. She has been on the teaching faculty of many music programs.
Did You Know?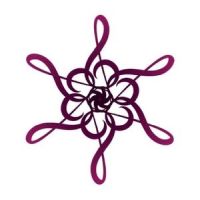 IAMPV (Instituto de Artes Musicales Puerto Vallarta) is dedicated to changing kid's lives through music, to expanding the musical and cultural conversation in the Banderas Bay region, to teaching children the discipline of study and mastery as well as learning how to work as part of a team. IAMPV, an asociación civil (A.C.), is a non-profit volunteer organization which receives no government support. You are the key to providing music enrichment for area youth and audiences.
How You Can Help
• Come to a concert – ticket sales are important revenue – and you will have a wonderful musical experience!
• Donate pesos in person at a concert or US tax-deductible dollars online at etina.org/iampv.
• Donate to one of IAMPV's Silent Auctions – a fantastic item or an experience – such as tickets to a show, the use of your vacation home for a week, or a gift certificate to a restaurant, spa or hair salon or other treasured activities
• Volunteer – distribute flyers, put up posters, usher at a concert
• Share the news – tell your friends, family, co-workers, neighbors, dentist, electrician (you get the idea) about the exciting concerts
• Join one of the orchestras! If you can read music and play at the level necessary to make the music come alive, be part of the action. Contact: mary(at)maclachlans.net.
Want to know more? Visit IAMPV.org.