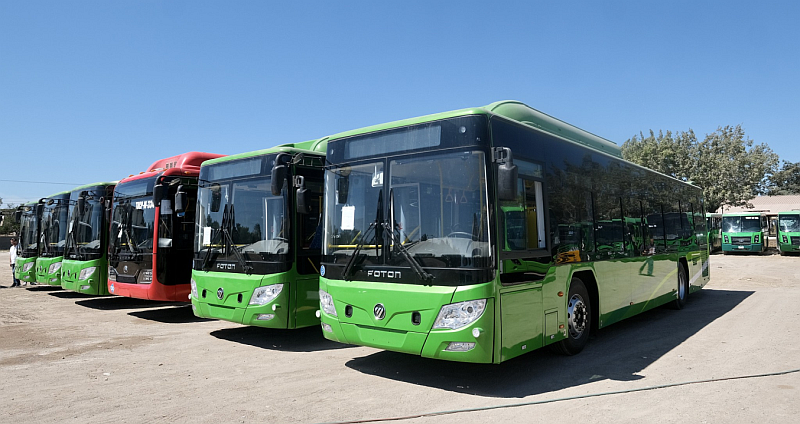 Puerto Vallarta, Jalisco, Mexico – Ten new Foton brand buses are scheduled to arrive this week as part of the Jalisco Transportation Secretariat's (Setran) plan to improve the public transportation system in Puerto Vallarta.
According to Luis Romero Chávez, the president of Transporte Unido Costa Pacífico (UNIBUS), 80 more renovated units will arrive in July. This will bring the total number of buses that cover the metropolitan area of this coastal municipality to 315 units, 290 of which will be operating and 25 will be on reserve.
The announcement was made by the Secretary of Transportation, Diego Monraz Villaseñor, accompanied by the General Director of Public Transportation of Setran, Amilcar López Zepeda, and the President of UNIBUS, Luis Romero, in the concessionaire's maneuvering yard, where the media was shown five of these new 12.5-meter natural gas buses, which have universal accessibility, air conditioning, a better viewing angle and will soon have an integrated fare collection system.
The total investment for this fleet renewal will be 180 million pesos, of which the Government of Jalisco will contribute close to 42 million pesos.
López Zepeda explained that Setran designed a plan to better serve Puerto Vallarta after the units that were delivered at the end of the last administration began to present serious engine failures. There are currently 70 inoperable units in the fleet, which has resulted in too few and overcrowded buses. He added that a legal strategy is being contemplated to return the defective buses to their manufacturer.
Through the Setran plan, the system was reinforced with maintenance of more than 10 units of those acquired, as well as with the arrival of 35 units from the Guadalajara Metropolitan Area with which, including the new units, there are today 291 units to satisfy demand. The last 35 units will need to be returned to Guadalajara once the mid-year renovation is complete.
Monraz Villaseñor explained that this process will be accompanied by maintaining the fare at 10 pesos for the remainder of the administration, as well as the adaptation of the collection system on each bus and around 20,000 free Mi Movilidad cards, which will be distributed to users during the month of June.
Officials are currently working with OXXO stores to insure that the Mi Movilidad card recharging service is fast and easy. The development of an app that will allow recharging from cell phones is also in the works.
For his part, Romero assured that the demand for drivers will be covered for the new units when they arrive. He also revealed that currently the demand for public transportation from Monday to Friday ranges between 130 and 140 thousand passengers.